The Allies and Villains of Donbrothers
Joining the team in their adventure are two allied characters. This was already revealed to be including Kaito of Zenkaiger, however, this is not the same character we knew from the previous series according to information released. The allied characters include the following.
Kaito Goshikida, Zenkaizer > Zenkaizer Black – Played by Kiita Komagine
Jin Momoi, Taro's Foster Parent – Played by Toshihiro Wada
The character bios can be seen below for the new additions featured in Avataro Sentai Donbrothers. This also includes the first look at Zenkaizer Black that will assist the new team on occurrence.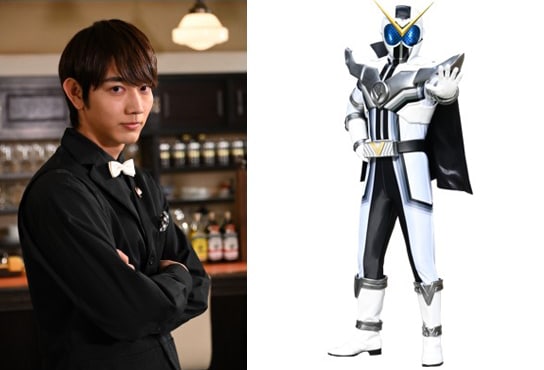 Kaito Goshikida – Previously known as Zenkaizer, the leader of Zenkaiger, this character makes a return but not in a way you would expect. There are some major differences compared to the character featured in the previous series. Currently, this Kaito is the owner of the 'Donbura' coffee shop, where Haruka works part-time. Furthermore, Kaito will assist the DonBrothers from time to time.
Jin Momoi – Jin Momoi is Taro's foster parent. He is a man who is in a virtual prison and appears as an avatar. He gives mysterious glasses to four people to be Taro's companions.
The villains have also been revealed, which have previously been reported as Oni antagonists. Fans now know that each of the new villains has a human form, meaning they won't be CGI Characters. The villains include the following new cast members.
Shinnosuke Takahashi as Sonosan, an eerie man who laughs and cries
Yuuta Tominaga as Sonoi, a man who is calm and graceful
Amisa Miyazaki as Sononi, a women interested in love affairs
It is likely that these characters are the elemental Oni villains that were previously rumored. Meaning that these characters might be the Earth Oni, Water Oni, and Oni Witch of Fire. It's awesome that they are tokusatsu warriors themselves, which also seems to include a bracelet that is likely their changer for their Oni forms.
All these characters were seen in the trailer featuring the live-action series, which also includes a carnival vibe and epic fights seen as a glimpse. The show will not only have a theme song but also an ending theme with dance included as many Sentai shows in the past. The dance seems rather fast-paced so hopefully, people will be able to keep up when performing, like when trying to do for social media. The trailer for the series can be seen below made accessible thanks to gokaiger99 on Youtube.
There is so much going on in this series and it appears to be surprising fans as more content is unveiled. The first episode is going to be hard to ignore as western fans will hate to miss out on the hype. It's likely that fans will find a way even without official access but hopefully, Toei will one day allow Super Sentai to be fully accessible.
Avataro Sentai Donbrothers premieres on March 6th, 2022 on Asahi TV in Japan, with no official English subtitles currently available. This would be amazing to have as a simulcast but no announcement has been made for the possibility.
What do you think of Avataro Sentai Donbrothers? Are you excited to see the first episodes? What do you think of the live-action trailer? Let us know on social media, or in the comments below, and keep following The Illuminerdi for more Super Sentai news.
KEEP READING: 1st Look at Donbrothers Toys with stunning Debut In Zenkaiger
SOURCE: Hero Club