This isn't just your run-of-the-mill dungeon game. Super Dungeon Maker is where exceptionally creative minds can be unleashed for endless fun.
This Zelda-inspired create-your-own-dungeon level editor is quickly becoming the talk of the town. After winning the "Best Family Game" Award at Gamescom 2021, the game is now on Windows PC via Steam Early Access for $11.99! It's also looking to launch later this year on Nintendo Switch.
Super Dungeon Maker Wants To Make Dungeons With You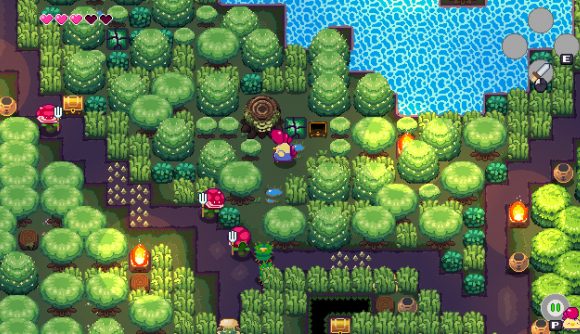 Created by the masterminds of indie studio FIRECHICK and published by rokaplay, Super Dungeon Maker brings you back to the world of 2D pixel-art. Players will be able to let their imagination and creative prowess run wild as they create their own dungeons. As well as battling through already made levels.
RELATED: SWORDS OF LEGENDS ANNOUNCES THE FIRESTONE LEGACY EXPANSION WITH DUNGEONS 2.0 TRAILER
Check out the trailer here:
Inspired by games like Super Mario Maker, players will play as a plucky, yet heroic chick named Fink. Challenged with the task of navigating his way through a near-infinite variety of treacherous dungeons. The best part is these dungeons are limitless and designed by the ever-growing creator community.
Endless possibilities await players as they face countless combinations of tricky rooms, sneaky traps, vicious enemies, and chicken-hungry bosses at their fingertips. It doesn't matter if you want to invent or explore, you will have fun playing Super Dungeon Maker. Including the ability for players to challenge each other, competing within the community for achievements such as World Record Time, Completion Rate, and more.
Some of the key features of the game includes:

• DM Extraordinaire: In the dungeon, your creative prowess is limitless; place as many enemies, floors, secret paths, perilous traps, special items, and hidden objects as your heart desires. Just remember: the reward makes it worthwhile, but the challenge is what keeps them coming back!

• A Dungeon of Pure Imagination: With so many ways to customize dungeons, there's no telling where you'll get swept off to! Careful dungeon design means not only well-placed traps and enemies, but enchanting environments, too! Choose between dungeon biomes like forest, desert and castle — or even complex combinations of them all!

• Accessible Adventuring: Unlike other level editors and sandbox games with significant learning curves, Super Dungeon Maker is optimized for both controller and mouse + keyboard play, making it easy for anyone of any skill level to jump in and start creating. Its simplistic UI and easy-to-learn instructions make Super Dungeon Maker an easy choice for fledgling creators and pro designers alike.

• Dungeons Anonymous: Once you've unleashed your deadly dungeons upon the world, it's advised to collect feedback from your victims…erm…players…in order to perfect your dungeons and keep them of the highest quality. Earn a reputation and keep adventurers coming back to your divine creations!
To learn more about the game and its development, visit their official website. As well as stay up-to-date by following their social media; Facebook, Twitter, and Instagram. But most importantly, download the game now on steam and test your skills by battling through or creating your own dungeons.
KEEP READING: MYSTERIOUS NEW CHARACTERS ADDED TO THE WITCHER SEASON 3