Veteran Power Rangers star Sabrina Lu talks about reprising Scorpina in Power Rangers: Battle For The Grid and getting an official lightning figure.
Scorpina is one of Power Ranger's most famous villains. The villainess made multiple appearances in Mighty Morphin Power Rangers. Even though she had a minor role there, she was the main antagonist in the following episodes: "Green With Evil Part 3," "The Rockstar," "A Star Is Born," and "Goldar's Vice Versa." The character also appeared in the Power Rangers comic Power Rangers: Soul Of The Dragon. The famous villainess is also a playable character in the Power Rangers: Legacy Wars and Power Rangers: Battle For The Grid video games. 
RELATED: POWER RANGERS DINO FURY SEASON 2 PREMIERES ON NETFLIX MARCH 3RD
Actress Sabrina Lu played the American version of Scorpina, appearing in episode twenty-nine of Mighty Morphin Power Rangers Season 2, "Goldar's Vice-Versa." Even though Sabrina Lu only appeared in one episode, her performance as Sabrina received high praise from fans. After her appearance in Power Rangers, Lu has made multiple comic convention appearances.
Sabrina Lu recently reprised her role as Scorpina in Power Rangers: Battle For The Grid and is a massive advocate for Autism Awareness. 
The Illuminerdi Exclusive Interview With Power Rangers Star Sabrina Lu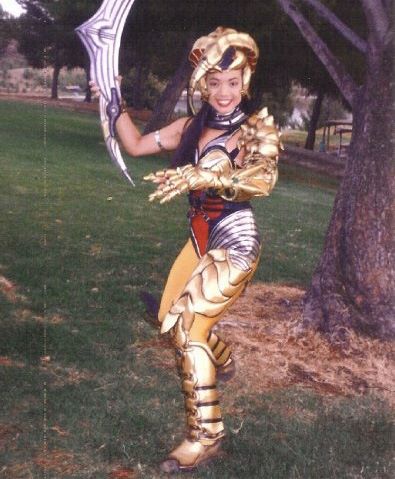 We had the extraordinary opportunity to interview Sabrina Lu, asking what it was like being a lightning figure and returning as Scorpina for Power Rangers: Battle For The Grid. 
The Illuminerdi also asked Sabrina Lu if there were plans for her character to be a love interest to Johnny Yong Bosch's Adam Park and if there were any other story arcs where she would have liked to explore her character.
RELATED: POWER RANGERS WHO SHOULD GO SOLO IN THEIR OWN MOVIES OR SERIES
The Illuminerdi: First Battle For The Grid and now a Lightning Figure. What has this whole experience been like for you, and what do your kids think about their mom being immortalized in that way?

Sabrina Lu: "It's super fun. I have to say the loyalty and just everything in this fandom has really been amazing. I didn't really discover how far-reaching things were really until I did a Power Morphicon. I ran into Steve Cardenas in real life, and he was the one who that mentioned, "You should do a Power Morphicon." That sort of got me back into the fold.

And then the whole thing during the pandemic, [waiting] for the action figure to come out and for the video game stuff. Getting to do the voiceover in my own closet and that sort of thing was really cool. You just don't think about getting to revisit a character this far out – how many years since that time? Nearly thirty years now. I have to say the other thing that has been really fun is the comic books.

She's named Sabrina when she's in her human form. I don't know the actual truth of it, but at the audition, Sabrina was already [the name] in the script. But I submitted my headshot, so I have this little theory that as they're looking through all of the headshots and still deciding what her mortal name will be when she's disguised as a student, they're like, "That's a good name!" as they're calling in all of us to come and read for the part. That's my own little theory of how that happened.

I have to actually have a conversation with the casting director, the director, the writers, or whoever. It wasn't just completely random. It's obviously a name that has so many of the same letters as Scorpina. But I just think that was fun to see in the comic, because it's very obvious from that episode.

The other amazing thing is that it was only that one episode where they needed her to be a student. Previous to that, in the original Japanese footage, they didn't need an American actress to play her, but the action figure [Lu referring to the Scorpina and Aisha Campbell (Yellow Mighty Morphin) Vs Pack Lightning Figure] is based on that episode [Goldar's Vice Versa]. The really telltale sign is that the Aisha regular head has the yellow scrunchie, which is straight out of that episode.

I can picture it: she has a jacket on, but she has the yellow scrunchie. Johnny's eating a burrito, and we're just hanging out on a break. But it's just so funny, because I'm like, "That's how you know well also the fact that it's Aisha…That's really when Scorpina came to the second season is when Aisha was there. So that i don't know why. That's kind of neat too because it would be very easy for the one episode [Goldar's Vice-Versa] that I did to kind of be very overshadowed by the other appearances of Scorpina in the original footage.

In the first season by some pure luck, Goldar's Vice Versa made like enough of an impact to be part of the comic book and the action figure and all that fun stuff so super fun. As far as my kids I think are just completely non-flushed by the whole thing so I think it's just a fun little anecdotal thing."
For more of our interview with Sabrina Lu, continue to page 2.