Jujutsu Kaisen 0 English voice cast, trailer, and new marketing stills from Crunchyroll.
Jujutsu Kaisen 0, based on the hit dark fantasy manga of the same name, will premiere in North American (the United States and Canada) cinemas on March 18, and tickets are on sale now. Jujutsu Kaisen 0 was created and illustrated by manga artist Greg Akutami. The Jujutsu Kaisen 0 manga was initially called Tokyo Metropolitan Curse Technical School. But after the manga's massive success, Akutami decided to rename it Jujutsu Kaisen 0. The manga series and its anime film adaptation are a prequel to the hit anime series Jujutsu Kaisen.
Jujutsu Kaisen 0 follows Yuta Okkotsu, a nervous high school student haunted by his childhood friend Rikia Orimoto due to a curse. Okkotsu is cursed because he and Orimoto both made a promise to love each other and get married when they get older. Unfortunately, Orimoto sadly passed away, and with their commitment no longer being fulfilled, Okkotsu became cursed. The curse becomes fully displayed when Orimoto violently assaults Okkotsu's bullies or whoever assaults him. Realizing that Orimoto's spirit is a danger to those around him, Okkotsu seeks the help of a powerful sorcerer named Satoru Gojo.
Gojo then instructs Okkotsu to enroll in a renowned school called Tokyo Prefectural Jujutsu High School. With his enrollment, Okkotsu meets three powerful sorcerers who teach him to control Orimoto. These three sorcerers then teach Orimoto how to become a powerful swordsman and develop into a powerful warrior. 
New Jujutsu Kaisen 0 Official Trailer
The Jujutsu Kaisen 0 anime film premiered in Japan on December 24, 2021. The film received highly positive reviews with praise for the film's voice cast and characterization. With the film now leading up to its North American release, Crunchyroll announced the English voice cast of Jujutsu Kaisen 0. The English voice cast consists of Kayleigh McKee (Yuta Okkotsu), Anairis Quiñones (Rika Orimoto), Allegra Clark (Maki Zen'in), Xander Mobus (Toge Inumaki), Matthew David Rudd (Panda), Kaiji Tang (Satoru Gojo), and Lex Lang (Suguru Geto). Tickets for Jujutsu Kaisen 0 are on sale now.
RELATED: Crunchyroll Announces Anime Awards Winners
Jujutsu Kaisen 0 will also premiere in multiple countries. Those confirmed countries are Ireland, Australia, New Zealand, France, Germany, Belgium, Luxembourg, Austria, Switzerland, Sweden, Finland, Netherlands, French-speaking Africa, Latin America, The United Kingdom, and many more.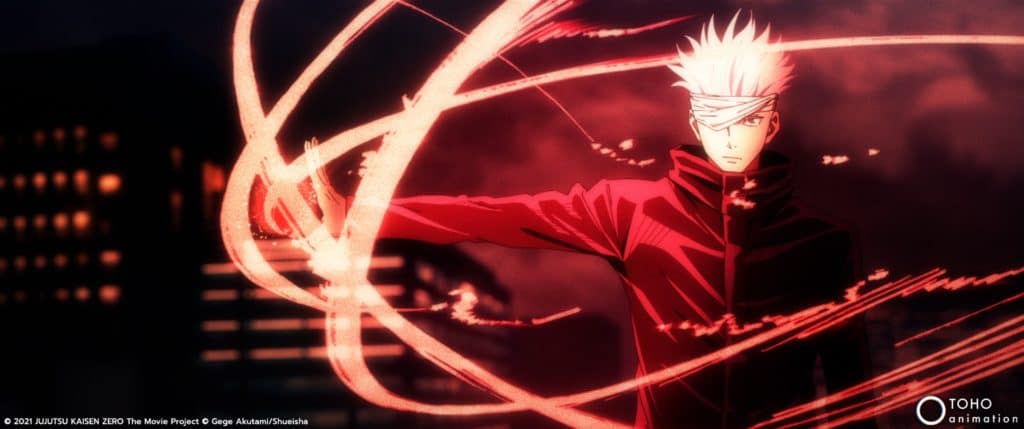 Official Japanese/English Cast
Yuta Okkotsu – Kayleigh McKee (English), Megumi Ogata (Japanese)
Rika Orimoto – Anairis Quiñones (English), Kana Hanazawa (Japanese)
Maki Zen'in- Allegra Clark (English), Mikako Komatsu (Japanese)
Toge Inumaki – Xander Mobus (English), Koki Uchiyama (Japanese)
Panda – Matthew David Rudd (English), Tomokazu Seki (Japanese)
Satoru Gojo – Kaiji Tang (English), Yuichi Nakamura (Japanese)
Suguru Geto – Lex Lang (English), Takahiro Sakurai (Japanese)
Listen to the Official JUJUTSU KAISEN 0 soundtrack on Spotify.
OFFICIAL SYNOPSIS
When they were children, Rika Orimoto was killed in a traffic accident right before the eyes of her close friend, Yuta Okkotsu.

"It's a promise. When we both grow up, we'll get married."

Rika became an apparition, and Yuta longed for his own death after suffering under her curse, but the greatest Jujutsu sorcerer, Satoru Gojo, welcomed him into Jujutsu High. There Yuta meets his classmates, Maki Zen'in, Toge Inumaki, and Panda, and finally finds his own determination.
"I want the confidence to say it's okay that I'm alive!"

"While I'm at Jujutsu High, I'll break Rika-chan's curse."

Meanwhile, the vile curse user, Suguru Geto, who was expelled from the school for massacring ordinary people, appears before Yuta and the others.

"This coming December 24th, we shall carry out the Night Parade of a Hundred Demons."

While Geto advocates for creating a paradise for only jujutsu sorcerers, he unleashes a thousand curses upon Shinjuku and Kyoto to exterminate all non-sorcerers.

Will Yuta be able to stop Geto in the end?

And what will happen to breaking Rika's curse…?
What are your thoughts on the English voice cast of Jujutsu Kaisen 0? Were you a fan of the original manga series? Are you excited about the upcoming anime film adaptation? Let us know what you think in the comments below, or let us know on Twitter.
Source: Crunchyroll
KEEP READING: Digimon Con Partnered With Premium Bandai To Gift Coupon to Fans