The Pokémon Company unveils Pokémon Scarlet and Pokémon Violet!
Happy Pokémon day, trainers! Today, the Pokémon Company announced a wide array of new information regarding its games and also a brand new animated series that takes place in Hisui, the region in which Pokémon Legends Arceus takes place. New content for Pokémon Go, Pokémon Unite, Pokémon Masters and Legends: Arceus were all announced today. But I'm not here to talk about those. No, trainers… there is more.
Alongside all of these new tidbits, there was one HUGE announcement. Nintendo and GameFreak announced Pokémon Scarlet and Pokémon Violet today! These brand new games will follow the same mechanics of Pokémon Legends: Arceus while mixing in elements from the previous core games. Pokémon Scarlet and Pokémon Violet will be an open-world Pokémon adventure that seems to take place in the present day. The brand new region seems to be based in Spain and Portugal. This influence can be seen in the trailer down below:
Pokémon Scarlet and Pokémon Violet Announcement Trailer
NEW GENERATION MEANS NEW STARTERS
The Spanish influence can be seen in the structures showcased in the trailer above. This is influence is also evident on the brand-new starter Pokémon's names. The grass starter is the adorable Sprigatito (Spring and Cat in Spanish). Its official classification is the "Grass Cat Pokémon". The odd-looking dinosaur/red pepper love child is called Fuecoco (Fue from Fuego, and coco from Cocodrilo) and it's the "Fire Croc Pokémon". The proud-looking duck is called Quaxly (Qua from…quack) and its classification is the "Duckling Pokémon". Ther pictures and descriptions are below
Sprigatito
Category: Grass Cat Pokémon
Height: 1′4″
Weight: 9 lbs.
Type: Grass
Ability: Overgrow
The capricious, attention-seeking Grass Cat Pokémon.
Quaxly
Category: Duckling Pokémon
Height: 1′8″
Weight: 13.4 lbs.
Type: Water
Ability: Torrent
The earnest and tidy Duckling Pokémon.
Fuecoco
Category: Fire Croc Pokémon
Height: 1′4″
Weight: 21.6 lbs.
Type: Fire
Ability: Blaze
The laid-back Fire Croc Pokémon that does things at its own pace.
RELATED: Pokémon Legends: Arceus Review – A Fun, Wild, and Fresh New Adventure
Not much else is known about this region apart from the hints given in the official trailer. Several older Pokémon were also shown in this trailer like fan-favorite Pikachu, Psyduck, Meowth, Larvitar, Lucario, and Zoroark. The game is set to release in late 2022 and it'll be playable on the Nintendo Switch. This announcement comes after the very successful release of Pokémon Legends: Arceus, which turned out to be an introduction to this type of gameplay, much like other installments of this franchise. 
As of late, the Pokémon Company uses installments as a "soft" introduction to the upcoming titles. We saw this with Pokémon Let's Go, then Pokémon XY and now with Pokémon Legends Arceus. An introduction to a new region is also highly beneficial in terms of income generated. New creatures mean new merchandise. Expect plushies of the starters, as well as new TCG cards to be available in the next few months. Speculation about how the final forms look will also run rampant on the internet, so take everything you read from here on with a grain of salt. Check back with us often as we will be following this release very closely.
UPON A FIRST GLANCE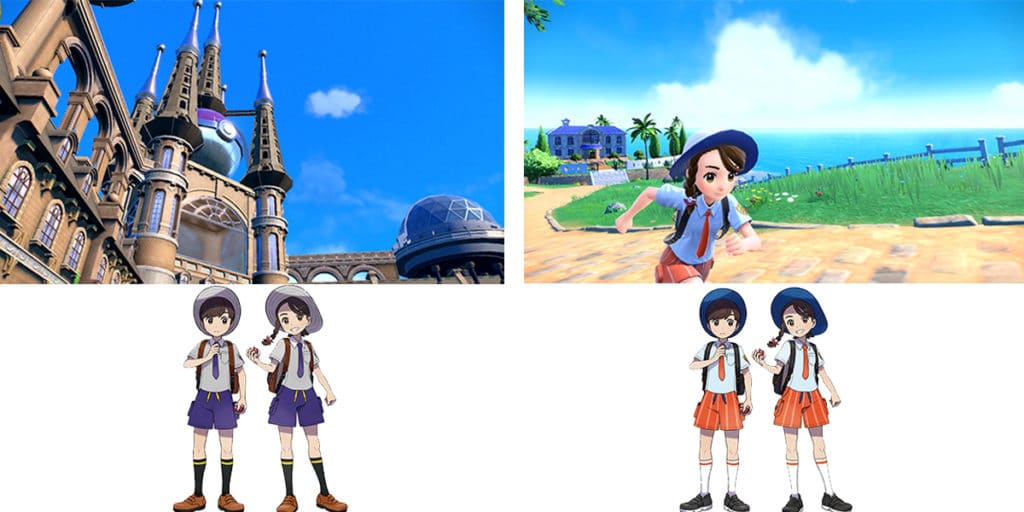 Although we do not know the name of the new region, we can tell by the promo pictures and the character that this will most likely be a tropical place, heavily influenced by Spanish architecture such as the town square and the buildings we see in the trailer. The main protagonist's clothes will also reflect the version of the game you choose. Based on the screenshots, we can also tell the in-game characters look more realistic, abandoning the previous character models of the other installments.
RELATED: New Poké Ball Replicas Exclusively on Pokémon Center for Limited Time
Encountering Pokémon in the wild looks to be very similar to Pokémon Legends: Arceus. Assuming that the battling system will also follow PLA mechanics, competitive battling will see a major shake-up once this game is released as this will be the first "official" main game to adopt this style. For competitive and multiplayer, this means that players will be able to come up with even more intricate and effective movesets and combinations since every move will have 3 different versions to choose from. I wonder if this game will include double battles since the main official competitive mode has always been double battles.
Pokémon Scarlet and Pokémon Violet are set to release in late 2022. After release, the games will be able to link with Pokémon HOME, a service that allows Trainers to keep their entire Pokémon collection in one place. By linking these games with Pokémon HOME, Trainers will be able to have Pokémon from other regions adventure alongside them in Pokémon Scarlet and Pokémon Violet. Lastly, check out all of the games' key art and screenshots"
What do you think, trainers?! Are you excited for Pokémon Scarlet and Pokémon Violet? I gotta say, Fuecoco is pure fuego! This little fire creature is definitely my main choice for a starter right now. Since this is a BIG decision, I will have to wait for their secondary and final forms to be revealed to pick my starter as this choice will impact team-building. One thing is for certain: if the game has Magikarp, it's going in my team. No questions asked. Let us know what you think in the comments below and make sure to keep checking back with us and follow our Twitter, you never know when we will have an exclusive! Until next time!