AEW star Powerhouse Hobbs names WWE Hall of Famers, the WCW tag team Harlem Heat, as his favorite tag team growing up.
Hobbs was recently a guest on Insight with Chris Van Vliet. He talked about who was his favorite tag team growing up and the special reason he identified with them.
"Those were my dudes growing up, man. I just, just wish I would've had a matching durag, you know, to come out with, you know? But those were my guys growing up," Hobbs said. "Like just the intimidation factor, how, you know they talked the same talk of jive that my grandparents talked, you know, it's going to be all neckbone and sucka, you know? My grandparents said that stuff to a T. So those were my dudes growing up. Plus they look like me. That was, that was a good thing."

H/T To Wrestling Inc. For Transcription
One Of The Most Decorated WCW Tag Teams Ever
Harlem Heat were a very dominant tag team in the late '90s in WCW. The team were made up of real life brothers, Stevie Ray and none other than Booker T. The pair won the WCW Tag Championships 10 times and are no doubt one of the greatest tag teams to ever wrestle in WCW.
RELATED: KARRION KROSS TEASES HIS ULTIMATE RETURN MAY "DISTURB YOU"
The team was inducted into the WWE Hall of Fame in 2019. However, even though they were very popular and successful the team is rarely brought up in modern times. One of the main reasons is because Booker T became an extremely successful singles competitor in WCW. He won the WCW World Heavyweight Championship four times. However, his career really took off once he entered WWE and became one of the top wrestlers of the 2000s. Booker T's singles career simply overshadowed his Harlem Heat career and his brother.
Stevie Ray never achieved anywhere near the same level of success as his brother once the team disbanded.
Hobbs was asked if he ever thought about working for WWE or if he thought he would end up there.
"I did at one time," Hobbs said. "But then it got to the point where it was like, 'okay, they're just bringing you in to do like, enhancement stuff. Okay, cool'. And then you have people, you know, that are actually on the roster and they're like, 'hey, when are they going to give you a shot?' Like, you know? So, and you just, let alone guys that actually worked there said to me, that let me know I could go and I had talent."
Hobbs did in fact have a match in WWE. He wrestled in a losing effort to Baron Corbin back in 2016. Who knows where he would be if he had stuck around in WWE. He has the look Vince likes and guys with his look usually get a pretty good push. However, he signed with AEW in 2020 and has been a powerhouse there hence his nickname.
RELATED: TONY KHAN EXPLAINS WHY HE DIDN'T TRY TO EXTEND CODY RHODES' CONTRACT
The Hidden Meaning Behind A Nickname
When Hobbs first debuted in AEW he was known as Will Hobbs. He reflects on Tony Khan changing his name and the significance he found in his new nickname, Powerhouse.
"Tony looked at me and was like, 'Powerhouse.' I was like, 'alright, let's go,'" Hobbs said. "I thought he might've saw some of my clips in the gym, but I don't know where he got it from and I'm loving it and it's one of those things like, you look at 'Hacksaw' Butch Reed. People call him Hacksaw and I'm like, 'okay'. And I know for a fact Burch Reed was a fan of mine.

I've talked to his son and you know, I'm like, 'okay, I'm up there with Butch Reed, like Powerhouse, Hacksaw'. Even like 'Hacksaw' Jim Duggan. They call him Hacksaw. Like, anybody with those like, strong names, like, you know, it's my way of kind of, carrying on and paying homage to them."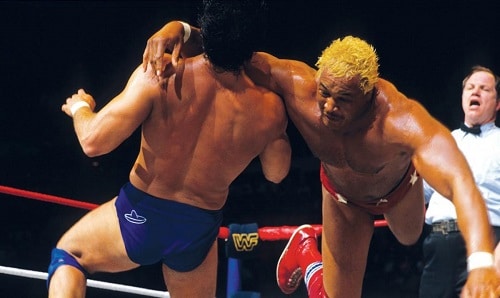 A True Pioneer In Pro Wrestling
Butch Reed was one of the pioneers of African Americans in wrestling. He came from playing for the Kansas City Chiefs to wrestling for Mid-South Wrestling Association in the early '80s. His style was hard hitting stemming no doubt from his days playing football and could have been described as a powerhouse himself. He had a big and imposing physique similar to that of Hobbs.
Reed had feuds with and teamed with other African American pioneers in wrestling. One of his most famous feuds was against Junkyard Dog in Mid-South. While in Mid-South he had a heated feud over his nickname with fellow Hall of Famer Hacksaw Jim Duggan. Reed eventually went to WCW and started a team with the future first ever African American WCW World Heavyweight Champion and the second African American wrestler to win a World Heavyweight title, Ron Simmons. The pair were the longest reigning WCW Tag champions of all time.
Hobbs has put a lot of pressure on himself trying to pay homage to some real wrestling legends and fill their wrestling boots. He has yet to win a championship in AEW, but he no doubt will. The scary part is once he wins one I don't know who will be able to take it off of him.
Do you think Hobbs is a modern day Butch Reed? Do you think he is ready to win the AEW Championship? Leave a comment below and on social media on who you would like to see Hobbs feud with during this upcoming year.
KEEP READING: PAUL HEYMAN BELIEVES 2 ECW ORIGINALS SHOULD BE IN THE WWE HALL OF FAME
Sources: Insight with Chris Van Vliet, Wrestling Inc.