Paul Heyman talks about how he thinks ECW has influenced the modern era and who from ECW should be inducted into the WWE Hall of Fame.
Paul Heyman was recently a guest on The Battleground Podcast and did what he does best, talk. He went into how ECW influenced other promotions like WWE and WCW at the time, but also how it influenced modern promotions like AEW, CZW, GCW and still is influencing WWE.
"I don't think it should limit them to just CZW and everybody else," Paul Heyman said. "I think you should incorporate the Monday Night Wars, and even modern-day WWE, and certainly AEW. Which seems to follow the ECW format on a WCW budget, which is what the owner [Tony Khan] said was going to be their concept over a year ago.

I think the extreme influence on this industry is exactly what we were shooting for back in the 1990s and into the new millennium. We were the disruptors in the industry, we were what was needed for the industry to propel itself."

H/T To Wrestling Inc. For Transcription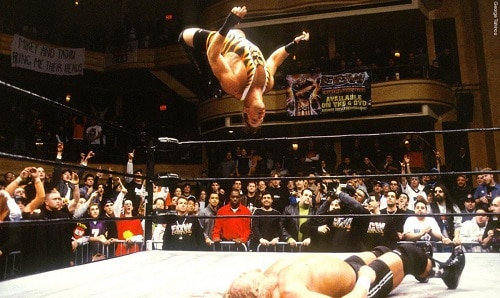 A New Age Of Extreme And Brutality
Paul Heyman isn't just someone in the wrestling business who was a fan of ECW. He was the owner of the promotion from 1995 until it was bought by WWE in 2001. However, he was also the driving force behind the tone of ECW. The promotion introduced an uncensored and authentic style of character to wrestling. The over-the-top and unrealistic Hulk Hogan, Macho Man, or Undertaker had no place in ECW. They were replaced by a drunk with a Singapore cane, aka a Kendo Stick named Sandman, or a savage gangbanger named New Jack. The wrestlers were grounded and could have been your next door neighbor.
RELATED: SAMOA JOE'S THOUGHTS ON NXT 2.0 STARS AND THE DISAPPOINT OF NOT WORKING WITH A STANDOUT
However, the biggest influence was the introduction of the hardcore wrestling style to the general American audience. Their matches often contained barbed wire ring ropes, thumbtacks, chair shots to the head and putting wrestlers through tables. Hardcore matches became common in WWE and WCW after ECW grew in popularity.  
ECW became hugely popular in the late '90s and introduced WWE Hall of Famers to the world like RVD and Mick Foley. However, Paul Heyman believes there is another ECW wrestler who should be in the Hall of Fame, but had a style which didn't quite translate to the WWE watered down style of hardcore wrestling.
"I would say Sabu definitely belongs in the WWE Hall Of Fame," Paul Heyman said. "Because I think the concepts that Sabu was introducing, were 20 years ahead of its time. And I don't just mean the breaking of the tables. I mean just the manner in which he performed in the ring was so far ahead of its time that he never got the credit he deserved."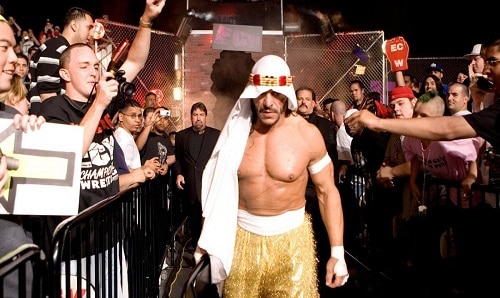 Watch Out! Sabu Just Walked In
Sabu was not the most popular wrestler in ECW or the face of the promotion. I think those titles would go to RVD and Tommy Dreamer respectively, but no one embodied the ECW style more than Sabu. If you ever see an ECW clip with a guy in baggy pants taking a brutal bump, a brutal hit or just an ECW clip in general then chances are Sabu is in it.
Sabu would take all the risks in his matches. Barbed wire ring ropes, flaming objects in matches, stuff wrapped in barbed wire or just anything crazy Sabu was always willing or it seemed so. He just didn't seem to have any regard for his body or that of his opponent. The best modern comparison is probably Darby Allin, but much more hardcore and bloody.
RELATED: RVD ADMITS TO CONTACTING WWE FOR ROYAL RUMBLE RETURN
Paul Heyman doesn't just think one of his top wrestlers should be in the Hall of Fame. He also wants someone who helped to call these extreme matches.
"I would say Joey Styles was a very progressive announcer that no one understood just how valuable he was to the ECW brand," Paul Heyman said "Because here you had these criminals, and these gangsters and these barroom brawlers and these misfits. Yet you also had these supreme, elite, exquisite technicians.  Eddie Guerrero, Dean Malenko, Rey Mysterio, Psychosis, Juventud Guerrera, that came over from Japan or Mexico. We scoured the world for the greatest talent.

And no American announcer had ever called the moves for what they were, Joey Styles did. Joey Styles ushered out the era of, 'wow that looked great, here's a replay,' and started calling the moves by the names that were associated with the moves. And he was completely different than any other announcer because he did his job solo for so many years. So I would say Joey Styles, absolutely."
Oh My God! Joey Styles Should Be In The Hall Of Fame
ECW was full of maniacs, blood and gore, but it also had an eager and energetic announcer named Joey Styles. Styles added a lot of credibility to the show and kept it grounded. Even though Sabu just took the most brutal bump ever Styles would just call it like a big powerbomb. It kept the audiences' attention focused on the match and not on the shock and awe of the brutality.
Styles helped to popularize the babyface announcer having a lot of personality which was usually saved for the heel announcers.
I think both of these ECW originals belong in the WWE Hall of Fame. Do you think they should be inducted? Did you like what Paul Heyman had to say? What's your most memorable Paul Heyman moment? Let us know in the comments and on social media which ECW original in their prime would have the greatest run in the modern world of wrestling.
KEEP READING: TONY KHAN EXPLAINS WHY HE DIDN'T TRY TO EXTEND CODY RHODES' CONTRACT
Sources: The Battleground Podcast, Wrestling Inc.