Turning Red director Domee Shi may not have been exactly able to shapeshift into a giant red panda growing up, but that in no way makes her film any less real to her.
Despite all of the fantastical and mythical elements in Turning Red, the film somehow feels very real with a strong humanistic component. It's clear that Domee drew a lot of material from her experiences growing up.
Turning Red is Almost Autobiographical
I've had the privilege of attending Turning Red's press conference recently where Domee Shi along with co-writer Julia Cho, producer Lindsey Collins, and members of the cast discussed the film.
RELATED: STUDIO GHIBLI FEST ANNOUNCES NEW SLATE FOR 2022
They were all visibly passionate about the film as they talked about how easy it was for them to relate to the characters and the story. What stood out for me the most was what Shi had to say.
The inspiration behind Turning Red came from my own life growing up in the early aughts. I was this Chinese-Canadian, dorky, sassy, nerdy girl who thought she had everything under control, she was her mom's good little girl and then boom puberty hit. Then I was bigger, I was hairier, I was hungry all the time. I was a hormonal mess and I was fighting with my like every other day. Making this film was my chance to go back to that time and with Julia, we talk about that time for both of us to understand and excavate what was happening back there.

Domee Shi
Everything Domee said further cement Turning Red's significance to teenage girls. She just wants to let them how much they've been seen and heard, and more importantly, she wants to let girls know that they're never alone. It's inspiring to see the filmmaker speak to girls through her film, almost like she's doing a favor to mothers, helping them converse with their daughters about all aspects of life, especially the most awkward ones.
About Domee Shi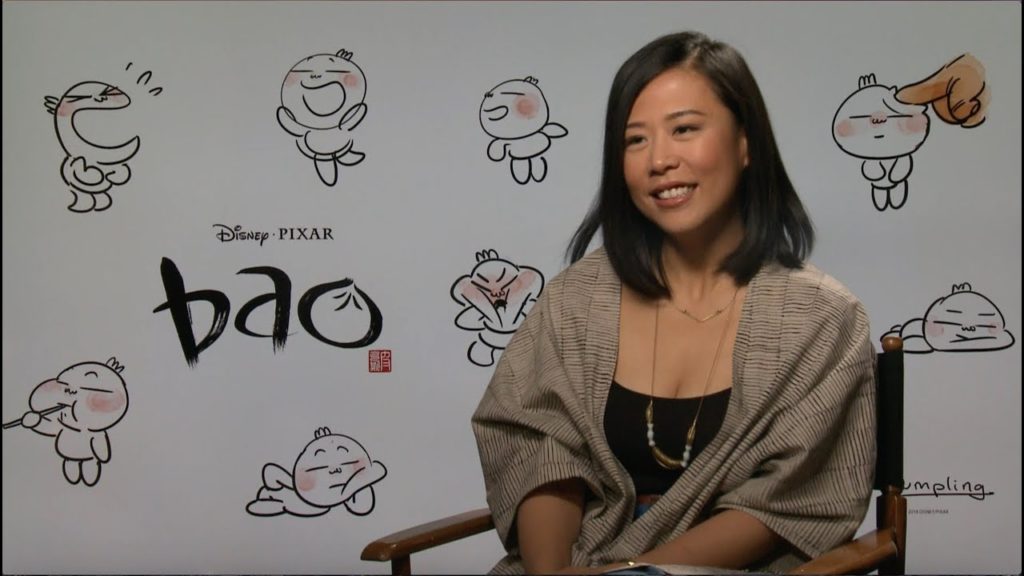 Domee has been one of Pixar's key contributors for a while now. In addition to her duties as a writer and director, she's an animator and storyboard artist with an impressive resume to boast. She has had a hand in the development of various Pixar films ranging from Inside Out, Incredibles 2, to Toy Story 4. However, she didn't have a seat in the director's chair until she directed the Pixar short, Bao. This time, she's back in the director's chair for a much bigger film, Turning Red, a culmination of her hard work and creative brilliance.
Official Synopsis
Set in Toronto between 2002 and 2003, Turning Red centers around Meilin "Mei" Lee, a confident 13-year-old Chinese-Canadian who is torn between staying her mother's dutiful daughter and the chaos of adolescence. However, one morning after she witnesses a nightmarous dream, she is horrified to discover that she has turned into a giant red panda, later learning that her ancestors have a shared history with the species. Whenever she gets too excited or stressed, she "poofs" into the red panda time and again.
Cast
The film stars the voices of Rosalie Chiang, Sandra Oh, Ava Morse, Maitreyi Ramakrishnan, Hyein Park, Orion Lee, Wai Ching Ho, James Hong, Tristan Allerick, Addie Chandler, Jordan Fisher along with Josh Levi, Topher Ngo, Finneas O'Connell, and Grayson Villanueva.
Will you be watching Pixar's Turning Red on Disney Plus when it comes on March 11th, 2022? Let us know in the comments below. If you're a Disney/Pixar fan, you're more than welcome to follow us on Twitter or Facebook so you don't miss more reviews or other content like this in the future.
KEEP READING: SCARLET WITCH DAZZLES IN NEW DOCTOR STRANGE IN THE MULTIVERSE OF MADNESS PROMO PHOTO