Today is the two week mark before season 2 of Bridgerton airs, as it premieres March 25th on Netflix. Honestly, it still feels like the wait is taking forever.
But to help pass the time, check out the season 2 trailer and take a first look at the Pall-mall scene, along with a few other glorious photos.
RELATED: THE MARVELOUS MRS MAISEL FINALE REVIEW: ANOTHER FANTASTIC FINISH
Based on the novels on Julia Quinn, Shondaland and Netflix have paired up to give us an historical romance drama for the ages. Shonda Rhimes is also executive producer, along with Betsy Beers, Tom Verica, and Chris Van Dusen. Van Dusen also serves as creator and showrunner for this hit series.
Bridgerton Season 2: A Whole New Ballgown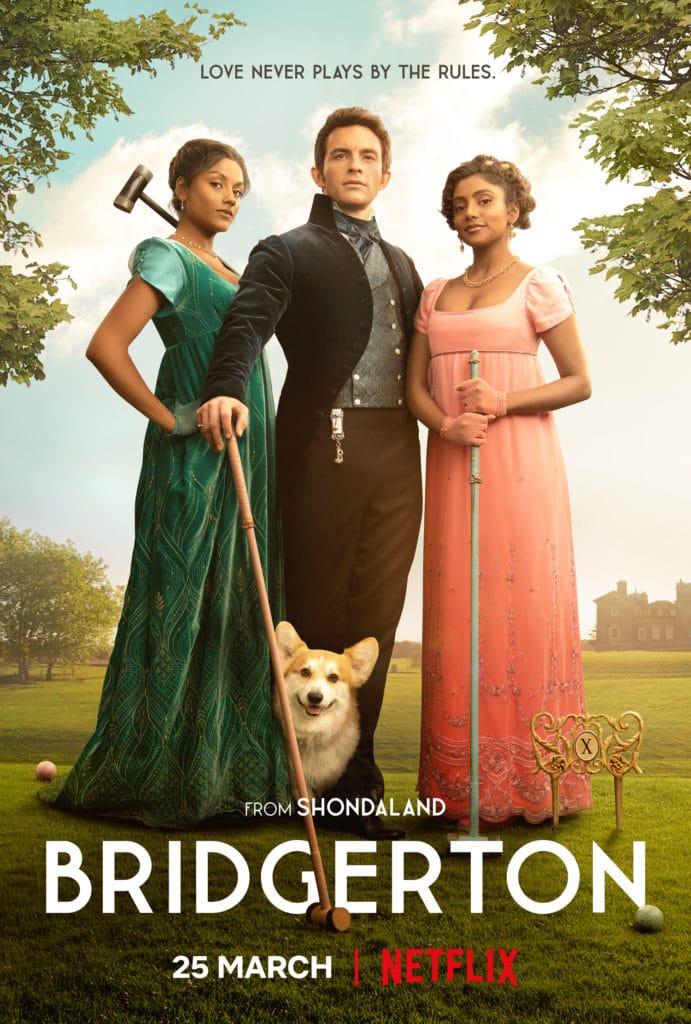 Keeping in tradition with the novels, season 2 will follow the eldest son and Viscount, Lord Anthony Bridgerton (Jonathan Bailey) as he searches for a suitable wife. With extremely high standards, he seems to be having ill luck in his efforts. That is until he meets the Sharma sisters. Kate (Simone Ashley) and her younger sister Edwina (Charithra Chandran) arrive from India, with Edwina catching his eye. However, as we all expect, romance stories are never a simple B-line to the end. And things become a lot more complicated when Kate is made aware of his true intentions and tries everything within her power to stop it.
Check out the trailer here:

Besides the complicated love triangle between the Viscount and the sisters, fans are expected to see more of the struggles Penelope (Nicola Coughlan) might face as she tries to keep her secret from everyone, including the Queen (Golda Rosheuvel). As well, fans from the previous season can rest assured that while Daphne (Pheobe Dynevor) will not be the main focus point, from the trailer we do see her and the new baby.
But that isn't the only thing fans have to look forward to. Keeping with the books, a fan favorite moment is the pall-mall game and is the only specific scene author Julia Quinn requested the show include. During this scene, the Bridgerton family plays a game – basically croquet – that ends up in a heated moment between Kate and Anthony.
Along with some images from the notorious pall-mall game, fans were also given a few more sneak peeks into what we can expect in season 2. Starting with the Bridgerton family huddled around looking shocked as if they are eavesdropping on an important conversation. There are two interesting things about this photo alone. The first being is its a rare glance at Francesca Bridgerton, whose absence many fans questioned in season 1. As well as it seems Eloise is the one missing. Could that be who they are eavesdropping on? It almost felt as if the small glimpse of Eloise in the trailer could lead to her own romance.
No matter what we might speculate from the photos released this week, one thing is for certain. The fashion, along with the drama remains to be two of the best things about Bridgerton. While fashion in season 1 was wonderful, there is something exquisite regarding the fashion we have seen between the sisters. From the different shades of purple, to dark greens and blues, the two women stand out in every scene. Which is hard to do, especially when you have Lord Anthony looking as he does, especially dripping wet.
Start the timer, clear your weekend, and get ready for a tantalizing season 2 of Bridgerton. Filled with fashion, romance, twists and turns, drama, and of course the beloved secrets spilling forth from Lady Whistledown, season 2 is shaping to be bigger and better than season 1. But we will have to wait until March 25th, to see if that is to be true.
KEEP READING: PACHINKO REVIEW: BELOVED STORY TOLD BEAUTIFULLY AND WITH APLOMB