Crunchyroll unveiled a new trailer and additional images for its upcoming March 18 theatrical release of Jujutsu Kaisen 0. The dark fantasy film from TOHO Animation will be available in both English dub and subtitled and will arrive in more than 1500 theaters nationwide. It will also be released in select U.S.-based IMAX® theaters. Tickets for the highly-anticipated film are on sale in the United States and Canada. The film is based on Jujutsu Kaisen 0 (JUMP COMICS / Shueisha), a prequel manga to the smash hit supernatural adventure series from Gege Akutami.
Jujutsu Kaisen 0 Official Trailer 3
The anime series Jujutsu Kaisen is based on the best-selling manga of the same title, serialized in Shueisha's Weekly Shonen Jump and has sold over 60 million copies in Japan. In the US, the series is published by VIZ Media. The anime series was named Anime of the Year by the Crunchyroll Anime Awards in 2021. Both Crunchyroll and Funimation have the entire series on their platforms, both subbed and dubbed, for fans to catch up on before seeing the theatrical experience.
RELATED: Jujutsu Kaisen 0 Unveils English Voice Cast and Awesome New Trailer
Jujustsu Kaisen 0 follows Yuta Okkotsu, a nervous high school student, who enrolls in the mysterious Tokyo Jujutsu High School under the guidance of Satoru Gojo after being haunted by the curse of his childhood friend Rika Orimoto, who died in a car accident when they were children. There Yuta meets his classmates, Maki Zen'in, Toge Inumaki, and Panda, and finally finds his own determination. Meanwhile, the vile curse user, Suguru Geto, who was expelled from the school for massacring ordinary people, appears before Yuta and the others. He unleashes a thousand curses upon Shinjuku and Kyoto to exterminate all non-sorcerers. Will Yuta be able to stop him and be free from Rika's curse?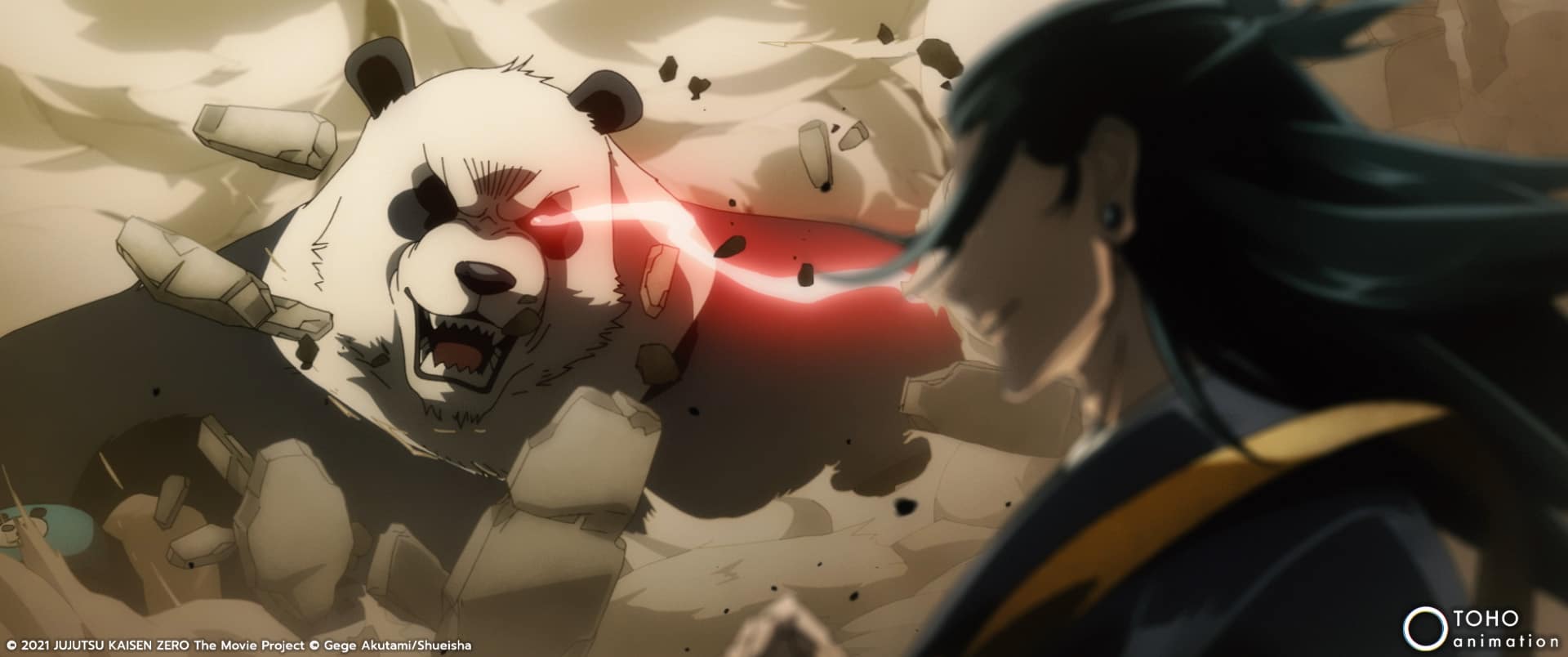 I have waited too long for this and I'm SO excited! (YAY GOJO!) MAPPA's art style is truly a marvel and I'm very excited to finally see this on the big screen. I, along with millions of others, anticipate an action-packed movie with stunning visuals that won't disappoint, and an equally powerful soundtrack to bring it all together. Jujutsu Kaisen 0 releases in North American theaters on March 18th, 2022.
Did you already get your tickets to Jujutsu Kaisen 0? Are you a fan of the anime or manga? What are you most excited about? Tell us in the comments below and share your reactions to the film with us on Twitter.
KEEP READING: Funimation Global Group Library Heading to Crunchyroll, Creating the Premier Anime Destination