On March 9, Sony's annual State Of Play press conference officially revealed a new Capcom game called Exoprimal, which is slated for release in 2023.
The team-based action game is a new IP set to unleash a prehistoric blast from the past in the near future. It sounds exciting, to be honest, and the thought of taking on Dinosaurs falling from a black hole while wearing Anthem suits and utilizing fast-paced combat from Platinum Games "Vanquish" feels like it could be a blast. But until more comes out, it seems we should proceed with caution.  
Exoprimal Has It All
Capcom expounded on Exoprimal's qualities in a new press release:
"Suit up in powered armor to put down dinosaur invasions and save humanity from extinction when the Exofighters deploy for battle on PlayStation®5, PlayStation®4, Xbox Series X|S, Xbox One and Steam in 2023."
RELATED: EVIL DEAD: THE GAME: WREAK HAVOC AS THE KANDARIAN DEMON IN NEWEST VIDEO GAMEPLAY TRAILER
Capcom also revealed that the story is quite simple and straightforward while exploring various methods of gameplay, and unique opportunities to keep every player occupied.
'It's 2040 and the planet is in crisis. Dinosaurs are appearing from thin air and laying waste to cities across the globe. Threatened by history's deadliest creatures, the world turns to the powerful Aibius Corporation and its revolutionary technology for help. The company's next-generation AI, Leviathan, can forecast where dinosaur outbreaks will occur and deploy Exo Fighters to the area. Armed with state-of-the-art mechanized combat armor known as Exosuits, these warriors represent humanity's last hope." 
Exoprimal pioneers a new multiplayer experience rooted in co-op – but with a competitive edge. One of the game's main modes is Dino Survival in which teams fight for every breath against countless dinosaurs while racing to complete missions before rival squads in 5v5 matches. 
It seems Capcom is trying to keep players on their guard while ensuring every game type, and the match will not be the same as the one before. To note, players in Exofighters will need to be aware and focused at all times when "hunts" transition into precious cargo deliveries. It does sound a lot like search and destroy or capture the flag from the opposing team's given opportunities to tackle adversaries head-on and impede their progress.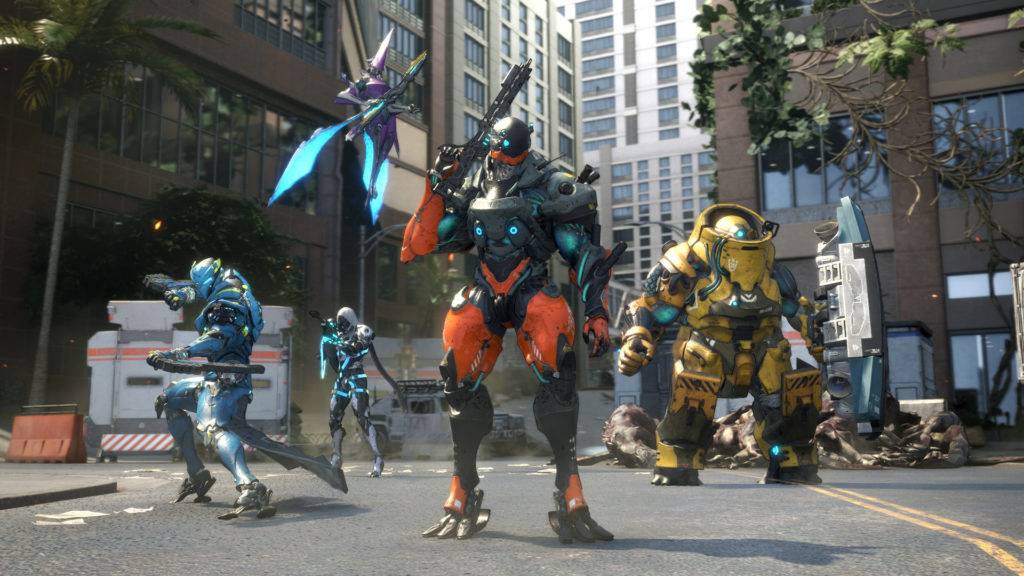 From everything revealed, it feels "Exoprimal" is purely focused around multiplayer but does possess a story that is tied to the gameplay. Meaning players can sink their teeth into the world's rich history and colorful characters by going the extra mile to unlock new story threads and piecing together the mystery behind the dinosaur outbreaks.
The press release also mentions that "Exofighters are always outnumbered and must work together to overcome overwhelming odds. Their Exosuits come in an array of classes, each playing a distinct role in combat. Assault models like the marksman Deadeye and the melee-oriented Zephyr excel at cutting down enemy swarms. Meanwhile, tanks such as the shield-bearing Roadblock and support types like the vital Witchdoctor help keep everyone alive to fight another day. Every model is outfitted with a unique armory and special abilities. Players can even swap between Exosuits on the fly to overcome any situation, no matter how dire."
Exoprimal seems like it could be a lot of fun, and rekindle the greatness that was Dino Crisis during the days of the PS1 when tank controls were still a thing and the blocky graphics of the past. Though from everything we saw it feels that this new IP could be a good step in the right direction for Capcom to feel fresh, and not fall into the pattern of recycling old IPs and established games.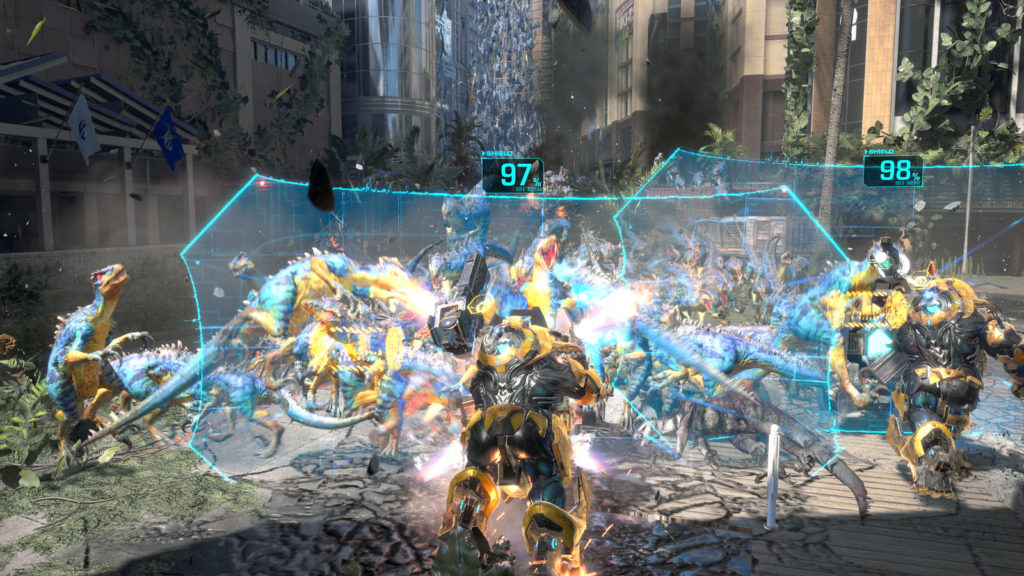 Exoprimal is slated for release in 2023 for PS5, PS4, Xbox Series X|S, Xbox One, and Steam.
So are you excited for Capcom to release something new besides Resident Evil and Street Fighter? Do you want a Dino Crisis remake? Is Exoprimal something unique? As always comment, and follow us on Twitter.
KEEP READING: CRITICAL ROLE: NEW EXANDRIA UNLIMITED 2 PART ADVENTURE PREMIERES MARCH 31