Made For Love returns for Season 2 on April 28, 2022, on HBO Max.
Widely acclaimed HBO Max Original series, Made for Love is kicking off Season 2 with 2 new episodes on Thursday, April 28, 2022. The series is about Hazel Green (Cristin Milloti) who is on the run after breaking free of the programming of her billionaire tech husband. However, she can't fully escape as he planted a revolutionary chip in her head that allows him to monitor her every move. And despite their horrible marriage, his manipulation, and overall being a dookie of a person, she still needs him in order to save her father's life.
Made For Love Season 2 Official Trailer
Made For Love Season 2 looks to be shifting the power dynamic between Hazel and Byron. Though she is in the same horrible place, it seems being in control of her decision and knowing her goals allows her to be a victim of the circumstances. Not to mention she obviously has a plan. However, her father, Herbert (Ray Romano), is completely dependent on Byron and he is a genius, so things obviously won't be easy for Hazel.
RELATED: Woke Exclusive Interview: Lamorne Morris Talks Going From Winston Bishop to Keef Knight
The comedy of Made For Love is powerfully funny being about things that really should not be funny. Season 1 had me dying when this guy kept getting his fingers chopped off. Even more serious, is the toxic and abusive relationship between Hazel and Byron. It is nothing but manipulation and manipulation. What Byron did is completely wrong, but does that justify Hazel's actions? Personally I think it does, but it does make me pause. While maybe not always "laugh out loud" funny, the dark humor enables audiences to really reflect on relationships and themes of the series and keeps the show and unencumbered by the would-be-heavy serious themes in the show.
Made For Love Season 2 Premieres on HBO Max, with two new episodes, Thursday April 28, 2022.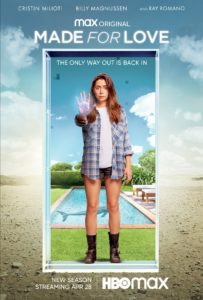 About Made For Love
Showrunner: Christian Lee, Alissa Nutting
Executive Producers: Christina Lee, Alissa Nutting, Patrick Somerville, Dean Bakopoulos, Liza Chasin, Daisy Mayer and SJ Clarkson
Production Studio: Paramount Television Studios
Cast: Cristin Milioti (as Hazel Green), Billy Magnussen (as Byron Gogol), Ray Romano (as Herbert Green), Dan Bakkendahl (as Herringbone), Noma Dumezweni (as Fiffany), Caleb Foote (as Bennett), Sarunas J. Jackson (as Jay)
Synopsis:
Based on the novel by Alissa Nutting, MADE FOR LOVE is a poignantly humorous story of modern love and divorce. Season One followed Hazel Green (Cristin Milioti), a thirty-something woman on the run after ten years in a suffocating marriage to tech billionaire Byron Gogol (Billy Magnussen), as smart as he is insufferable.

After discovering that her husband implanted a monitoring device – the Made for Love chip – in her brain, allowing him to track her, watch her and know her "emotional data," Hazel fled to her desert hometown to take refuge with her outcast father Herbert (Ray Romano) and his synthetic partner, Diane. In the second season, in order to save her father's life, Hazel returns to the Hub, Byron's high-tech palace. But once inside, she and Byron both become ensnared by Gogol's newest revolutionary (and dangerous) technology.
Are you excited for Made For Love Season 2? Will Hazel finally get the chip out of her head? Is Byron really the bad guy or is it a huge setup to reveal him as the hero? Let us know what you think in the comments below and be sure to share all your theories with us on Twitter.
Source: HBO Max
KEEP READING: https://theilluminerdi.com/2022/04/11/aqualad-new-hbo-max-series/