Woke star Lamorne Morris talks about going from Career Police Officer/Detective Winston Bishop to Activist and victim of racial profiling/police brutality Keef Knight.
Woke Season 2 was released on Friday, April 8, 2022, and I'm assuming you've already binged it. If not here's a link. Season 2 follows Keef Knight (Larmorne Morris) on his rise as an activist after the police profiling shenanigans that upended his life in Season 1. Keef's presence as an activist has grown, especially after a boost from Common, and he has to learn how to navigate the world of activism and all the new issues that come with it. It's a messy journey of trials, errors, self-realization, and friendship that is genuine and nuanced on a level many shows do not reach.
Last week at WonderCon 2022, we got the chance to interview the cast of Woke and we went in. We asked about what got them woke and also what it is like for the token white members of the team. It was a deep yet fun interview that gave us a lot of insight into those involved in the project, the incredible chemistry among them, and how the experiences of the cast and creators infuse the show with that genuine touch rather than a Hollywood lens.
RELATED: Woke Exclusive: The Cast and Creatives Reveal When They Got Woke at WonderCon 2022
The final question I had was for the star of the show, and Winnie The Bish from New Girl, Lamorne Morris. Caitlin and I were discussing the show and were fascinated by Larmorne going from a career cop on New Girl to a victim of police profiling and brutality on Woke. Both series are classified as comedies, but they also do approach the issues and do not stray away from the controversy. Granted New Girl doesn't go as deep into the issue, but the episode where Winston dated someone who actively did not support the police was very apt and well done. Here's a snippet from Lamorne's incredible response:
Woke's Lamorne Morris on Going from Winston Bishop to Keef Knight
Lamorne Morris: "…The way I came at it was -even if you watch the type of officer I was on New Girl– I always asked the question, 'What am I doing?'

I'm a police officer. There are Black police officers. There are some f**ked up things that happen. But there are some that doesn't. And I remember writing an episode based on that very idea. How do I feel as this guy who wears this uniform, but trying to date this woman who protests the police for a living? Should I feel ashamed? Should I do that? I got a lot of tweets from police officers. Then we'd have these dialogues and talk about it and how I would address the episode.

Then moving on to this show [Woke] it's the opposite side. Again, some f**ked up s#!+ does happen. And in my own personal life who are police officers who are fantastic people. So I didn't want to show what was popular for television or what was popular for headlines. I wanted to show what was authentic to me and to my friends. Police be doing some f**ked up s#!+ sometimes. But some of them don't.

Sometimes you might get yo ass beat by the police. Sometimes you won't.

And I think that's the cool thing about our show is that we're not picking sides all the time…

Lamorne Morris, Keef Knight on Woke
To watch and hear Lamorne's full response, the video below is primed to begin right at the beginning. But feel free to scroll to the beginning and watch the whole interview.
RELATED: Woke Exclusive WonderCon Interview – What It's Like For the Token White People
Woke Season 2 Exclusive Interview at WonderCon 2022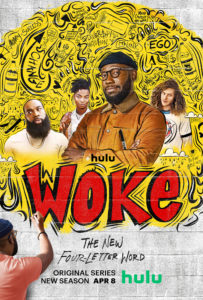 ABOUT WOKE
Created by: Keith Knight; Marshall Todd
Production Companies: Cloud Nine Productions; Olive Bridge Entertainment; ABC Studios; Sony Pictures Television
Genre: Comedy
Original network: Hulu
Cast: Keef (Lamorne Morris), Gunther (Blake Anderson), Ayana (Sasheer Zamata) and Clovis (T. Murph), shown
Synopsis
Cartoonist Keef Knight is now a popular activist on the rise, but he's facing a world where "woke" has become big business. Can Keef and his friends bring about real change, or is it just about the dollar$? And can Keef navigate this new world without destroying what he's become? Inspired by the life and work of artist Keith Knight, Woke continues to upend Black nerd and activist culture, deftly satirizing with a wink and a smile. (Courtesy of Hulu)
What was your woke moment? Have you ever been the token member of your team? Do you need a link to start watching Woke? Let us know in the comments below and let us know when you start your binge on Twitter.
KEEP READING: The Hardy Boys Exclusive Interview – Cast Explain How Season 2's Mystery Impacts Their Characters