The official teaser trailer for Thor: Love and Thunder is finally here.
Marvel Studios has set the record with the shortest number of days between a movie's release and the first trailer for it with Thor: Love and Thunder. The film is set to release on July 8, 2022, leaving just 81 days between the first official footage and the actual work premiere of the film. Many fans assumed the first trailer would drop with Doctor Strange in the Multiverse of Madness, which is likely still technically true as Marvel Studios only dropped the
Thor: Love and Thunder Official Teaser Trailer
As of the beginning of this writing, the trailer dropped roughly 30 minutes ago and already has over 1.3 million views. Fans have been clamoring to see the God of Thunder's fourth installment, and now it looks like we are officially teased. Thor: Love and Thunder is once again helmed by director Taika Waititi with Chris Hemsworth still portraying Thor Odinson. However, in this fourth film, he will be sharing the name Thor with Natalie Portman, who returns as Doctor Jane Foster this time wielding Mjolnir and the power of Thor.
RELATED: Thor: Love and Thunder Action Figures Reveal Promo Art and New Story Details
In the trailer, we get a quick glimpse of the evolution of Thor Odinson from child to iconic hero, as he voice-overs his current state of mind. The legendary warrior of Asgard is now a bringer of peace on a journey of self-discovery, who has worked off his "Bro Thor" body and rocks a new and swoller-than-ever-physique. It also looks to continue the hilarious awkward tension between him and Peter Quill (Chris Pratt) and we see him part ways with the Guardians of the Galaxy. He also apparently meets the Greek Gods, New Asgard becomes bureaucratic, and Jane Foster is the New Thor. All to the tune of "Sweet Child of Mine."
There are numerous symbols, locations, and easter eggs that will likely be broken down and explained to the exact frame. However, I watched it once so here's what stuck out from my first watch. The biggest thing is Natalie Portman as Thor wielding a repaired Mjolnir. Portman looks awesome and like many viewers, made Thor Odinson's jaw drop. Their first encounter looks to be in the midst of a battle, and what better way to be reintroduced than with of display of her power. It also looks like the Guardians of the Galaxy will not be in the movie too much, which makes sense as it is a Thor movie.
The next thing that really sticks out to me is the blue-haired woman Thor Odinson is kissing on The Goat Boat. She comes swinging in like a pirate and seems very familiar with him. Also, The Goat Boat is being led by Tanngrisnir and Tanngnjóstr. Then there are two massive skeletons, one connected to the chains of Thor Odinson's rope workout, the other frozen. The one with the chains looks like a primate of some kind, while the frozen one looks like a dragon akin to Fin Fang Foom. Then the last big thing is what appears to be Olympus and Zeus. Which could mean we get introduced to the Greek Gods, or I really don't know mythology.
I'm sure I'm not mentioning everything in the teaser trailer, but I just want to share the glory with everyone as soon as possible. Thor: Love and Thunder releases in theaters on July 8, 2022.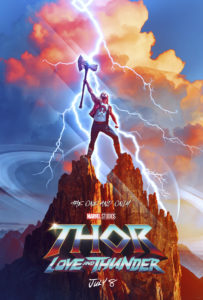 About Thor: Love and Thunder
Release date: July 8, 2022 (USA)
Director: Taika Waititi
Produced by: Kevin Feige; Brad Winderbaum
Production company: Marvel Studios
Music by: Michael Giacchino
Distributed by: Walt Disney Studios Motion Pictures
Cast: Chris Hemsworth, Natalie Portman, Christian Bale, Taika Waititi, Tessa Thompson, Matt Damon, Luke Hemsworth, Russel Crow
What did you think of the Thor: Love and Thunder teaser? Who is the blue-haired woman? Are we getting the Greek Gods and Hercules in this movie? Let us know what you think in the comments below and share all your theories with us on Twitter.
Source: Marvel
KEEP READING: Early Box Office For Doctor Strange in the Multiverse of the Madness Tracks High