You are not going to want to miss out on 8Doors: Arum's Afterlife Adventure, a thrilling and beautiful game.
8Doors: Arum's Afterlife Adventure is now available on Nintendo Switch for a limited time at 20% off its normal price of $19.99. Published by NEOWIZ and developed by Rootless Studio, this mesmerizing Metroidvana-style is a work of art based on the Korean myth of "Princess Bari."
RELATED: POSTAL 4: NO REGRETS REVIEW [PC] – ACTUALLY, SOME REGRET
Players will follow 'Arum' as she ventures deep into the afterlife in search of her father's soul. But this won't be an easy trip. She'll have to navigate a treacherous path while exploring the 8 Doors of Purgatory.
8Doors From Purgatory To Paradise
Players will have to make their way through 8 distinct regions, one for each Door of Purgatory. As well as face a wide range of monsters and bosses that breath life into Korean folktales. All while helping lead fugitive souls to the right path.
Check out the trailer below:
One of the most beautiful things about the game, 8Doors is how purgatory is presented in just three colors; Red, White and Black. One might think this would be dull or boring, but in fact it makes it even more visually appealing and eye catching. Especially when you take a glance to the details in the surroundings and characters. Which by the wall all the characters are done by hand in 2D frame-by-frame style.
'Arum' isn't alone though as she must make her way through the sprawling map. She is able is wield 7 different weapons and utilize a multitude of skills. Both of these will help her as she fights 36 different types of specters and 21 deadly bosses that she will encounter on the way. Along with the various skills, players will be able to take advantage of passive abilities and use fluid combo attacks to aid in their battles. There is never a dull moment when you are fighting to save your father's soul. Especially when each boss has unique attack patterns.
RELATED: DEAD MAN'S DIARY REVIEW [PC] – NOT EXACTLY A PAGE TURNER
8Doors is supported in 8 languages: English, German, Spanish, PT-BR, French, Japanese, Russian, and Korean. The game is also available on Steam, Epic, and GOG for PC, but the current sale is only available for the Nintendo Switch. Honestly, even if you have a bit of a back log of games, you are not going to want to miss the chance to play this game, as well as miss out on the limited deal.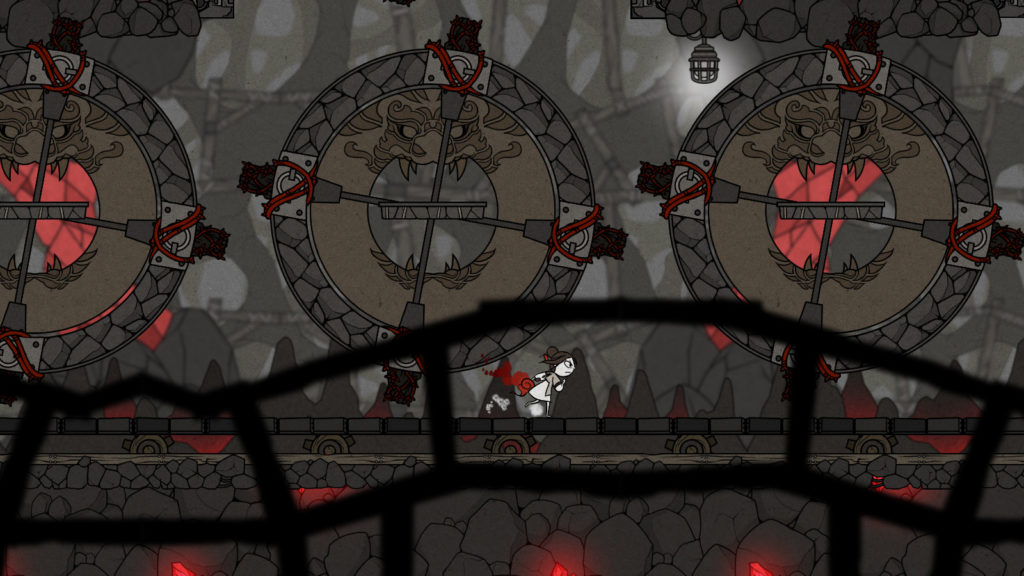 Also announced by NEOWIZ In partnership with Red Art Games and VideoGamesPlus, physical copies will soon be available and are able to be pre-ordered here (EU) and here (ESRB). Not to mention other consoles like PS4/5 and Xbox can expect launches in the future.
8Doors looks to find a nice balance between story, combat, and design. Allowing for gamers to get lost in this beautiful but dangerous world of Korean folklore. Will you be able to make it through all 8 doors and save your father? What ending out of the three available will you receive?
Make sure to follow the developers on Twitter for the latest updates. As well as checkout more information on the publishers website, PlayNeowiz.
Are you a fan of Metroidvania-style games? And if so, what are some of your favorite games? Let us know what you think of 8Doors: Arum's Afterlife Adventure in the comments as well as the eye catching art style.
KEEP READING: TINY TINA'S WONDERLANDS REVIEW [PC] – CHAOTIC FUN