Back in the 1990s, Power Rangers was a powerhouse of a show, nearly impossible to ignore at its peak of popularity. The Mighty Morphin Power Rangers series would run for three seasons and have a feature-length movie, but initially, it was nearly going to end before it could ever have even grown. Fans have seen the Power Rangers series face a lot of cancellations over the years, but the crew had nearly ended the show themselves back when it had only first begun.
Doomsday was the two-parter intended to be the series finale to Mighty Morphin Power Rangers, episodes 39 and 40 airing November 29th and 30th of 1993, three months after the series had premiered. It was adapting the final four episodes of Zyuranger, and as there would be no more footage fit to use, this 90's show was on the road to ending and maybe even the whole franchise.
RELATED: POWER RANGERS 30TH ANNIVERSARY SEASON: DAVID YOST SET TO RETURN: EXCLUSIVE
Fans wouldn't know the truth about this original final episode until more than a decade later when community member SirStack had uploaded scans of the original Doomsday Part II script on his archive site, Project HEXAGON. Even if there are no scans of Part I out on the internet, there is still a lot of change to the aired episode Power Rangers fans can see when reading.
1. RITA HAD A SON IN MIGHTY MORPHIN POWER RANGERS
Years before we would see the son of Rita and Zedd, Thrax, we were supposed to have met Bubba, originally called Kai, in the Super Sentai origin series, Zyuranger. Instead of Goldar, he would be the one that would've piloted the first-ever war-zord Cyclopsis to go against the Power Rangers.
We don't know how they would've introduced this short-lived villain, but in his few planned scenes, he was seen to be powerful with the evil Cyclopsis, being able to take down the Mighty Morphin Power Rangers and their Dino Zords. In the original Super Sentai, Kai was revived by Dai-Satan, known as Lokar in the Power Rangers adaptation. Could we have seen Lokar also be the reason Bubba could have existed?
2. ZORDON & RITA'S ORIGINAL BATTLE
When the Mighty Morphin Rangers were waiting for their zords to recharge, Zordon and Alpha would look for ways to stop Rita, and with new information comes knowledge of the battle between Zordon and Rita over 10,000 years ago. Zordon had captured Rita in the space dumpster that we had seen her escape from in the show's first episode. Zordon had known himself that it wasn't the proper way to defeat her, as it was only a temporary holding spot until she would potentially escape once again.
RELATED: HASBRO REVEALS NEW MIGHTY MORPHIN POWER RANGERS LIGHTNING COLLECTION PRODUCTS
Our mentor and tech robot lacked the schematics of what they needed to stop her. However, all this would change minutes later as Rita's moon palace would find its way to Earth, weakening its power so that now Alpha 5 could access her databanks and her secrets, discovering how to stop Rita for good. Ultimately, the way to trap her for all time was by using a golden urn.
3. THE FINAL BATTLE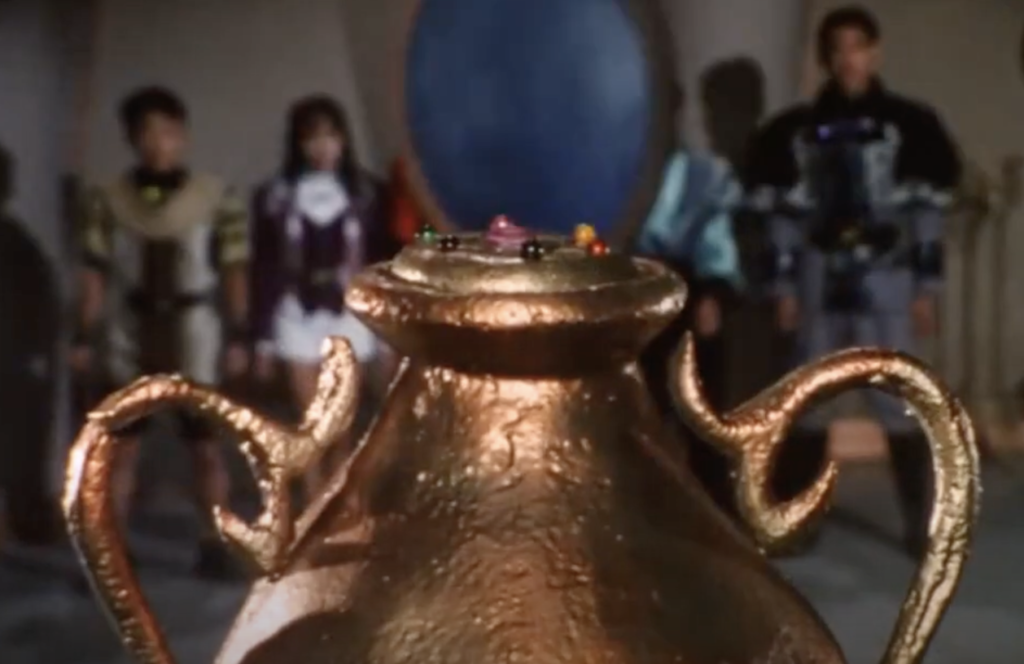 This would've been the final fight we see our heroes in. We would see an all-out final battle with all the Mighty Morphin Rangers (minus Tommy Oliver) in Rita's moon palace that had successfully invaded Earth. After defeating Bubba and Lokar with the Ultrazord, they would head into Rita's base while she cried in agony over this defeat. Rita even tried using her magic wand against our heroes but to no avail.
Zordon would teleport in the golden urn. We would see Zordon also talking through to Megazord directly to Rita, giving her and the evil space aliens one final message, "The universe will finally be at peace!". The Rangers would cast the spell, seal the villains for good, and send her floating in space, but her ominous voice could still be heard, hinting at a return.
Well, because of the unexpected popularity the show had suddenly obtained, both Fox Kids and Saban Entertainment were shocked. For this reason, they had to find ways to keep the show going, even if a finale was already written.  Power Rangers was good for ratings on Fox Kids and the merchandising for toy company Bandai, so Fox ordered twenty additional episodes to complete the first season. They simply altered Doomsday's plot so that the series would continue after that point.
They would enter into an agreement with Toei Company, the creator of the Super Sentai series, to produce all-new action scenes and Megazord footage that would be used throughout the remainder of the first season and well into the second season in 1994. That footage would later be known to the fans as Zyu 2.
But, what do you think of this original finale? Would it have been a nice end to the Mighty Morphin saga? Let us know your thoughts on social media or in the comments below, and check out my video for more info on this interesting idea for an ending, and keep following The Illuminerdi for more Power Rangers content.
KEEP READING: POWER RANGERS: JONATHAN ENTWHISTLE CONFIRMS FRESH NEW TEAM FOR THE EAGERLY ANTICIPATED REBOOT