Irish Spring solves the problem of stinky gamers with the world's first gaming shower.
When you're riding a win streak, close to beating a game, or just mindlessly going from checkpoint to checkpoint, it is easy to lose track of things like time, responsibilities, kids… But it's especially easy to lose track of your hygiene. After some intense matches and situations, the body naturally perspires and the dust and grime of the day mix with it and ruminate. Oftentimes, if left unchecked, an odor does develop. But as it is gradual, the gamer doesn't notice. It is a common problem, one that is sadly quite apt, but luckily Irish Spring has a solution, the Irish Spring Nice-Smelling Gaming Shower.
The Irish Spring Nice-Smelling Gaming Shower
RELATED: Dune: Spice Wars Review [PC] – A Genius 4x Game That Merges RTS and Tabletop Gaming
"Irish Spring is building off the momentum from its Big Game debut of the magical, nice-smelling world of Irish Spring by creating the first-of-its-kind Irish Spring Nice-Smelling Gaming Shower," said Emily Fong Mitchell, general manager of Personal Care for North America at Colgate-Palmolive. "Inspired by the need to save noses from the tyranny of gamer funk, Irish Spring is leveraging its expertise of freshness to bring nice smells to Zillennials and gamers everywhere. Consider it game over for not-so-nice smells."
While the concept is pretty cool, and the technology incorporated into the Irish Spring Nice-Smelling Gaming Shower is pretty impressive, the lifestyle it promotes is terrible. One, sitting in a pool all day is somehow worse. Also, if people aren't prone to shower, I feel like they'd be less prone to get up and use the bathroom sitting in that thing. So while I respect the ingenuity, the technology, and even the addressing of an issue, I think it is 1 step forward and 3 steps back. Granted, it's a hilarious April Fools joke, but some of the best joke products become real things, this should not be one of those things
RELATED: Call of Duty: Operation Monarch Teaser Introduces King Kong and Godzilla to the Warzone
Despite my lack of support for the concept. The execution is absolutely brilliant. The in-depth video almost made me reconsider. But just look at the thing. Irish Spring made a great commercial and concept product for a real, though not as serious as presented, issue. They also provide a much simpler and more practical solution in their release, "Avoid the all-too-common gamer funk and make sure you smell from a nice-smelling place by heading to your local retailer and grabbing Irish Spring, complete with a fresh new look." Which would likely also be cheaper, and can also be ordered on Amazon.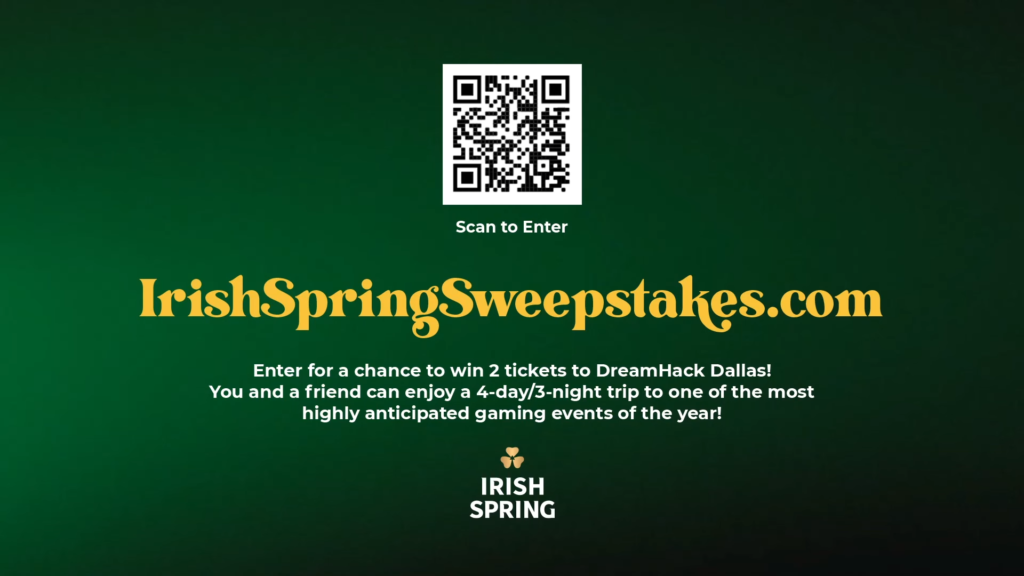 In addition to this hilarious and thought-provoking campaign, Irish Spring is hosting sweepstakes for fans to enter for a chance to win 2 tickets to DreamHack Dallas! A winner and person of their choosing can enjoy a 4-day/3-night trip to one of the most anticipated gaming events of the year! All fans have to do is scan the barcode, or go to IrishSpringSweepstakes.com and follow the instructions from there to enter. Winners will likely be announced within the next few weeks, probably the second or third week of May as DreamHack Dallas is happening from June 3-June 5, 2022.
What do you think about the Irish Spring Nice-Smelling Shower? Would you like to have on in your home? Would you use it for the shower feature? Be honest, would you use it as a toilet? Wouldn't it be easier to just go shower with Irish Spring products? Let us know what you think in the comments below and feel free to @ your friends at us who need to see this commercial on Twitter. We'll help you not hurt their feelings.
Source. Colgrate-Palmolive Press Release
KEEP READING: Twisted Metal: New Info On 2 New Characters Coming To Peacock Action Series: Exclusive