A new still from the upcoming superhero movie Thor: Love and Thunder has been released.
Thor: Love and Thunder follows the title character on a journey for inner peace after the events of Avengers: Endgame. However, Gorr the God Butcher throws a figurative wrench into the hero's retirement, intending to exterminate the gods. The God of Thunder must enlist the help of King Valkyrie, Korg, and Jane Foster to reveal the mystery behind Gorr's vengeance. This film marks the 29th installment of the Marvel Cinematic Universe and the 4th in the thunder god's line of movies.
Thor Goes Fourth on a New Adventure
Love and Thunder was first announced at San Diego Comic-Con in July 2019, with Chris Hemsworth, Tessa Thompson, and Natalie Portman reprising their roles as Thor, Valkyrie, and Jane Foster respectively. Taika Waititi had signed on to write and direct the movie that same month, having previously worked on Thor: Ragnarok. In 2020, Christian Bale joined the cast as the main villain Gorr. This is also his first comic book movie role since Batman in The Dark Knight Rises.
RELATED: Thor: Love and Thunder Funko Pops Release With Teaser Trailer
Other members of the cast include Chris Pratt, Jaimie Alexander, Pom Klementieff, Dave Bautista, Karen Gillan, Sean Gunn, Jeff Goldblum, Vin Diesel, and Bradley Cooper. They play Peter Quill/Star-Lord, Sif, Mantis, Drax the Destroyer, Nebula, Kraglin Obfonteri, Grandmaster, Groot, and Rocket respectively.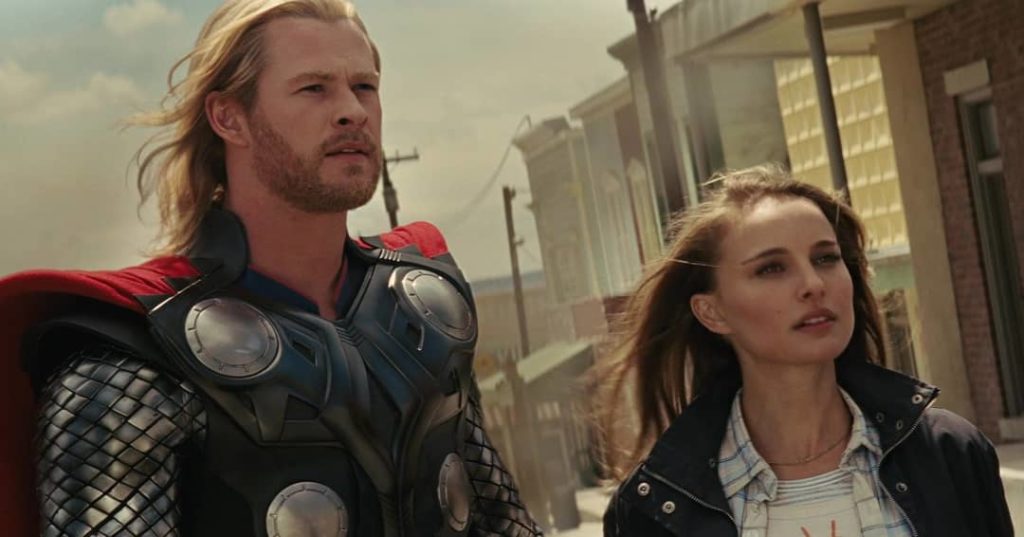 Currently, the Marvel Cinematic Universe is in Phase Four of their line of superhero movies and television series. Many installments had to be rescheduled because of the COVID-19 pandemic, and Love and Thunder is no exception. Filming and production in Australia had to be put on hold for much of 2020, and it would not be until early 2021 that the work on the project would take place.
RELATED: Thor: Love And Thunder Product Description Reveals a Mighty SPOILER About Jane Foster's Thor
Love and Thunder was originally planned for November 5, 2021 release date, but the pandemic prompted Disney to delay the movie to February 18, 2022. Disney moved up the release a week earlier but delayed it again to its current release date of July 8, 2022.
The recent image brings much speculation for his story and character development in his next adventure. From the premise, this may be his last tour of duty before officially retiring the superhero mantle. Another possibility is that he forms a new hero squad after losing his comrades in Endgame, as there is word Hemsworth is interested in continuing the role.
RELATED: America Chavez Co-Creator Was Offered A Pittance For Her Doctor Strange 2 Debut
Much of the storyline for Love and Thunder will be based on The Mighty Thor comic, including the arc of Foster becoming the new Thor. A teaser in mid-April 2022 revealed such, complete with the costume and ability to wield Mjolnir. As well as the initial announcement at San Diego Comic-Con in 2019. However, the lingering question is if Foster will keep the mantle in future installments.
When becoming the new Thor in The Mighty Thor, Foster had been diagnosed with breast cancer, and wielding Mjolnir worsened her health with its toxin-purging properties. As adaptations take some liberties from the source material, it is unconfirmed if Love and Thunder will retain this plot element. Waititi hopes to incorporate emotional elements in the story and enhance the worldbuilding to evoke a different tone from Ragnarok.
How do you think Thor's latest adventure will play out in Thor: Love and Thunder? Will he and his team stop Gorr and live to fight another day? What is your favorite movie in the franchise? Let us know in the comments!
Source: ComicBookMovie
KEEP READING: What The Jane Foster Merch Reveal Could Mean For Her Thor: Love and Thunder Origin Story