Sneak(er) preview of the new original song and music video "Kicks" from Disney+ original movie Sneakerella
Disney+ original movie Sneakerella is set to release in a little under two weeks on May 13, 2022. This original movie from Disney Branded Television is directed and co-executive produced by Elizabeth Allen Rosenbaum is about an aspiring sneaker designer from Queens who works as a stock boy in the shoe store that once belonged to his late moth. This modern reinterpretation of Cinderella features eight new original songs that span across a variety of music genres including R&B, hip-hop, and pop, written and composed by a mix of acclaimed songwriters. Watch the sneak(er) peek at the opening number "Kicks."
Chosen Jacobs – Kicks (From Sneakerella)
Here's the official information about the openings sequence direct from Disney:
The uber-cool jam "Kicks," performed by Chosen Jacobs, is the film's opening musical sequence and introduces El (Jacobs) and his affinity for sneakers as he glides his way through the vibrant street-sneaker subculture of New York City. The song was written by Antonina Armato, Tim James Price, Thomas Armato Sturges and Adam Schmalholz and produced by Antonina Armato and Tim James Price. The stand-out dance sequence is choreographed by Ebony Williams and Emilio Dosal. 
RELATED: Thor: Love and Thunder Funko Pops Release With Teaser Trailer
"Kicks" is a bop. Honestly, I feel a bit too old to be looking forward to Disney+/Disney Channel original movies, but that was dope. The eventual cutaway feels very classic Cinderella/Little Mermaid wanting and imagining more to life, and the song and choreography didn't feel cheesy like High School Musical felt. Not to knock HSM, just even when I was in the demo age it was kind of cheesy, it did not stop me from watching HSM3 in theaters. But Sneakerella seems to be the evolution of the Disney Original Movie Musical, it approaches it more directly making for a less cheesy and more engaging experience.
El is played by Chosen Jacobs who from the video makes it obvious why he is the star of the show. Swag, performance, and reliability instantly emanated from his presence on screen. In addition, the cinematography, set design, and choreography seamlessly and fluidly mesh in the awesome opening number. The way the leaves parted and transitioned to the reflection from the puddle in the opening shots was enthralling. That is an expertly intricate and meticulous shot. I vastly underestimated the production value that was going into this film and eagerly looking forward to how wrong my initial thoughts were. Check out the pics below for more of a sneak(er) peek.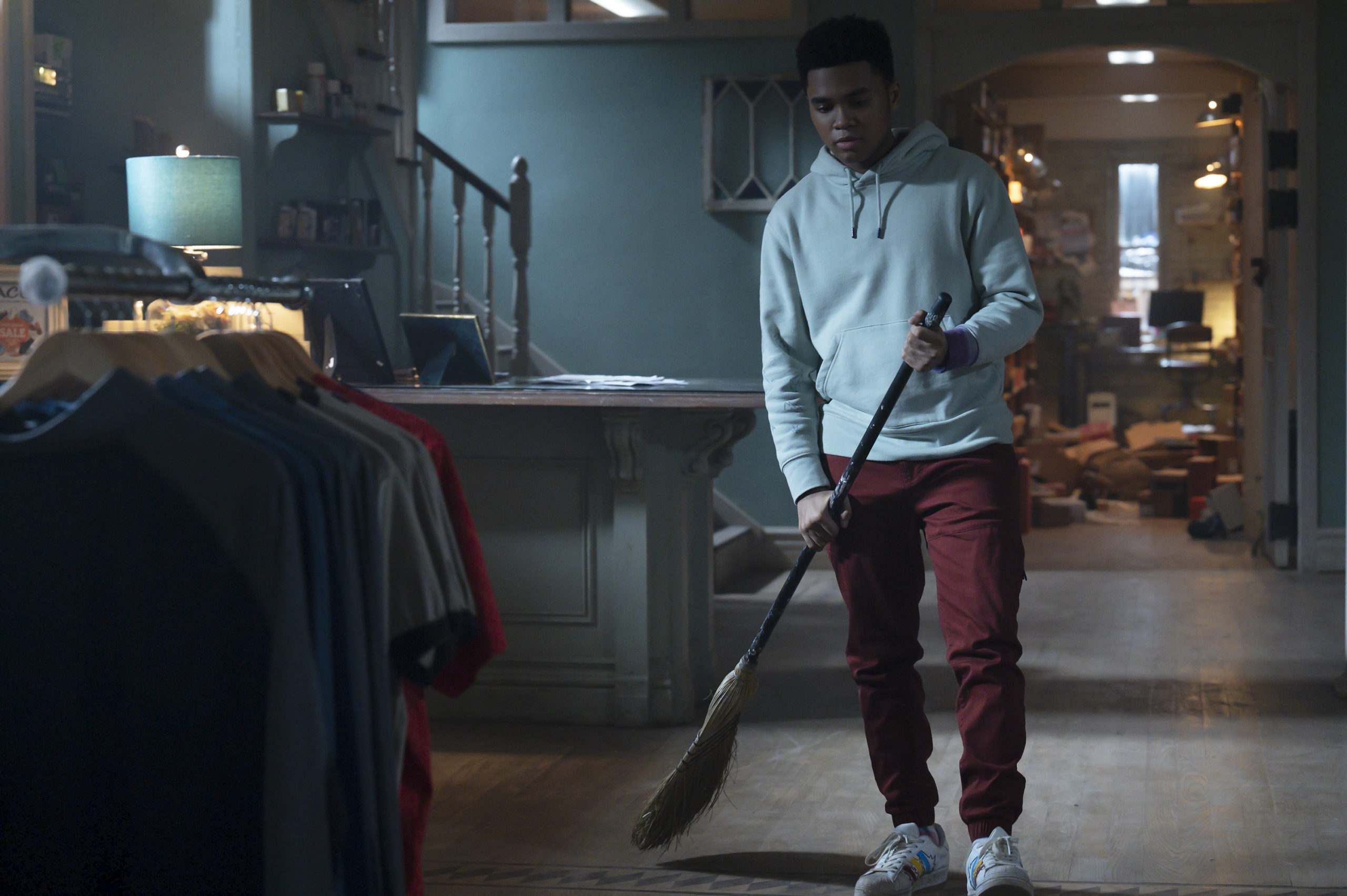 Sneakerella premieres on May 13, 2022, only on Disney+.
About Sneakerella
Release: May 13, 2022
Director: Elizabeth Allen Rosenbaum
Executive Producers: Elizabeth Allen Rosenbaum, Tamara Chestna, Jane Startz, Rachel Watanabe-Batton
Written by: David Light & Joseph Raso, Tamara Chestna, and Mindy Stern & George Gore II
Based on the story by Mindy Stern & George Gore II and David Light & Joseph Raso
Composer: Elvin Ross
Choreographers: Ebony Williams, Emilio Dosal
Cast: Chosen Jacobs, Lexi Underwood, John Salley, Devyn Nekoda, Juan Chioran, Bryan Terrell Clark, Kolton Stewart, Robyn Alomar, Yvonne Senat-Jones, Hayward Leach.

Synopsis:
El is an aspiring sneaker designer from Queens who works as a stock boy in the shoe store that once belonged to his late mother. He hides his artistic talent from his overburdened stepfather and two mean-spirited stepbrothers who constantly thwart any opportunity that comes his way. When El meets Kira King, the fiercely independent daughter of legendary basketball star and sneaker tycoon Darius King, sparks fly as the two bond over their mutual affinity for sneakers. With a little nudge from his best friend and a sprinkle of Fairy Godfather magic, El finds the courage to use his talent to pursue his dream of becoming a 'legit' sneaker designer in the industry.

El is now ready to lace up and dream big.
Did you enjoy Sneakerella's opening sequence? Would you add "Kicks" to your playlist? Will you be watching the Sneakerella when it premieres on Disney+? Let us know what you think in the comments below and recommend some dope nerd kicks at us on Twitter.
Source: Disney+
KEEP READING: Watch the Hilariously Bizarre Full Trailer for Chip N' Dale: Rescue Rangers