Kurt Angle gives two names of WWE Superstars he wanted to wrestle before he retired.
During a recent episode of The Kurt Angle Show he spoke about his request to face two former TNA/IMPACT rivals, AJ Styles and Samoa Joe, as part of his retirement tour in 2019.  He also spoke about what he thought of his final matches.
RELATED: EVERYTHING EVERYWHERE ALL AT ONCE CONTINUES TO BREAK BARRIERS AFTER GROSSING $35 MILLION IN NORTH AMERICA
"The thing was, I requested this match to Vince McMahon," Kurt Angle said. "I had the Kurt Angle farewell tour and they allowed me to request certain matches and I requested AJ Styles and Samoa Joe over any other WWE wrestler and I made sure I got those two. AJ and I went out there, it was three minutes and we kicked ass for three minutes. But what're you going to do? There was no finish and it just kind of sucked. Unfortunately for AJ and I, it wasn't the finish that we wanted.

Not the way I wanted to end my career and Randy Orton did not get up for me on the Angle Slam. This match was so embarrassing, it showed no traces of the real Kurt Angle. It was like the old beat-up Kurt Angle with the quad injury, no finish, it was just horrible." H/T To Wrestling Inc. For Transcription
Not The Same Kurt Angle
The match took place on an episode of SmackDown in late March 2019. Three minutes is not nearly enough time for a match with Styles and a legend like Angle. However, to make it even worse Orton interrupted the match so it ended in a DQ. A match like this should have taken place at a PPV or given at least 15 minutes so Angle could have a long match with a great opponent.
RELATED: SAM RAIMI TALKS BRINGING HORROR TO DOCTOR STRANGE IN THE MULTIVERSE OF MADNESS
As much as I hate to say it I agree the Angle we saw when he returned to WWE was not the same Angle. I am a huge fan of Angle and I think his name isn't brought up enough for great early 2000s wrestlers along with Stone Cold, Undertaker, Chris Jericho, The Rock and others.
Kurt Angle just lost a step and seemed very stiff.  If I didn't know any better I would have thought he had retired during his time between leaving WWE in 2006 and his return in 2017, but I know he spent most of his time wrestling for TNA during the gap..  In fact many believe his matches in TNA were some of the best of his career.
During his time in TNA one of his rivalries was against AJ Styles. Angle spoke about knowing Styles would do well in WWE.
"Oh yeah, I knew from early on in TNA," Angle said. "All he needed was an opportunity and a chance and he got it and when he did, he kicked some ass.

It was exciting to see AJ, he's such a good guy. He was such a great friend, loyal. Not just in the ring but he always had this caring way about him, asking about your kids and your wife. He was a great family man and it was just great to see him and knowing that we might wrestle again was pretty intriguing."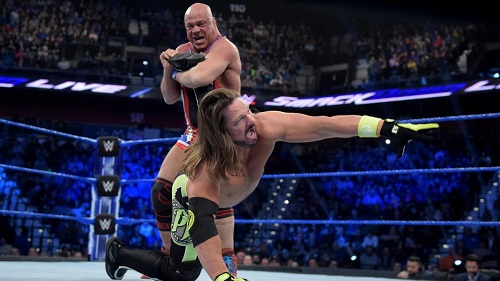 The Legend Of The Phenomenal One
Styles has long been known as one of the best wrestlers around.  It has been said, and I think Kurt Angle was one of the guys to say this but legend has it this is how good Styles is.  When someone wrestles Styles they can stand still and Styles will do all the work and almost wrestle for them.
Styles is a wrestler's wrestler, but a question came up about another wrestler's wrestler, Bryan Danielson. Angle was asked who he thought was better.
RELATED: WORKING WITH CELEBRITIES HAS MADE SAMI ZAYN RE-EXAMINE THE WRESTLING BUSINESS
"That's tough, they're identical," Angle said. "They're so much alike and as far as their styles and everything they do, they're great at submission, they're great at highflying, they're great at anything that belongs in the ring. I will say this, I will pick AJ only because I wrestled him. I never wrestled Daniel Bryan [Bryan Danielson] and if I did I might change my mind, so I'm saying AJ right now because I wrestled him."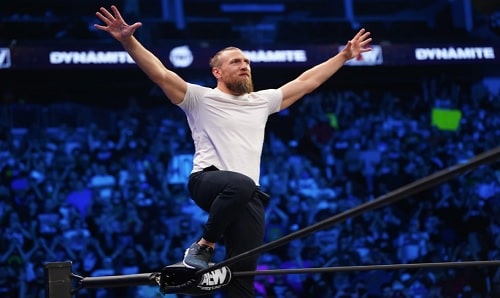 Angle Vs. Danielson Or Other AEW Stars
I would have loved to see Danielson vs. Angle in both their primes. They are both so similar, especially in their technical wrestling skills. That would have been one hell of a match. The good thing is that Angle has expressed a desire to return to the ring, but it was to a WWE ring. However, budget cuts happen all the time and maybe WWE may choose to not use Angle and release him. So we just may see Angle head over to AEW and face some dream opponents over there.
I would love to see an Angle vs. Danielson, CM Punk, Jericho, Samoa Joe, Kenny Omega or Sting.
What did you think of Angle's last match with Styles? Did Angle's last run in WWE live up to your expectations?  Who in WWE would you like to see Angle face?  What about in AEW?  Let us know if you think Angle derives to be in the conversation of great 2000s wrestlers in the comments.
KEEP READING: GOLDBERG TURNED DOWN OFFER TO WRESTLE A DOMINANT FORMER CHAMPION
Sources: The Kurt Angle Show, Wrestling Inc.