WWE is giving its newer talent 90 days to show improvement in their work or they may face a release.
Sudden releases and WWE go together in recent years like peanut butter and jelly. The blanket "budget cuts" reason has been the most used reason, but it never made much sense to fans. However, we may now know another reason or perhaps even the main reason for sudden releases at least when it comes to NXT releases.  The most recent batch of releases happened last week with Dakota Kai, Malcolm Bivens, Dexter Lumis, Paige Prinzivalli, Harland, Persia Pirotta, Sanjana George, Draco Anthony, Mila Malani and Raelyn Divine.
RELATED: JOHNNY GARGANO RESPONDS TO A CHALLENGE AND SPEAKS ON HIS FUTURE
On a recent episode of Wrestling Observer Radio, it was revealed WWE has instituted an ultimatum for newer talent which would seem to mean NXT. This recent batch of releases could have happened for many reasons, but Harland was specifically released because he wasn't progressing like WWE was hoping.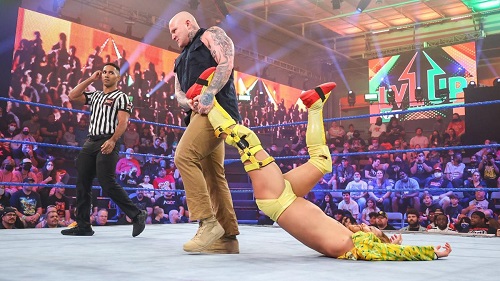 No More Brock Jr. In NXT
Harland was signed to a developmental contract in February 2021. He was compared to Brock Lesnar immediately and the hope was he could take on that kind of role at some point in the future.  
WWE put Harland in a major feud with NXT Champion Bron Breakker which saw Harland and Joe Gacy kidnap, Breakker's father, Rick Steiner. To put him in that kind of feud against someone who is also very new like Breakker seems to show they trusted and had high hopes for Harland. Perhaps they were comfortable where he was at, but wanted to see him willing or able to improve beyond that point and maybe he wasn't able to or willing to put in the work.
RELATED: EXCLUSIVE INTERVIEW: SANTOS ESCOBAR TALKS ABOUT WHAT IMPRESSES HIM THE MOST ABOUT HIS NXT CHAMPION BRON BREAKKER
Lumis is another one who it seemed like WWE really liked and were putting a lot of momentum behind. He had been in NXT for years and was always in big feuds and segments.  
The 90-day ultimatum seems like an excuse to release wrestlers in some ways. If a wrestler is given a crap gimmick it is hard to take that crap and make it into gold. This is especially true when they are brand new to wrestling and this will continue to be the case with WWE only wanting young wrestlers with no indie experience.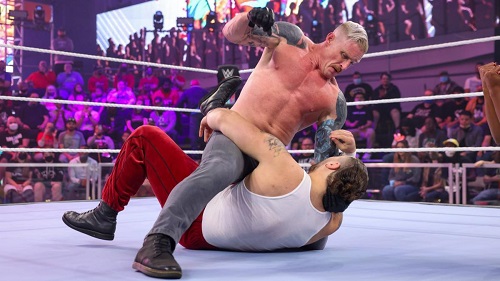 Hard To Improve With Bad Character And Lack Of Experience
It is hard to improve when they don't have much experience. For example, Harland and Lumis both didn't really talk so it would be hard to improve their mic skills if they don't get an opportunity to speak on NXT.
RELATED: 2 NEW NXT STARS TO HAVE THEIR NAMES CHANGED BY WWE
We also don't know exactly what "show improvement" means. It could be improvement in the ring with the actual wrestling, with mic skills like I said before or maybe they mean in ego and backstage behavior. We have to keep in mind that a lot of these people came out of sports like college football where they are the best player on their team, but now they are in a room with 30 other guys who were just as good if not better. Ego can ruin a promising wrestling career real quick. Just look at Ultimate Warrior.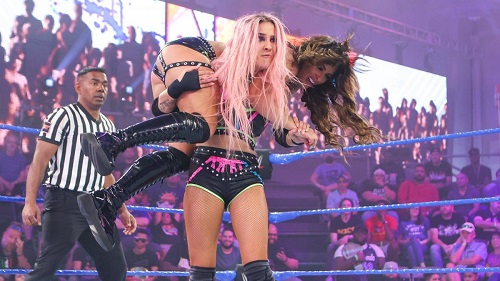 It would seem that most of these releases, if not all are because of the lack of "improvement," whatever that means. However, the biggest name on the list, Dakota Kai, is exempt from that group. Her release was due to her not being seen as able to go to the main roster and being successful there. I don't see why they couldn't give her a chance there and see if she can rise to the main roster level of talent. It isn't like she didn't prove herself as one of the top women in NXT.
What do you think of this new 90-day ultimatum policy? Do you think these recent releases showed progress in the last 90 days? Did you see potential in these recent releases? Which do you think will do well in AEW or IMPACT or other big promotions? Do you think WWE made a mistake in not seeing Kai as a main roster talent? Leave a on our social media and let us know who you think may be next to be released because of this 90-day ultimatum policy.
KEEP READING: KURT ANGLE NAMES TWO SUPERSTARS HE REQUESTED TO HAVE MATCHES WITH BEFORE HIS RETIREMENT
Sources: Wrestling Observer Radio, Wrestling Inc.