Jo Koy's love letter to his Filipino-American community, Easter Sunday, drops the official trailer.
Okay, so normally I try to start things off professionally and introduce the film and stuff, but this one is personal. I will likely watch Easter Sunday more times a year than I visit my family. However, I may make the 6-hour drive from SoCal to NorCal to watch this with them. Filipino-Americans are getting a fully backed and distributed major motion picture. Stand-up comedy sensation, Jo Koy leads an all-star comedic cast in the world's first major Hollywood picture about Filipino-Americans. Watch the trailer below and get a glimpse into the Filipino family dynamic.
Easter Sunday Official Trailer
Jo Koy (Jo Koy: In His Elements, Jo Koy: Comin' in Hot) stars as a man returning home for an Easter celebration with his riotous, bickering, eating, drinking, laughing, loving family, in this love letter to his Filipino-American community. Koy leads an all-star comedy cast that includes Jimmy O. Yang (Silicon Valley), Tia Carrere (True Lies, Wayne's World films), Brandon Wardell (Curb Your Enthusiasm), Tony nominee Eva Noblezada (Broadway's Hadestown), Lydia Gaston (Broadway's The King and I), Asif Ali (WandaVision), Rodney To (Parks and Recreation), Eugene Cordero (The Good Place), Jay Chandrasekhar (I Love You, Man), Tiffany Haddish (Girls Trip) and Lou Diamond Phillips (Courage Under Fire).
RELATED: LUMPIA WITH A VENGEANCE COMIC WRITER AND ARTIST LAWRENCE IRIARTE WANTS TO SEE THE LUMPIA AVENGER TEAM UP WITH BATMAN AND TALKS ABOUT THE IMPORTANCE OF REPRESENTATION IN THE SUPERHERO GENRE: EXCLUSIVE
Easter Sunday, from DreamWorks Pictures, is directed by Jay Chandrasekhar (Super Troopers, The Dukes of Hazzard, I Love You, Man), from a script by Ken Cheng (Sin City Saints series) and Kate Angelo (Sex Tape) based on a story by Ken Cheng.  This film is produced by Rideback's blockbuster producers Dan Lin (The Lego Movie franchise, It franchise), Jonathan Eirich (Aladdin, The Two Popes), and Steven Spielberg in some sense. It will also be distributed by Universal Pictures domestically and Amblin Partners will share international distribution rights.
I have been to multiple Jo Koy performances, and he is hilarious! His approach to sharing stories of his family shows that people tend to have more in common than not regardless of our inherited culture. Also, if you ever do go see Jo Koy, I recommend smaller venues and comedy clubs. While he does have his routine, he spends a majority of the show riffing and doing crowd work making no two nights the same. Even if they are back-to-back. But do not make the mistake of thinking you can match wits and insults with a comedian, this one lady learned the hard way, got completely embarrassed, and as Koy made sure to point out, with no refund.
RELATED: Jurassic World: Dominion Funko Pops! Are Now Available
Jo Koy leading Easter Sunday is exciting for fans looking for family-friendly fun that not only makes us laugh, but allows us to portray the issues that many families experience. Films like this will help people not look at me in horror when I tell them family experiences, it's not as scary as it sounds, it's just different than what the media has chosen to portray and perpetuate for so long. And with Koy leading, you know you have a master of catering the family story to a wide audience. I can't wait to watch Easter Sunday when it releases on August 21, 2022.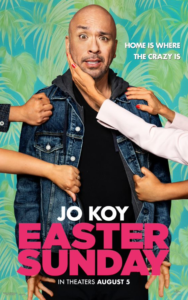 About Easter Sunday
Director: Jay Chandrasekhar        
Screenplay by: Ken Cheng and Kate Angelo, based on a story by Ken Cheng
Producers: Dan Lin, Jonathan Eirich
Executive Producers: Nick Reynolds, Joe Meloche, Jo Koy, Jessica Gao, Jimmy O. Yang, Ken Cheng,Seth William Meier
Genre: Comedy  
Cast: Jo Koy, Jimmy O. Yang, Tia Carrere, Brandon Wardell, Eva Noblezada, Lydia Gaston, Asif Ali, Rodney To, Eugene Cordero, Jay Chandrasekhar, Tiffany Haddish, Lou Diamond Phillips
Synopsis:
 Jo Koy stars as a man returning home for an Easter celebration with his riotous, bickering, eating, drinking, laughing, loving family, in this love letter to his Filipino-American community.
Are you excited about Easter Sunday? What foods do you think will be featured in the film? Have you seen Jo Koy live? Let us know in the comments below and share your favorite Filipino foods with us on Twitter.
Source: Universal Pictures
KEEP READING: The Legendary Lumpia Squad