Shepherd, the new horror movie from writer-director Russell Owen, is a frightening, isolating film about guilt, inner demons, and the relationship between one's mind and reality itself. 
The horror-thriller from Saban Pictures was written by Owen over a number of years. He worked as a commercial director, while simultaneously seeking out financing for the deeply personal project that became Shepherd. Eventually, Russell Owen was able to enter an arrangement whereby he would direct the indie horror picture, Inmate Zero for free, and in return the producers would put Shepherd on their slate, finally bringing Owen's dream to life. 
Fast forward to May 6, 2022, and the film has arrived in theaters domestically, with a digital and on-demand arrival merely days away, on May 10. The movie, which draws from UK legends such as the Smalls Lighthouse story (which also inspired Robert Eggers' The Lighthouse), is fully realized, featuring some ghoulish special effects, an incredible cast lead by Tom Hughes, and a twisted melding of the real and the imagined never quits building steam. 
SHEPHERD: NEW HORROR MOVIE HITS THEATERS MAY 6, DIGITAL MAY 10
Tom Hughes plays Eric Black, a widower whose pregnant wife recently passed away. His relationship with his mother, Glenys Black (Gretta Scacchi) is unhealthy to say the least, and his only living friend is his sheepdog, Baxter. The death of his family has made Eric distant and cold, with an overwhelming need to be alone for now. To achieve such ends, he takes a job on a distant Isle as a shepherd.
Mr. Black is to be alone on the island, except for Baxter, the sheep he watches over, and the Fisher who brings weekly supplies. Kate Dickie plays the half-sighted Fisher, whose words are as riddles, whose aura is purely dreadful in the best way, who represents the only way in and out of the island. Of course, Eric also has the nightmares of his deceased partner and child to keep him company. 
RELATED: X REVIEW: TI WEST'S SEDUCTIVE SLASHER SINGS A SUPERBLY SALACIOUS SONG SONICALLY CHARGED WITH SINFUL SCREAMS
But once the ghosts of his suffering seem to escape from his dreams and into reality, on the same desolate Isle which Mr. Black now calls home, his mental state takes a turn for the worse. He starts to see people who aren't there, and seemingly impossible and out-of-place objects (i.e. wedding rings and cruise liners) begin to appear for him. His acrophobia makes climbing the stairs to bed at night a horrendously uncomfortable task, both for Mr. Black and the audience, who are forced to join Eric as his mind unravels over the course of Shepherd. 
SHEPHERD, THE SHINING AND THE DECONSTRUCTION OF THE MATERIAL WORLD
Some of the strongest narratives in the horror pantheon, such as The Shining, take the line between what is real and what is perceived and blur them, sometimes to the point of indistinction. Shepherd continues that tradition of insane, confusing, bloody filmmaking, giving those who came before a run for their money in the process. The conclusion of Russell Owen's shocking, depressing true debut offers some possible answers, while clearly reminding viewers that nothing is concrete in the world of Shepherd.
The events of this indie epic could be set in motion by supernatural forces, or witchcraft. There is the possibility that Eric Black is completely mad, or he might be dead, in some state of Purgatory or Hell. Perhaps all, or some mixture of the above could be true.
RELATED: THE EXORCISM OF GOD EXCLUSIVE INTERVIEW: WILL BEINBRINK TALKS FATHER PETER'S SECRET PAST & THE NEXT CHAPTER 
The final scene of Shepherd is in conversation with the conclusion of Todd Phillip's Joker, which could be a wonderful coincidence for nerds like me, or it could be by design. Both films end with the suggestion that the entire story so far could be a wild misrepresentation of the truth, OR, the story may have played out just like that. The narrators are not reliable, and the worlds they inhabit are rife with isolation, guilt, loneliness and loss. While that serves to make the protagonists more sympathetic, even relatable to some, it also throws everything we've been shown throughout the movie into question.
SHEPHERD: IS MR. BLACK INVOLVED IN HIS OWN "KILLING JOKE"?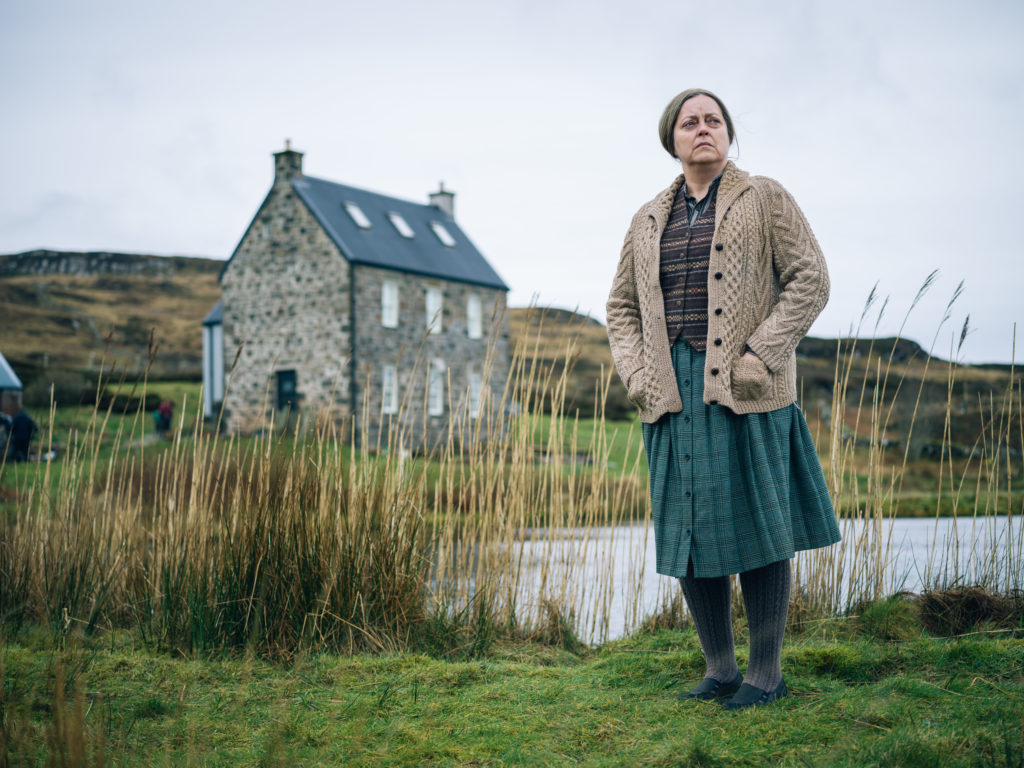 One mark of a phenomenal film is when it leaves you pondering it for days after you've watched it. Shepherd got in my head, and it stayed there, making me ask questions about not only the film and Mr. Black, but about myself. When a movie can make you look inward, especially with a mind-blending narrative like this one, that's something special, and something that should be shared. 
RELATED: DON'T WORRY DARLING: STARRING FLORENCE PUGH & HARRY STYLES, DROP OFFICIAL TRAILER & NEW STILLS
Russell Owen has put together a wonderfully, bleak, dour, and terrifying story with incredible performers including Tom Hughes, Kate Dickie, Gretta Scacchi, and Gaia Weiss, who plays Rachel Black, Eric's wife. The finale will leave you wanting more, and the only way for fans to push for the next chapter is to support the movie through ticket purchases and social media promotion. So, if you enjoy stories like Moon Knight which will leave you wondering what defines reality, or you fancy a clever horror movie, check out Shepherd, in theaters now. 
Shepherd is now in theaters and available on digital and on-demand on May 10, 2022. What did you think of Shepherd? Is anything real? Let us know your thoughts in the comments below or on our social media! 
KEEP READING: SHEPHERD WRITER-DIRECTOR RUSSELL OWEN ON HIS NEW MIND-BENDING TALE OF MACABRE, ISOLATING MADNESS: EXCLUSIVE INTERVIEW