Thunder Rosa reflects on what being AEW Women's World champion means to her and what her feud with Britt Baker reminds her of.
Rosa has been one of the breakout stars in AEW and has quickly climbed to the top of the women's division. In the process of climbing the way to the top she gained a lot of fans and won herself the AEW Women's World Championship.
RELATED: SAMOA JOE TALKS ABOUT RING OF HONOR'S POWERFUL INFLUENCE AND HELPING YOUNG WRESTLERS
However, now that she is on top and is champion she admitted to the Under The Ring podcast during an interview she doesn't really know what being a champion means yet.
Thunder Rosa Speaks Up
Here's how she broke it down:
"I don't know, that's a really good question, I'm still trying to figure it out," Rosa said. "It's like having the title in my hands and carrying it with me in Walmart, at the courthouse, everywhere, it's incredible. Because I always dreamed that I was going to be at the top of a company. But for me, like, it feels so soon but it's not. It's been eight years in the making, so, it's very, very special." H/T To Wrestling Inc. For Transcription
Taking Being Champion As An Opportunity To Elevate Women
Thunder Rosa beat the long time AEW Women's World Champion Britt Baker in March.  It hasn't been that long since winning the championship for Rosa and is her first title held within AEW.  Being champion comes with a lot of responsibility.
Rosa has taken the opportunity to try to elevate other women within AEW and women in general.  She also wants to help women to get to the position she is in now.  It is a long hard road to the top, but Thunder Rosa wants to help women get there.
"It's such a wonderful tool that I can utilize to not only elevate myself as a wrestler, as a woman, as an entrepreneur but also to elevate other women who want to be at the same level that I am right now. That's what I am trying to figure out," Thunder Rosa said. "How can I do that in the most positive way?"
Did We Just Witness The Start Of A Legendary Feud?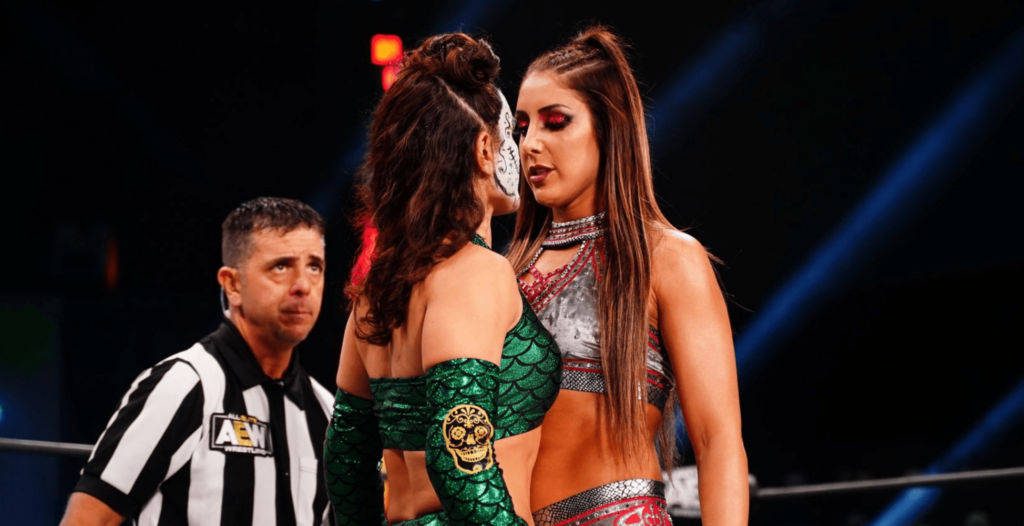 Despite her aggressive and stiff style of wrestling it seems Thunder Rosa has a lot of kindness.  Many who find themselves on top become complacent and look down on others including fellow wrestlers.  However, Rosa trying to elevate her fellow competitors may not be out of kindness.  Maybe she is just so confident that she will remain on top that she wants others to try and take it from her.
RELATED: W. MORRISSEY, FORMER WWE STAR, MAKES EXPLOSIVE DEBUT ON AEW DYNAMITE
On her road to the top Rosa made friends and also enemies.  None more so than the champion she took the championship off of, Baker. Thunder Rosa and Baker developed quite a feud and she doesn't think it is one which will end anytime soon.  She even compared her feud to legendary WWE feuds.
"Every match that we had it escalated to the next level, right? At first, we had our match which was a 'regular match,' at Beach Break last year," Rosa said. "Then we have the tag matches in-between, then we have the big blowoff, right? For those, I don't know, I guess the rivalry that we have it's real. I don't think this is something that, now that I have the title, and I took the title from her, is something that's going to end.

I think this is like The Rock and Stone Cold or Trish and Lita, something of that sort, I feel like it's something that's never going to end. But, our matches definitely were more physical. And in terms of we are talking about female wrestling, they were a lot more physical.

We pushed a lot of boundaries. I don't think people were used to seeing women in the mainstream media doing something of that sort. Especially on the last one."
After facing Baker and failing to take her championship, Thunder Rosa was finally able to get the win.  The two women faced off in a brutal and bloody Steel Cage match on the St. Patrick's Day Slam episode of Dynamite with Rosa coming out on top.
Those are some legendary feuds Rosa compares her feud with Baker to. They aren't rivalries and grievances which are forgotten or forgiven. A rivalry like that lasts forever and produces amazing matches when two competitors at the top of their game like Rosa and Baker meet in the ring.
What do you think of Thunder Rosa being AEW Women's World champion?  Who do you think may have a chance of taking the championship off her?  Do you think the Baker vs. Rosa feud is on the same level as Rock vs. Stone Cold or Lita vs. Stratus?  Don't forget to let us know in the comments who you think Rosa should start a feud with next.
KEEP READING: THE LEGENDARY BOOKER T ON IF HE THINKS BRAY WYATT WILL RETURN TO WWE
Sources: Under The Ring, Wrestling Inc.