At long last, the Transformers franchise and LEGO are finally coming together! The two companies jointly unveiled this week a new collaboration that was certainly more than meets the eye. The LEGO Group and Hasbro officially unveiled a new LEGO Transformers Optimus Prime toy.
This new release marks the first time LEGO Group and Hasbro have worked together in their collective histories. The LEGO Transformers Optimus Prime will be fully convertible, with both Robot and alt modes. This will be one of the few LEGO sets that is able to convert between two different models You can check out a preview clip for the upcoming release below:
LEGO TRANSFORMERS OPTIMUS PRIME MARKS A HISTORIC TOY COLLABORATION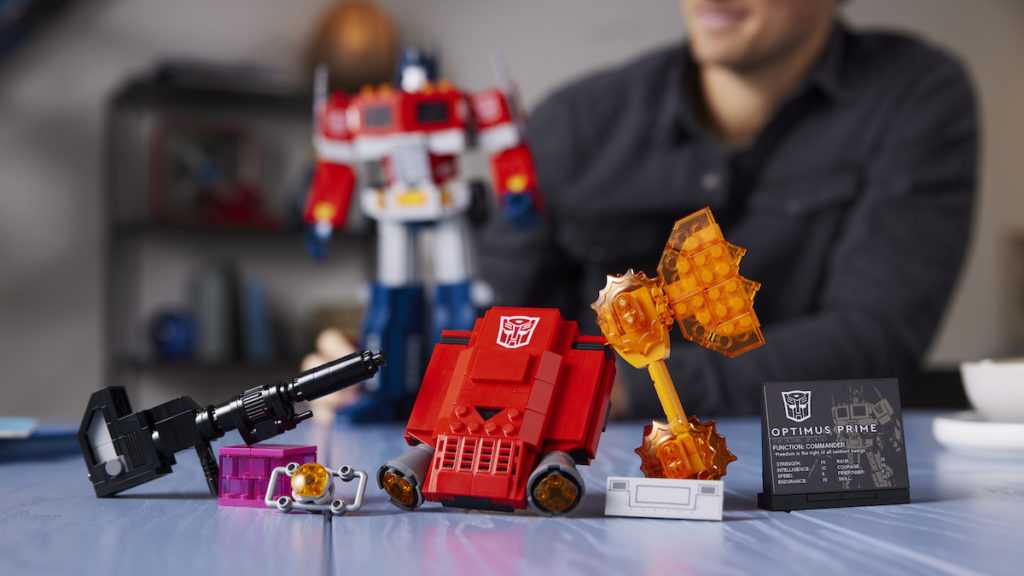 RELATED: OPTIMUS PRIME: HASBRO REVEALS AUTO-CONVERTING TRAILER AND ROLLER SET FROM ROBOSEN ROBOTICS
For a brand-new, premium LEGO set, LEGO Optimus Prime is packed to the gills with features that will entice longtime Transformers collectors and prospective LEGO master builders. The Optimus Prime set features 1,500 LEGO pieces. The completed version in Robot mode stands over 35cm in length, and it measures 15cm high in alt mode.
The toy is based on Optimus Prime's classic Generation 1 design from the iconic 1984 animated series when the Transformers burst onto the scene with the original Hasbro toy line and animated Sunbow TV series. Besides the buildable Optimus Prime figure, the set also includes a number of LEGO-ized accessories that will be familiar to Transformers fans, including Prime's trademark ion blaster, his Energon ax, an Energon Cube, a jetpack, and the Autobot Matrix of Leadership. Of course, the Matrix of Leadership can be stored in Optimus Prime's chest chamber, proving that this figure truly has the touch and the power.
Speaking on the news via a press release, LEGO Group Senior Designer Joseph Patrick Kyde commented, "It has been an honor and joy to work together with Hasbro to develop a LEGO version of Optimus Prime! I am excited to see these two toy companies come together for the first time to celebrate the leader of the Autobots."
He added, "Optimus Prime has become a pop-culture symbol of courage, selflessness, and great leadership as well as an awesome toy that embodies the problem-solving and creativity skills that both companies value so much. It's been a wonderful and challenging task to bring him to life using LEGO bricks, especially making sure that he can shift modes without disassembly and stay true to his signature look and style."
Hasbro Head of Licensed Consumer Products and Business Development Casey Collins also chimed in, saying, "We're excited to bring two of the world's greatest play and entertainment companies together to celebrate this larger-than-life, iconic character – Optimus Prime." He continued, "We know fans everywhere will be thrilled by this collaboration as it enables fans and families of all ages to create memories as they work together to build the LEGO Transformers Optimus Prime."
HOW MUCH WILL THE SET COST?
So the question is, how much will fans have to put down to own one of these impressive LEGO sets? This first-of-its-kind, 1,508-piece model is priced at LEGO.com for $169.99 USD/EUR. The good news is that collectors and builders will not have to wait long to get one. Fans will be able to purchase the set at that link and in LEGO stores starting June 1.
LEGO and Hasbro finally working together for a LEGO Transformers collaboration is pretty historic. Fans have wanted to see LEGO versions of Transformers characters for years. In the past, Hasbro explored the realm of brick-based construction sets that were similar to LEGO with Kre-O. The Transformers brand was heavily featured in the Kre-O toy line, but it was never quite the same or prestigious as the original, iconic LEGO series.
RELATED: TRANSFORMERS: EARTHSPARK ROLLS OUT ON PARAMOUNT+ THIS NOVEMBER
Not to mention, Kre-O has basically gone out of style in recent years. This is a major step for fans and collectors that they can finally own an official LEGO Transformers set. It will be interesting to see if this is a one-off collaboration, or if further LEGO and Transformers collaborations could happen down the line for other iconic characters, such as Megatron, Bumblebee, and Starscream.
Nonetheless, a LEGO Transformers Optimus Prime set finally coming into existence is a pretty stunning and surreal moment for toy history. But what do you think of the news? Will you be eager to pick up your own LEGO Transformers Optimus Prime set next month? Are not as enthusiastic about LEGO mining the Transformers series? Let us know what you think on our Twitter page.
SOURCE: The LEGO Group
KEEP READING: THE TITLE OF THE NEXT TRANSFORMERS FILM IS REVEALED ALONG WITH NEW SHOW DETAILS