Ewan McGregor, star of Obi-Wan Kenobi, shares his story on how Alec Guinness inspires his performance and how he had to find the voice of Ben Kenobi once again.
Ewan McGregor rose to international fame for his performance as Obi-Wan Kenobi in the George Lucas directed prequel trilogy, Star Wars: Episodes I-III. Though critics were harsh on those films in years past, modern reappraisals and vocal fans have readjusted perception of that trilogy in the modern day. Furthermore, despite the critical bashing that co-star Hayden Christensen received, Ewan McGregor's performance was oft-regard as one of the highlights of that Star Wars era, even at the time of release.
Ewan McGregor picked up the torch from beloved actor Alec Guinness, who played Old Ben Kenobi in the original trilogy, both in the flesh and as a force ghost in the latter two installments. The last time McGregor played Obi-Wan prior to the production of this show was in the early 2000's, during the filming of Revenge Of The Sith. James Arnold Taylor masterfully continued the characters story in animation on Star Wars: The Clone Wars.
OBI-WAN: EWAN MCGREGOR HAD TO REDISCOVER THE VOICE OF KENOBI
McGregor explained in a recent interview what his experience was like readjusting to this legendary role.
"…We did a lot of lightsaber drills with Jojo and his team, and it was something that you have to work on, it's not like there right away. There's two things I think I had to work on, that and his voice. We did a casting, Deb and I did a casting for two roles in the series that we wanted. We did screen tests with different actors for those roles and that was the first thing I did as Obi-Wan again since 2003.

So I arrived, and we borrowed a bit of Mandalorian stage on a Sunday when they were off. And I walked into the dressing room and there was a sort of Obi-Wanish costume hanging up in the wardrobe that the Mandalorians wardrobe department had put together. Putting that on was…really crazy after all that time. And walking out onto the set was crazy because there's so many Star Wars fans in the crew, which was a new experience for me.

So there was a sort of buzz about Obi-Wan walking back onstage. But then when we came to do the actual scenes with the other actors, I was doing this sort of vague English accent. And it was not, it wasn't really Obi-Wan's voice at all! I was like "Oh dear, that's not very good."

Luckily we had months before we actually started shooting, so we went back and did some homework with Alec Guinness, which I had done before in the original films. Those were the two things. Playing him felt totally like he had always been there, ready to come out at any minute. But his voice needed a bit of work."
Ewan McGregor's performance in the prequel trilogy is of an almost mythic quality in today's pop culture scene. In particular, his relationship with his padawan turned archnemesis, Anakin Skywalker/Darth Vader is beloved within the fandom. The Obi-Wan Kenobi TV series seeks to show their rematch, continuing a saga started with James Earl Jones and Alec Guinness in 1977.
OBI-WAN KENOBI: EWAN MCGREGOR ALWAYS THINKS OF ALEC GUINNESS
Ewan McGregor explained the importance of Alec Guinness' work as Obi-Wan, and how it informs McGregor's performance on the upcoming TV show.
"Well it always comes from Alec Guinness. He had this wit behind his eyes all the time. He had a twinkle, I think, in his eyes. And I guess, in the writing yes, but also just for me, I always try and think of him, and try to feel him somewhere, like to hear him saying the lines. And that's why I think the writing is so, so good in this, because right from the word "Go!", all of his dialogue, to me, felt like Alec Guinness could have been saying it. Then I knew we were on the right path, at least for him."
If what Ewan McGregor says is true, the Obi-Wan Kenobi TV series could be one of the best Star Wars projects of all time. Watching Ewan McGregor and Hayden Christensen reunite in a TV miniseries that bridges the gap between Guinness' Obi-Wan and McGregor's would be almost miraculous.
OBI-WAN KENOBI FEATURES A SUPERSTAR CAST OF FRESH AND FAMILIAR FACES
Obi-Wan stars Ewan McGregor as Obi-Wan Kenobi, Hayden Christensen as Anakin Skywalker/Darth Vader, Joel Edgerton as Owen Lars, Bonnie Piesse as Beru Lars, Moses Ingram as Reva Sevaner/Third Sister, Rupert Friend as the Grand Inquisitor, Sung Kang as Fifth Brother, and Grant Feely as Luke Skywalker. Rory Moss, Maya Erskine, Benny Safdie, Simone Kessell, O'Shea Jackson Jr. and Kumail Nanjiani have been cast in undisclosed roles.
Deborah Chow directs all six episodes of Obi-Wan, while the writers room includes names such Joby Harold, Hannah Friedman, Andrew Stanton, Hossein Amini, and Stuart Beattie. Obi-Wan will have a two-episode premiere on Friday, May 27 at 3 AM EST, with subsequent episodes airing weekly. The TV series takes place approximately one decade after the events of Revenge Of The Sith, and about nine years before the events of A New Hope.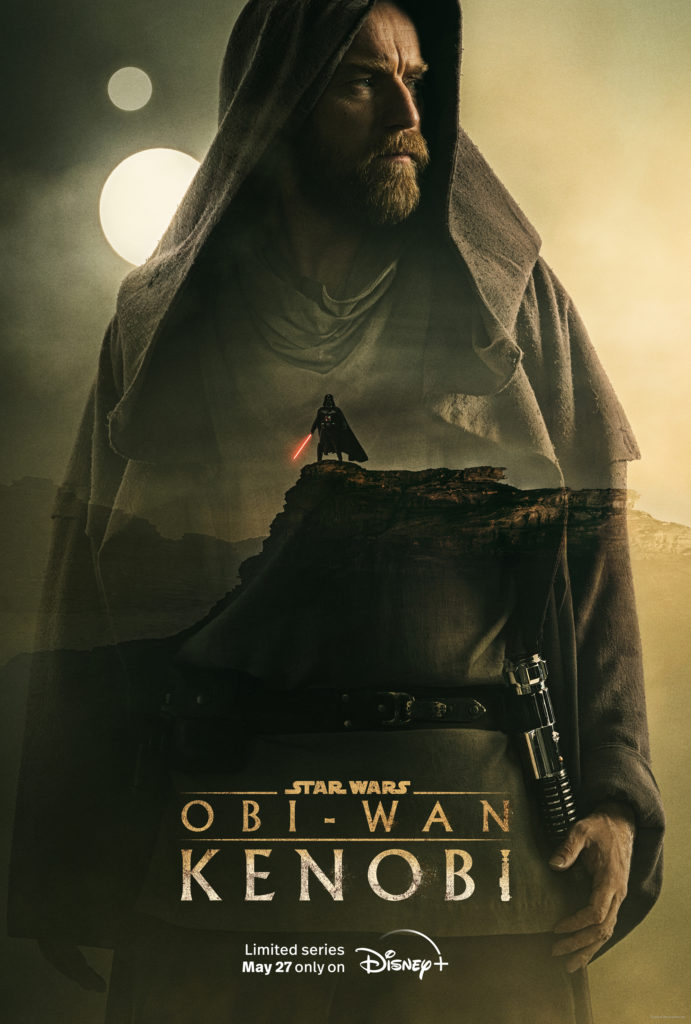 Obi-Wan Kenobi debuts on May 27th, 2022 on Disney+. What do you think about Ewan McGregor's return to the role in Obi-Wan? Let us know your thoughts on our social media!
KEEP READING: EWAN MCGREGOR TEASES OBI-WAN KENOBI'S STATE OF MIND 10 YEARS AFTER REVENGE OF THE SITH