Adult Swim has ordered Rick & Morty: The Anime and Ninja Kamui for HBO Max, two brand new anime projects from directors Takashi Sano and Sunghoo Park. 
Takashi Sano is a massive fan of beloved adult animation Rick & Morty, and he has experience working within the franchise. Park directed two special anime shorts, which may or may not be stylistically similar to Rick & Morty: The Anime. Rick & Morty is the creation of Dan Harmon and Justin Roiland, the latter of whom voices both of the titular characters in the main TV series. 
RELATED: DOCTOR WHO IS BRINGING BACK TWO COMPANIONS – OR ARE THEY?
This is not the first spinoff of Rick & Morty, as comic books, mobile games, and other expanded media existed prior to this announcement. This is, however, the first official Rick & Morty TV show spinoff im the franchise, and it's wonderful that the team is wholeheartedly embracing the world of anime through creative mind Takashi Sano. 
Check out the official Adult Swim press release announcing Rick & Morty: The Anime below.
ADULT SWIM ANNOUNCES RICK & MORTY: THE ANIME
"Adult Swim, the leader in adult animation and #1 destination for young adults, announced the greenlight of two all-new anime series: Rick and Morty: The Anime from director Takashi Sano (Tower of God) and Ninja Kamui from director Sunghoo Park (God of High School, Jujutsu Kaisen). Both series are in production and will premiere on Adult Swim and HBO Max.

"Toonami helped introduce anime to a U.S. audience 25 years ago, and is creating new, dynamic originals for the next generation of anime fans," said Michael Ouweleen, president of Adult Swim. "These two series build on the legacy of those recent originals such as Fena: Pirate Princess, Blade Runner: Black Lotus, Shenmue the Animation, with Uzumaki and Housing Complex C, premiering later this year."

Based on the Emmy-award-winning adult animated series, Rick and Morty: The Anime is a 10-episode adventure debuting on Adult Swim and HBO Max. Sano previously directed two anime shorts, "Rick and Morty vs. Genocider" and "Summer Meets God (Rick Meets Evil)," which received widespread fan and critical acclaim upon release, generating over 10 million combined views on Adult Swim digital platforms.

While celebrated anime director (and Rick and Morty superfan) Sano will adapt themes and events of the main series, Rick and Morty: The Anime will stand on its own as an original work. "The multiverse-straddling exploits of Rick and the gang pose challenges to the family bond, but they always rise to the occasion," Sano explains. "It's such a life affirming sight, and Jerry is no exception." He adds, "I am honored to have been given an opportunity to tell a new story about this amazing family. I hope you enjoy their adventures!"

Like Sano's previous Rick and Morty anime shorts, the series is from Telecom Animation Film (Lupin the IIIrd Series, Shenmue the Animation, Tower of God)." – Adult Swim
The excitement and passion that Takashi Sano has for this upcoming project is palpable, and it radiates through his words. Rick & Morty is a strange show, featuring complicated, deeply flawed protagonists, and a multiverse unlike any other. With the shocking announcement of Rick & Morty: The Anime, that multiverse is about to get a whole lot larger. I suppose this is what breaking the finite curve gets us. What a wonderful surprise for anime and Rick & Morty fans alike!
The work that Takashi Sano has already done in-universe is strange, sleek,  highly entertaining, and totally unlike anything else in the franchise. Summer Meets God (Rick Meets Evil) features an incredibly odd and uncomfortably close journey for Jerry and Summer. Their reunion involves the return of the Gotron, and it's almost heartwarming…until it's not. Rick & Morty Vs The Genociders is a shorter project, running at around 8 minutes compared to Rick Meets Evil's roughly 15. But it carries its own, confusing yet majestic punch, and I highly recommend fans check both out. 
While Adult Swim surely realizes that the brand appeal of Rick & Morty is what will draw readers in, I feel like they were burying the lead. And I say that as a pretty big fan of the R&M universe. Sunghoo Park's upcoming cyberpunk ninja anime is about to take the world by storm. Well, my world, at the very least.
Check out the Ninja Kamui official press release from Adult Swim below. 
NINJA KAMUI: OFFICIAL ADULT SWIM ANIME SERIES ANNOUNCEMENT
A futuristic action/adventure anime, Ninja Kamui comes on the heels of the massive success of Park's recent anime feature Jujutsu Kaisen 0, the seventh biggest anime film of all time and the 15th highest grossing film in Japan of all time. 
Ninja Kamui follows Joe Higan who is a Nukenin – a former ninja who escaped his clan and is hiding from his violent past in rural America with his family. One night, he is ambushed by a team of assassins from his former organization who exact a bloody retribution on Joe and his family for betraying their ancient code. Rising from his seeming "death," Joe will re-emerge as his former self – Ninja Kamui – to avenge his family and friends. Kamui is a 21st century ninja, a shadowy anachronism who pits his ancient skills against high-tech weaponry with brutal finesse. He must face off against trained assassins, combat cyborgs, and rival ninjas to bring down the very clan that made him.  
"This is a story I've always wanted to tell," said Park. "Transgression and punishment of a ninja who loses everything and goes out for revenge, and what lies at the end of his road. I am very excited about this new project and hope fans will be too."
Ninja Kamui features character designs by Takeshi Okazaki (Afro Samurai, Star Wars Visions, Batman: Ninja), and is produced by E&H Production and Sola Entertainment (Lord of The Rings: War of The Rohirrim, Blade Runner: Black Lotus, Ultraman)."
NINJA KAMUI + RICK & MORTY: THE ANIME ARE A SERIOUS HBO MAX BOOST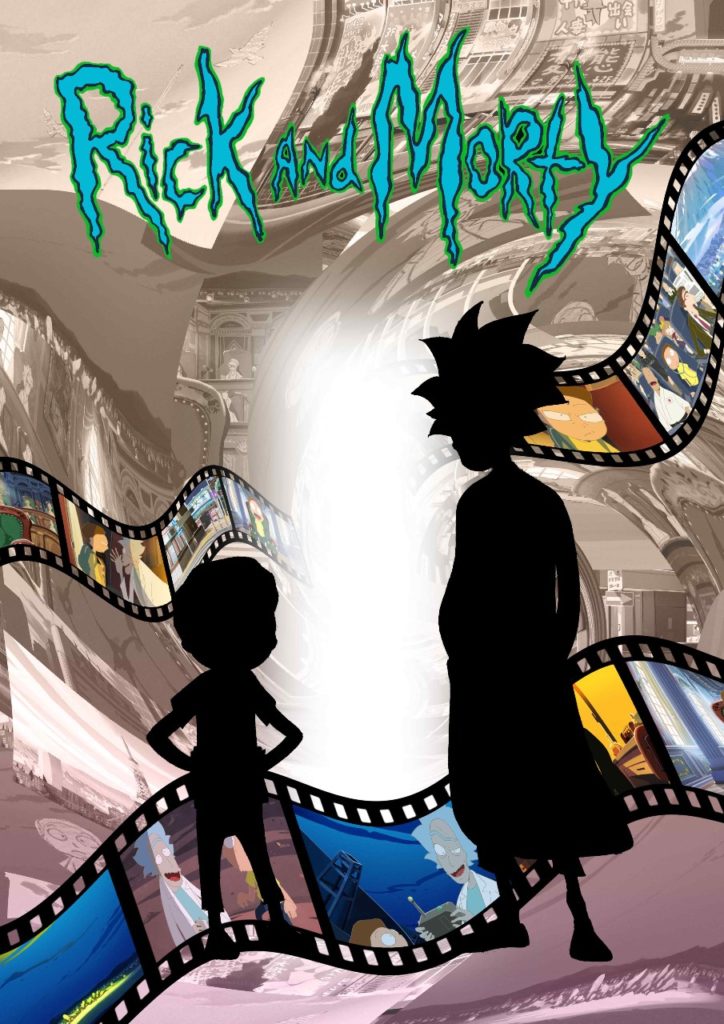 "…Brutal finesse…combat cyborgs…transgression and punishment of a ninja…", Need they say anymore? Quite frankly, I'm a sucker for hyper-violent, action-packed epics, especially when they're built around a strong emotional core. And I know I'm not alone in that, otherwise Deadpool wouldn't be the global icon he is. Having watched a bit of Jujutsu Kaisen in my day, (though I have not had the pleasure of watching Sangoo Park's Jujutsu Kaisen 0 yet) I can confidently say that I need more action of that vein in my life ASAP!
Ninja Kamui is still a bit of an unknown quantity right now, sure. After all, I was unaware of its existence before today, and there's no trailer to be viewed for either project at this time. But original stories, from creators with the passion and energy that Sunghoo Park gives on these quotes, well that's what elevates TV from fiction to legend. And I have a gut feeling that Ninja Kamui could become something legendary.
Only time will reveal the quality of Ninja Kamui and Rick & Morty: The Anime, so for now, it's a waiting game. But I for one will be waiting, eagerly anticipating the first looks at these hot new projects.
What did you think of the Adult Swim announcement? Are you more excited for Ninja Kamui or Rick & Morty: The Anime? Let us know your thoughts in the comments below or on our social media!
KEEP READING: OBI-WAN KENOBI STAR EWAN MCGREGOR CREDITS THE FANS WITH DRAWING HIM BACK INTO STAR WARS