Check out the Funko's lineup of new exclusives for Star Wars Celebration 2022.
Funko is one of the coolest toys and collectibles companies in the world. They are renowned, not just for their awesome products, but for also for delivering a fun experience with their booths and experiences at conventions. Whether it be mondo-sized Pops! to take pictures with, fun games and prizes, and their famed Funko Friday Party, Funko never disappoints when it comes to cons and expos. So of course, Star Wars Celebration 2022 is no different. Funko is bringing a whole lineup of items that will be exclusively available at Star Wars Celebration in Anaheim, California beginning May 27, 2022.
Funko's Full Lineup of Star Wars Celebration 2022 Exclusives:
The full lineup of Funko's Star Wars Celebration figures include::
Pop! Vinyl: Darth Vader 
Pop! Vinyl: Stormtrooper 
Pop! Vinyl: Luke Skywalker
Pop! Vinyl: Princess Leia 
Pop! Vinyl: Chewbacca
Pop! Vinyl: Mandalorian Grogo
Pop! Vinyl: 5pk – Darth Vader, Stormtrooper, Luke Skywalker, Princess Leia, Chewbacca 
Vinyl Soda: Luke Skywalker
Vinyl Soda: Soda 1
Vinyl Soda: Boba Fett
Vinyl Soda: Soda 2
Pop! Tee: Freddy Galaxy
Pop! & Bag: R2-D2
Pop! & Bag: Pop 8
Pop! Ride Sprdlx: Lando Calrissian In The Millennium Falcon

RELATED: Star Wars Micro Galaxy Squadron – Jazwares Will Showcase New Star Wars Microscale Vehicle Line at Star Wars Celebration 2022
In addition to their collectibles, Funko is also featuring Loungefly's Star Wars-inspired accessories that include:
Bad Batch Wrecker Zip Around Wallet
Bad Batch Wrecker Cosplay Mini Backpack
Bad Batch Hunter Zip Around Wallet
Bad Batch Hunter Cosplay Mini Backpack
R2-D2 Variants Blind Box Pins
Droids SWC Exclusive 3" Collector Box Pin
Pop & Bag
R2-D2 Cross Body Bag
C-3PO Zip Around Wallet
C-3PO Mini Backpack
Disney will also have exclusive Star Wars Funko Pops! that will be available at the Disney Store at Star Wars Celebration. The Disney exclusives include: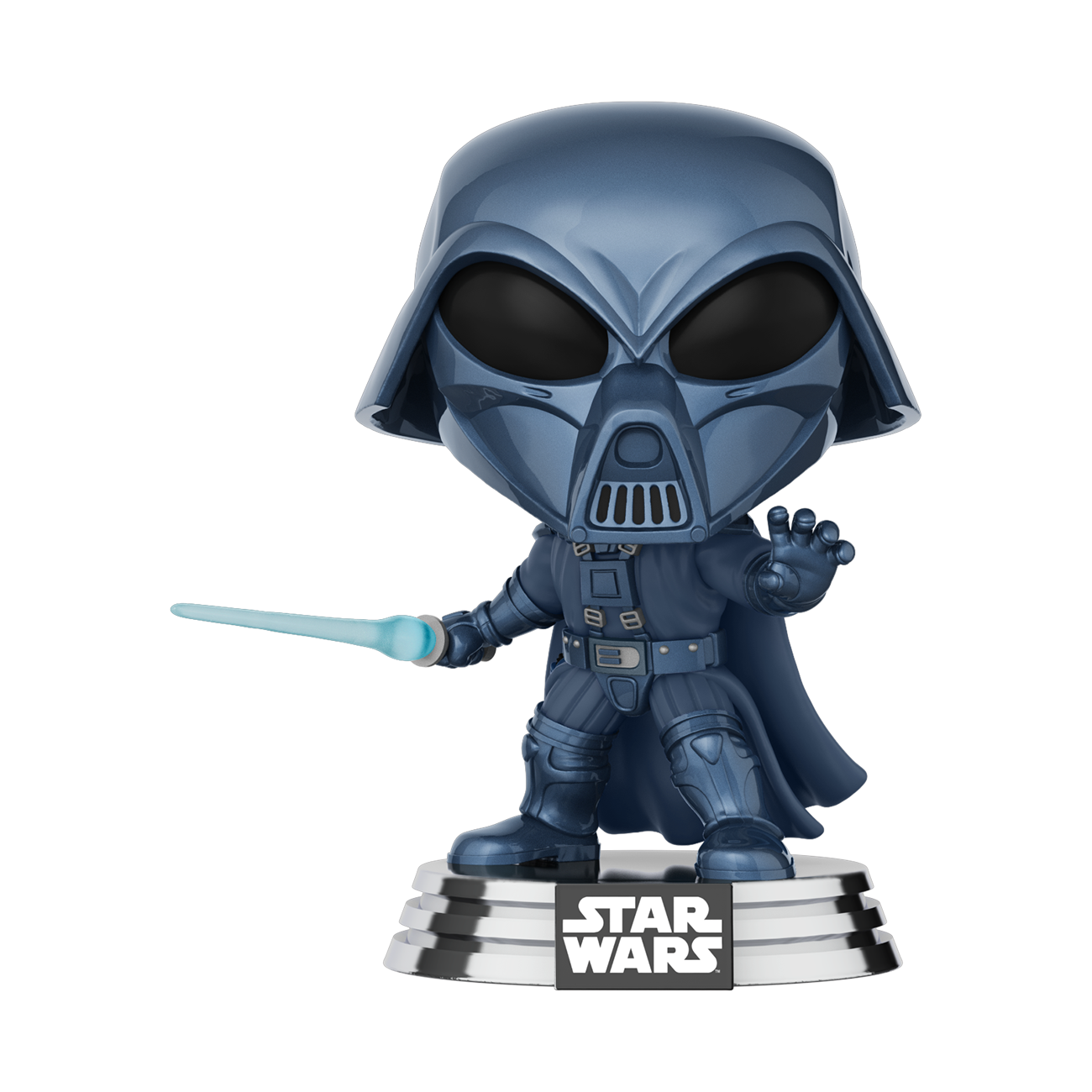 Pop! Star Wars: Concept Series – Vader
Pop! Star Wars: Concept Series 2pk – R2-D2, C-3PO
HOW DO I PARTICIPATE IN THE STAR WARS CELEBRATION?
*The Selection Process Has Concluded*
Funko and Loungefly will be utilizing the advanced virtual selection process to provide more fans the opportunity to purchase exclusive items from their booth during a dedicated shopping window. Fans will be able to enter and manage exclusive item requests via the same random selection process described above for panels. Fans can only be selected for a shopping window on a day that they have a badge for attending Star Wars Celebration. Fans cannot request to change or trade their assigned shopping window if they are selected.
Visiting the booth does not guarantee you any specific item(s) at the booth. Items may sell out by the time you reach the front of the line.
Shared retailer exclusives will be available as early as 6am PT on Friday May 27th, 2022.
RELATED: Bandai Namco Toys & Collectibles Awesome Star Wars Celebration 2022 Line-Up
WHAT TO EXPECT FROM THE BOOTH?
Funko will unquestionably have some of the coolest Star Wars displays of all the booths at the convention. Take a stroll through Funko Hollywood and you know they have more than enough Star Wars-themed goodness to impress even the most avid of collectors. While we do not know exactly what they have planned to show, in terms of booth decoriations and set up, we can show you what they had set up at Wonder Con 2022 to give you an idea of the scale and scope Funko delivers when they come to a convention/expo.
The Pop Pier was a definitely highlight of WonderCon. Even for fans who weren't able to make it into the booth, being able to take pictures with the giant Pops! and decked-out displays were a real treat worth of The Gram and Tiktoks. Fans can expect a similar showing from the famed toys and collectibles company to be on full display at this year's Star Wars Celebration. Best to prepare your camera, phones, and wallets now.
Be sure to stop by Funkos booths 2219 and 2125, which are located to the right if entering through Hall C. 2219 is an end booth that connects two aisles, so it will be hard to miss.
Which exclusives are must-haves? What is your favorite thing about the Funko Booths at conventions/expos? How often are you selected for Funko exclusives? Let us know in the comments below and share your favorite Pops! with us on Twitter.
Source: Funko
KEEP READING: Thor: Love and Thunder Funko Pops Release With Teaser Trailer