If you were waiting to watch Amazon Prime's latest of The Boys, look no further, your wait is over. The infamous superhero satire series is back. It does not hold back any punches and dives straight into the action.
Before I proceed, I am going to warn you about heavy spoilers ahead. This article contains graphic details, and you may find some of the words used offensive. You've been warned, proceed with your own discretion.
RELATED: THE BOYS PRESENTS: DIABOLICAL REVIEW – 8 OF THE MOST F*%KED UP INSANE CARTOONS EVER
Episode 1,"Payback" starts with Vought doing some heavy PR work to salvage any likeability that Homelander may have left. His romance with Stormfront, a vocal Nazi supporter, left a bitter taste in everyone's mouth. Thankfully, there is nothing like a good blockbuster to push a new narrative; Homelander fell in love with the wrong woman. Except he didn't. Later on, we see that Homelander is still in cahoots with Stormfront (yes, she is alive. Barely… but she is alive). The "movie" has an Avengers feel to it, giving the (fictitious) audience a sense that Homelander is still a good guy.
THE BOYS SHOW THE "CALM" ATER THE STORMFRONT
Charlize Theron makes a hilarious cameo as a blonde, nazi-to-the-core, Stormfront. The rest of "The Seven" make their appearances, and the team takes down the böse Hündin. Stan, played by the amazing Giancarlo Esposito, keeps a close eye on Homelander before, during, and after the movie as the cast takes over the red carpet.
Hughie continues to work for the bureau while giving Butcher orders, who's doing remarkably well regarding his thirst for a Supe's erythrocytes. Hughie and Butcher are after a Super whose powers are a lot like Ant-man's. We first see him at a party, coked out of his mind, having sex with a miniature Barbie doll while the whole party watches and cheers him on. We learn that he has a boyfriend that is just itching for the fellow super, Termite, to get "inside" of him. 
RELATED: WHO IS SOLDIER BOY IN THE BOYS EXPLOSIVE SEASON 3?
Like every good superhuman boyfriend should do, Termite uses his powers to sexually please his partner. He shrinks down to the size of a literal termite and enters his boyfriend's penis by the urethra. After a few playful strokes while inside, Termite ends up sneezing, which blows him back up to regular size, leaving his boyfriend without his entire lower half. I don't think superglue is going to fix that problem, chief. While termite is covered in goo, and not the kind he wishes he was covered with, Frenchie walks into the room. A hilarious fight breaks out and Termite is eventually caught.
DOING IT THE RIGHT WAY
In this episode, we also learn how the other characters have been doing. The Deep is trying to get back into The Seven, A-Train had a snack too many, Kimiko still doesn't talk, Mother's Milk has to deal with his former wife and her goofball husband, while Starlight deals with her rise to fame post Homelander's PR disaster.
We also get to see Stan break out the news that Starlight is now the co-captain of The Seven alongside Homelander. To top things off, just when you think things couldn't get much worse, there is a reality show to pick the next member of The Seven. Perhaps one of the most unexpected meet-ups happens in this episode. Homelander and Butcher have a man-to-man talk in which Homelander, loosely implies, that he and Butcher are after the same thing. A partnership that Butcher seems to agree upon for his own gain, and of course Homelander knows that.
RELATED: THE BOYS SEASON 3 OFFICIAL REDBAND TRAILER IS PROMISES PEACE AND JUSTICE IS A SODA AWAY
Just when you think The Boys' junior season premiere episode would slow down into the credits, we see one of the most gruesome kills of the series so far. Nadia, aka Victoria, comes across an old friend that's been trying to get her attention. After a short talk, things get violent, and Tony ends up without a jaw, followed by his left eye until he eventually explodes into a human slushie.
AS GRUESOME AS EVER
I think it's pretty safe to say that The Boys has reached a level similar to Game of Thrones when it comes to brutality. It is also safe to assume that nobody is safe. Let's give a shout out to Laurie Holden, the Crimson Countess herself, many of you may recognize her as Andrea in The Walking Dead. It's nice to see a familiar face from other shows I love apart from Jensen Ackles and Esposito.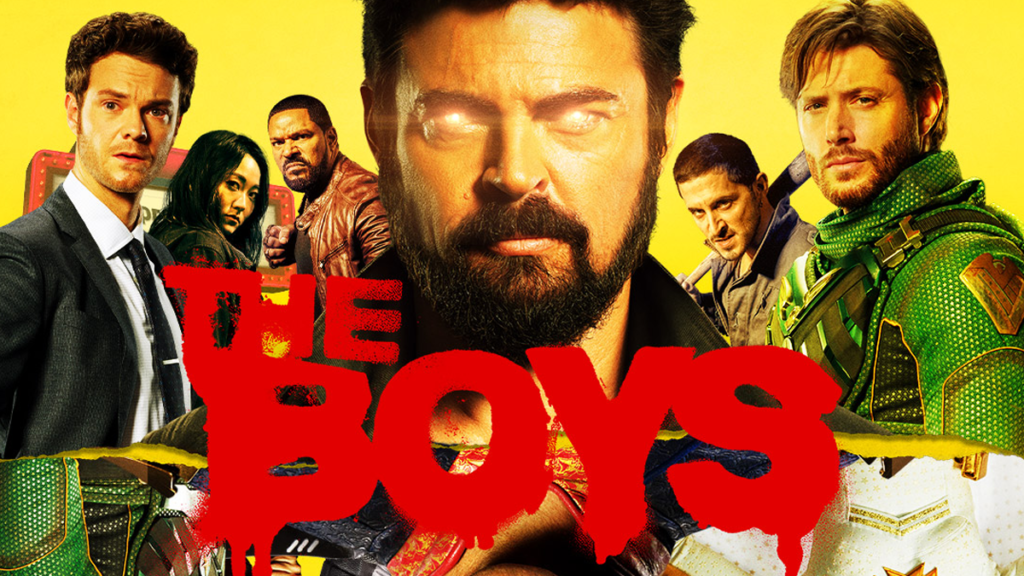 If you've watched the first episode of The Boys, what did you think of it? Did it meet your expectations? It surpassed mine if I'm being honest. I'm loving the season so far, and more reviews like these will be coming out along the week. follow us on Twitter or Facebook, so you don't miss any more fine content like this in the future! Don't miss new episodes of The Boys every Friday on Amazon Prime.
KEEP READING: GUARDIANS OF THE GALAXY 3: BORAT STAR MARIA BAKALOVA JOINS EPIC MARVEL THREEQUEL