Edge has been kicked out of his faction, Judgment Day, and has been moved to the babyface side of the internal Raw roster.
On this week's episode of Raw Edge along with his factionmates, Rhea Ripley and Damian Priest, came out to announce the newest member of their faction. This new member ended up being their opponent from the previous night at Hell in a Cell, Finn Balor.
RELATED: SAMI ZAYN TALKS CREATIVE CONTROL AND REACTS TO HILARIOUS PHOTO OF HIMSELF
Edge admitted he has a lot of respect for Balor and saw the fire in his eyes the previous night. Balor, Ripley and Priest reveal they had been talking a lot and have decided they don't want to listen to Edge anymore. This led to a beatdown of Edge and the new and possibly improved version of Judgment Day.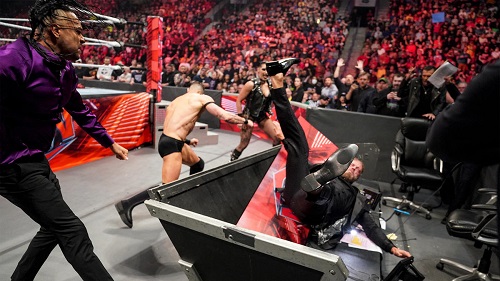 Why Edge Had To Go
The possible reasons behind the change were just revealed via PWInsider. Part of the reason was because of something which happened the previous week leading up to the PPV.
Raw needs a new babyface on the roster with Cody Rhodes out with a pectoral tear. For those unaware, Rhodes suffered a tear last week and leading into the PPV he was weightlifting on Friday and suffered a complete tear. He still competed in his match against Seth Rollins at the PPV, but will have surgery today and his recovery will take up to six months. Therefore Raw needs a new top babyface, which is why Edge was changed to the babyface side of the roster and will fit in nicely.
The other reason behind the sudden change may have to do with a new direction WWE wants to take the faction. According to Fightful Select, via Wrestling Inc., WWE is looking to take the faction into a more supernatural direction. This new direction is something Edge was opposed to. The new supernatural role is something Balor will fit into very nicely with experience doing his Demon Balor alter ego. The new supernatural direction could even be a good way to reintroduce a rumored returning Superstar.
This Could Be A Good Way To Bring Bray Wyatt Back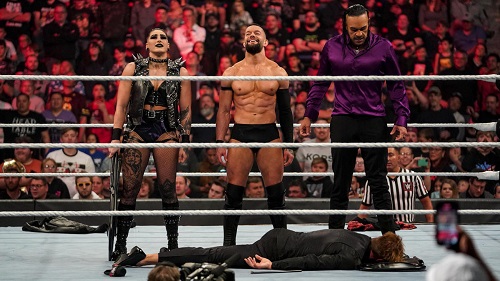 Rumors have been circulating for a while which say Bray Wyatt may be returning to WWE. If these rumors are true, then what is a better way to have him debut then to have him being the leader of the faction with Balor being his right-hand man? However, if this does happen it won't be until August at SummerSlam. I just want to see Wyatt return whether it is in WWE or AEW.
RELATED: SASHA BANKS AND NAOMI REFUSE TO PERFORM ON RAW
The faction is in a very good position to take over Raw. They are past the phase of proving they are a big threat to everyone on Raw. The next phase needs to be asserting their dominance and winning some gold. Balor was the first ever Universal champion, Priest is a former United States champion and Ripley is a former Raw Women's champion.  
This past Monday on Raw the faction took their first step towards capturing some gold. The main event was a Fatal 4-Way match for a championship match at Money in the Bank with Bianca Belair. The match saw Ripley, Alexa Bliss, Liv Morgan and Doudrop battling for the spot. Ripley won the match and will face Belair at Money in the Bank. This may be the first gold brought into the faction.
What do you think of Edge changing to a babyface? Do you think he is a better babyface or heel? Do you like the idea of Balor leading Judgment Day? Is the faction changing to a more supernatural direction a good thing? Do you think this will be a way to debut Wyatt back into the WWE? Leave a comment over on Twitter and tell us who you would like to see join Judgment Day next.
KEEP READING: AJ MENDEZ REVEALS WHO SHE THINKS THE BEST AEW WRESTLERS ARE
Sources: Wrestling Inc., Fightful Select, PWInsider, Wrestling Inc.