Mick Foley wants people to give Cody Rhodes more credit for leaving WWE and why people leaving is important for WWE.
It has been a few months since Rhodes returned to WWE at WrestleMania in March. Since returning he has been involved in a top feud with a top Superstar in Seth Rollins. So much for the "he'll probably come back as Stardust" rumors like many thought.
Since returning Rhodes has showcased a new level of wrestling that was missing before his departure from WWE in 2016 or at least no one saw it. He has had match of the night matches against Rollins each and every time they faced each other. When he returned he made it no secret his goal was to win the WWE Championship which had eluded him, his father Dusty Rhodes and brother Goldust/Dustin Rhodes.
Mick Foley Talks Codey Rhodes' Return on Foley is Pod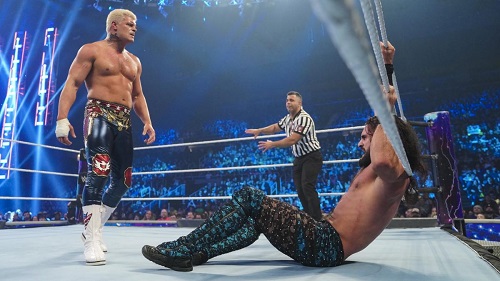 RELATED: THE LEGENDARY BOOKER T ON IF HE THINKS BRAY WYATT WILL RETURN TO WWE
Mick Foley stated on his podcast, Foley Is Pod, how happy he is to see Rhodes return and do the amazing job he has been doing since returning. However, Mick Foley had one issue and it wasn't with Rhodes but with everyone else. He doesn't believe Rhodes gets the credit he deserves for leaving WWE and returning much better.
"I think people should give Cody a lot of credit for leaving WWE on his own because he believed he was capable of more," Mick Foley said. "And he was. So I applaud anybody who goes out there and makes themselves more valuable without the national TV machine behind them." H/T To Wrestling Inc. For Transcription
Left On The Low-Card And Came Back On Top
When Rhodes left it would be a big lie to say he left on top and even saying he left in the middle would be a stretch. He was stuck in the dumb character of Stardust. It was a copy of his brother's Goldust character. However, he was not able to make it work like his brother had done. He asked for his release in 2016 and left WWE looking to improve himself and ended up helping to create WWE's biggest rival.
Rhodes bounced around in the indies for a while and did some work in Japan for NJPW. Eventually, he along with Tony Khan, Kenny Omega and The Young Bucks created a little promotion that would become AEW. He became one of their top wrestlers and one of the most important wrestlers they had on their roster.
RELATED: TRIPLE H REJECTED EX-WWE AND CURRENT AEW STAR DURING WWE TRYOUT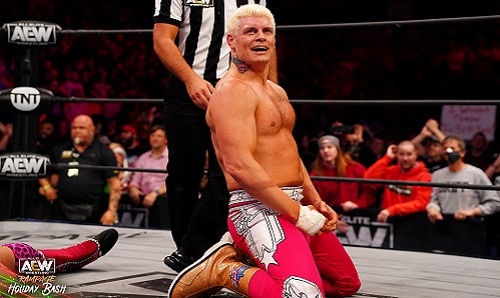 However, Rhodes and Khan couldn't come to an agreement on Rhodes' new contract. Rhodes decided to take his chances in WWE again and here we are today. Unfortunately, Rhodes suffered an injury last week and will require surgery so we won't see him in a ring again for up to six months.
Mick Foley went on to discuss why it was such a good thing for Rhodes to leave WWE and how important it is for Vince McMahon to see people have success outside of WWE.
"The Young Bucks did it, Kenny Omega did it," Mick Foley said. "Kenny didn't have the national platform like a WCW, a WWE, but he did have an opportunity to go there and said 'No, I'm good,' and that's great for business. Vince needs to hear that more often, whether it's Vince or Triple H hearing the 'Yanno actually, I'm good where I am,' I like that."
Mick Foley is alluding to the fact that Omega and The Young Bucks had worked with and had tryouts for WWE. Neither ended up staying with WWE and would have huge success outside of WWE.
Omega is regarded as one of the best wrestlers in the world and has won multiple Match of the Year awards. The Young Bucks are also regarded as one of the best tag teams in the world and have won awards saying just that.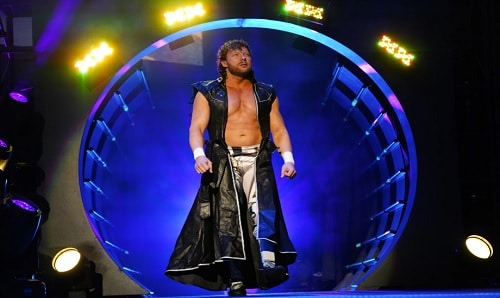 Omega and The Young Bucks were able to create a huge name and following for themselves outside of WWE. However, to be fair where they created that name in NJPW mostly, especially Omega and NJPW is not a small indie. They now wrestle for AEW and through AEW have shown the general American audience why they are so well regarded.
Leaving Is The Best Form Of Ruthless Aggression
It is good for Vince to see people succeed outside WWE because I think WWE being the biggest wrestling promotion in the world goes to his head. Having a top Superstar, just a Superstar, or a hot indie wrestler say "no I think I can do better elsewhere" is probably pretty humbling which is good. It forces WWE to make their promotion a more appealing place to work for.
Do you think Rhodes was brave or dumb for leaving WWE when he did? Do you think he would have become as good as he is today if he had stayed with WWE? Was it wise for Rhodes to leave AEW? What do you think of his current run in WWE? Do you agree with Mick Foley? Tell us if you think wrestlers can achieve their full potential without stepping foot in WWE down in the comments or on our Twitter.
Sources: Foley Is Pod, Wrestling Inc.
KEEP READING: EDGE EXPELLED FROM JUDGMENT DAY AND BECOMES THE NEW BABYFACE