Damian Priest talks about his feelings about joining Judgment Day and who called him with the invitation.
The Judgment Day has made a big statement on RAW since first forming in April at WrestleMania. Damian Priest talked about the formation of the faction and how Edge first came to him with the idea and his reaction during a Bleav Pro Wrestling interview.
"My phone says his name [Edge] and I'm like, 'Oh, man'… He's just like, 'Hey, so I got this idea,' and like, 'What do you think?' And then I'm like, 'What? Why are you asking me? Tell me what to do!'" 

Damian Priest went on to say he didn't know how to hide his excitement and not sound silly at the offer.

"It's the coolest thing [to see] it was Edge calling me to ask me if I'm interested. He didn't even have to ask, but he did 'cause he's cool. The fact that he thought of me is wild to me. He's like, 'Naturally, I thought of you.' And I'm like, naturally? I don't even know why I'm so lucky, but cool, it's Edge. So, it was a great feeling and moment to receive that call."

H/T To Wrestling Inc. For Transcription
Judgment Day Gave Damian Priest And Rhea Ripley New Purpose
Prior to joining Judgment Day, Damian Priest was United States champion and a former NXT North American champion. However, he went from feud to feud and didn't quite make the impact fans had hoped he would make. Joining the faction and aligning with Edge put a spotlight on him and showed the world what he is capable of in the ring.
As exciting as joining Judgment Day was for Damian Priest it got turned up when he heard his close friend Rhea Ripley would also be joining the faction.
RELATED: SAMI ZAYN TALKS CREATIVE CONTROL AND REACTS TO HILARIOUS PHOTO OF HIMSELF
"Edge told me and asked me about The Judgment Day idea and this was before we even had a name, it was just the idea of forming a group that day. Because he said, 'You, naturally you,' and 'Rhea Ripley.' We were the first on his list hands down. He wanted us to be with him, which I thought was super cool.

He saw two people that had a certain style that he digs, similar to Edge. It's that rock-star-ish, goth, darker vibe and bigger people. We just have a lot of similarities that he felt like he could mold us into becoming bigger stars than we were and again, for me, obviously, with our friendship, I was super excited that to know that was the idea.

Now, was it going to be 100 percent a thing? That we didn't know until the day. You never know, things could always change, even including me being by his side at WrestleMania. That was what we hoped for, but you never know. Creative could change, a lot of things could change in between, especially when there's a lot of time.

I probably was just as excited as Rhea was for her to be a part of this, just cause I was so happy for her, you know? It was known for a while. At least on Edge and I's viewpoint, we, since the beginning, we knew, or at least we wanted her to be a part of us."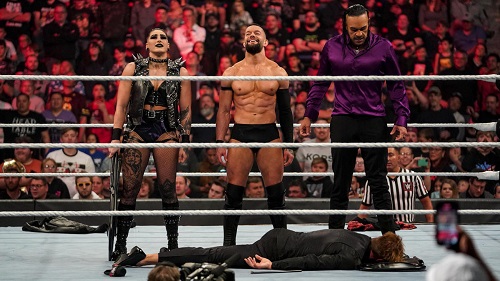 And Just Like That New Leadership Takes Hold
Damian Priest and Rhea Ripley were the perfect compliment to Edge in a faction. Both are rising stars and will continue to climb up the roster even more than they already are.  He was right saying they have a rockstar and goth kind of vibe to their character. They didn't need to change anything about their character to fit in with Edge's vibe.
The only other person who would have fit in really well ended up joining, Finn Balor. Balor joined the faction this past Monday on Raw. However, he did more than join.  Balor came down to the ring to accept the invitation to join the faction and instead took over the leadership role of the faction from Edge after Damian Priest, Ripley and Balor attacked Edge.
As reported earlier the reason behind the sudden leadership change is reportedly because WWE wants to take the faction into a more supernatural direction which Edge was against and Edge has since been put on the babyface roster to fill Cody Rhodes' spot.
With Balor being the leader and Judgment Day going in a more supernatural direction it will be interesting to see how the faction will change. It could fall apart or maybe take over the Bloodline's spot as the most dominant faction in WWE.
Do you think Balor will take Judgment Day to new heights or new depths? Do you think Damian Priest and Ripley were the perfect complements to Edge? Was it dumb for WWE to remove Edge from the faction or is he better as a solo competitor? What's your favorite Damian Priest moment? Drop a comment over on Twitter let us know who you would like to see be the faction's first feud besides Edge.
KEEP READING: THE LEGENDARY MICK FOLEY THINKS CODY RHODES SHOULD GET MORE CREDIT FOR LEAVING WWE
Sources: Bleav Pro Wrestling, Wrestling Inc.