Power Rangers have always been champions for diversity, representation, and inclusivity, but Power Rangers Dino Fury dared to go a step further.
Kai Moya, who plays the Blue Ranger, was as glad – pardon the pun – to see it as many of us were.
RELATED: KAI MOYA DISCUSSES HIS CHARACTER ON POWER RANGERS DINO FURY
We the Illuminerdi were granted the pleasure of interviewing Kai Moya, the Dino Fury Blue Ranger himself. Among the awesome things discussed, Kai revealed how proud he was to see Power Rangers Dino Fury be crowned GLAAD's victor for Outstanding Kids & Family Programming.
We're Glad To See Power Rangers Dino Fury Win The GLAAD Award
The Illuminerdi: Power Rangers Dino Fury, Season Two, Part One is currently airing on Netflix right now. I can't wait for Part Two, it's such a fantastic season. I got to congratulate you not just on Dino Fury, but you guys just won the GLAAD award, am I right?

Kai Moya: You're absolutely correct. It was a huge honor to see that. We're scrolling through social media, and we saw it and we're like, "Yes!" And I think we're all hoping for it because we're really proud of what our show has been doing, and so it feels really good. It's an honor to be mentioned in that.
Rangers of all genders and races have accomplished great things during their tenures. What about the LGBTQ+ community? We got a queer Yellow Ranger in the 2017 Power Rangers movie and a few original queer rangers in the comic books from Boom Studios, however, we never got to see any in the main Power Rangers series until Dino Fury.
RELATED: KAI MOYA REVEALS HIS FIRST INTRODUCTION TO POWER RANGERS WAS SPD: EXCLUSIVE INTERVIEW
The one and only Izzy Garcia made history as not only the first official female green ranger but the first queer ranger in the main continuity. In Dino Fury episode 13, The "Matchmaker", viewers were treated to an elaborate reveal of Izzy and Fern becoming a lot more than friends. Following episodes organically establish the pair's relationship with superb writing and directing, it's fitting that Power Rangers Dino Fury earned a prestigious award from GLAAD.
The GLAAD Media Awards acknowledge and acclaim media for fine, honest, and inclusive representations of the LGBTQ+ community, and Dino Fury delivered a huge milestone in the history of Power Rangers, introducing the first LGBTQ+ Ranger Izzy (played by Tessa Rao) across the show's 28 seasons. Congratulations to Tessa Rao and the rest of the cast and crew behind Power Rangers Dino Fury for the well-deserved award.
The Power Rangers Dino Fury cast comprises Russell Curry as Zayto the Red Dino Fury Ranger, Kai Moya as Ollie Akana the Blue Dino Fury Ranger, Hunter Deno as Amelia Jones the Pink Dino Fury Ranger, Tessa Rao as Izzy Garcia the Green Dino Fury Ranger, Chance Perez as Javi Garcia the Black Dino Fury Ranger, Jordon Fite as Aiyon the Gold Dino Fury Ranger, Jared Turner as Tarrick / Void Knight/Void King, Jo Davidson as Solon, and Siobhan Marshall as Santaura / Void Queen.
All episodes of Power Rangers Dino Fury season one are available on Netflix while the first of season two is available on Netflix only in the USA and Canada for the time being.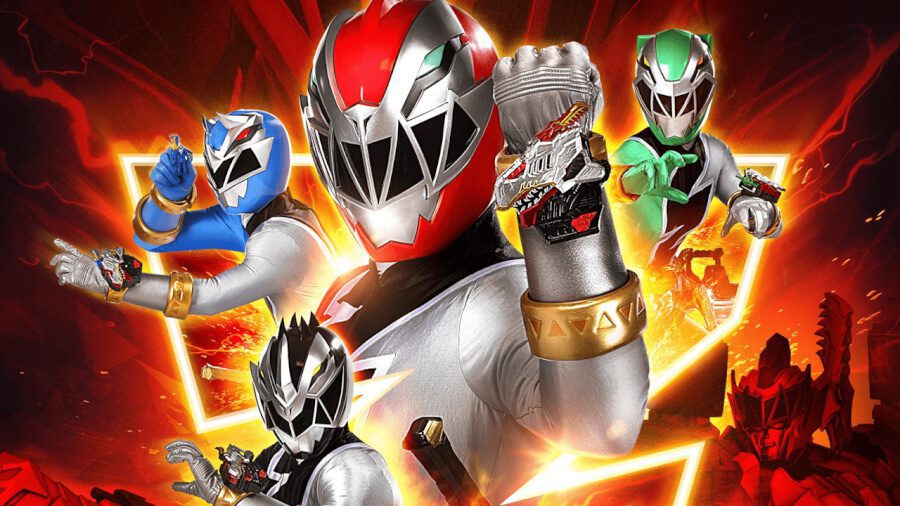 Check out our full interview with Power Rangers Dino Fury's Kai Moya here:
Ranger Nation, were you as glad as Kai was to see Power Rangers Dino Fury win the GLAAD award for Outstanding Kids & Family Programming? Would you like to see more of Izzy and Fern's relationship blossom? Feel free to let us know in the comments, please be respectful of course. If you like what you read follow us on Twitter or Facebook, so you don't miss any more Power Rangers content like this in the future!
KEEP READING: THE LAST OF US TV SERIES FIRST LOOK & PS5 REMAKE ANNOUNCED!