FAN EXPO Dallas is this weekend, and the organizers behind the mega-hit weekend have released the programming schedule that brings hundreds of unique experiences, contests, family-friendly activities, and on-site activations to the largest comic, sci-fi, horror, anime, and gaming event in Texas. 
FAN EXPO HQ Vice President, Andrew Moyes says, "At FAN EXPO Dallas, we are committed to providing the fans and one-of-a-kind experiences from start to finish. Whether it's arriving in your favorite costume to show off to the crowds, getting the inside scoop about your favorite movies and TV shows, or learning more about the voices behind your favorite anime voice actors, this event celebrates all things fandom.
RELATED: MICHAEL GIACCHINO CONFIRMS HE WILL DIRECT WEREWOLF BY NIGHT SPECIAL
Our guests can have wildly unique experiences at sessions on the Creators Stage, participate in our signature 'How To' workshops, take photos with their favorite costumed characters, watch professional comic artists battle it out in our popular Sketch Duels and search through tons of unique gifts at FAN EXPO Dallas' huge show floor for shopping!"
FAN EXPO UNVEILED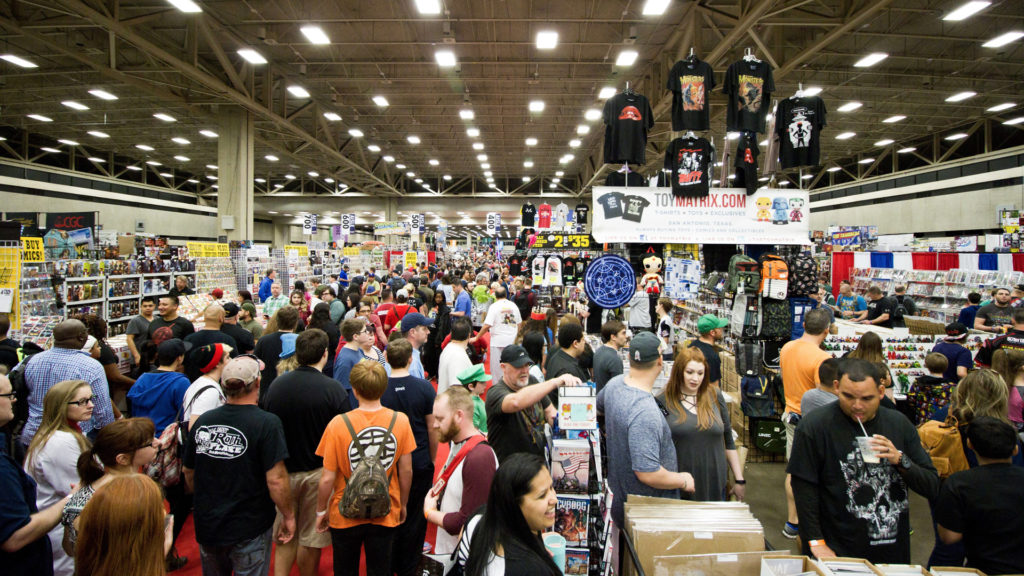 The full programming schedule has been released and general information about the event is available at www.fanexpodallas.com. Health and safety information is available here. The FAN EXPO Dallas app is available for Android and Apple devices.  Fans can download it in advance for the latest updates and start planning their visit.
From science fiction fantasy to Gen X icons, from superheroes to comedy geniuses, FAN EXPO Dallas has gathered the widest variety of guests from all genres of pop culture. From legendary voices and celebrities to the largest gathering of My Hero Academia voice actor stars to date, to comic creators including artists illustrators, and writers, even the most hardcore fan is bound to find an abundance of activity and interaction to satisfy their pop-culture fixation.
SHOPPING FOR ALL!
Thousands of retailers from all over join FAN EXPO Dallas to make everyone's experience an unforgettable one! Specializing in everything comics, anime, gaming, science fiction, and/or horror, these retailers have a treasure trove of fan merchandise, whether it's a comic book from any era, original artwork, graphic novels, memorabilia, DVDs, videos, games, toys or t-shirt. 
Known for a feast on the eyes, the FAN EXPO cosplay experience is evident all weekend long when like-minded fans meet up and families cosplay together! The Masters of Cosplay Grand Prix returns for 2022 and it's bigger than ever. Eight Cities. Eight Champions. One Master of Cosplay. Cosplay glory is all around at FAN EXPO Dallas and everyone is invited to dress up and have fun!
ALL FATHERS WELCOME
From Darth Vader to Uncle Ben, pop culture is full of father figures…On Father's Day, Sunday June 19, 2022, FAN EXPO Dallas is ready to celebrate the dad in every fan's life with activities, crafts, panels, and a few secret surprises designed to delight all dads. FAN EXPO Dallas invites fathers in fandom to unite at Cosplay Meet-Ups for all the father figures in our lives, be they real or fictional, all day Sunday.
The Illuminerdi will be there this weekend covering the event. What do you want to see us cover? Be sure to follow our social media pages, and hit the notification bell because we will have plenty of cool things to report on!
If you want to learn more, check out the FAQ provided by the Expo:
FAN EXPO Dallas™ is a playground for fans of all ages who love genres including comics, sci-fi, horror, anime, gaming, and more! A weekend at FAN EXPO Dallas can include snagging a professional photo op or autograph with your favorite performer, watching comic greats duke it out in a sketch duel, participating in a gaming tournament, and much more!
The Exhibit Hall is where you can shop from major and independent retailers showcasing everything from the latest products to unique fandom wares. More than 600 retailers from all over North America join FAN EXPO Dallas and specialize in everything related to comics, anime, gaming, science fiction, and horror. Whether you're looking for a comic book from any era, original artwork, graphic novels, memorabilia, DVDs, videos, games, toys or T-shirts — you will find it all here.
Where is it?
The Kay Bailey Hutchison Convention Center, originally the Dallas Convention Center, is a meeting hall, event/convention center, and civic center in the Convention Center District of downtown Dallas, Texas.
Address: 650 S Griffin St, Dallas, TX 75202
Phone: (214) 939-2750
ABOUT FAN EXPO HQ:
With over a million fans and counting, FAN EXPO HQ attracts pop culture enthusiasts, locally and internationally, to come together to celebrate all things fandom. Collectively it hosts nearly one million fans annually at FAN EXPO Dallas™, FAN EXPO Canada™, MEGACON Orlando, FAN EXPO Boston™, FAN EXPO Denver, FAN EXPO San Francisco, Calgary Comics & Entertainment Expo, FAN EXPO Vancouver™, Toronto Comicon, Dallas Fan Festival and Edmonton Comics & Entertainment Expo.
In 2022, FAN EXPO HQ will present six new shows previously organized by Wizard World: FAN EXPO Chicago, FAN EXPO Philadelphia, FAN EXPO St. Louis, FAN EXPO Portland, FAN EXPO New Orleans, and FAN EXPO Cleveland. The latest schedule of events is available on the Website, along with up-to-date ticket information. Discover. Celebrate. Belong.
AUTOGRAPHS
How Do I Get a Guest's Autograph?
Most guests will be signing autographs whenever they are not at a Q&A panel or photo op. Most accept CASH ONLY, and you can purchase their autograph at their table. Guest locations will be noted in the program.
What Should I Have Signed?
Guests will usually have 8×10 prints at their table for you to choose from. Often, they are included with the autograph fee, but some guests occasionally charge an additional fee.
Can I Have My Own Item Signed?
Usually, yes. Guests will often sign toys, large posters, and other unique items. Some do charge more for a premium item and this is at their discretion.
How Much Does an Autograph Cost?
Autograph fees vary per guest and typically range between $10 and $80. We will update the website as prices are confirmed. We do not always get a confirmed price before the show, and sometimes (rarely) prices change at the guest's discretion once they arrive at the show. Click on a guest's picture on the guest page to see their autograph fee, and please remember that autographs are cash only.
PHOTO OPS
What is a Photo Op?
Photo ops are your chance to get a professionally shot photo of you and your favorite guest. The photo ops schedule will be posted on the website approximately two weeks before the show.
Where do I Purchase Photo Ops?
They can be purchased in advance from our website, or directly from Epic Photo Ops at the show! Their location will be marked in your program.
Q&A PANELS
What is a Q&A Panel?
A Q&A panel is a programming session about a specific topic or guest. The panelist speakers are often fans or professionals who work in the related industry or celebrity guests. It's a great opportunity to ask questions, witness amazing banter between celebs and their fans, and learn about techniques & upcoming projects.
Where are the Q&A Panels and Programming Sessions?
FAN EXPO DALLAS has multiple rooms of programming, and many are first come first served. Their locations, times, and information on sessions will be in your program.
COSPLAY
What is Cosplay?
Cosplay is simply dressing up in a costume ("cos") based on a movie, comic, or video game character and playing that role. At one end of the spectrum are people wearing store-bought outfits, similar to what would be worn on Halloween. At the other end are creative masterpieces, built and sewn by hand, that range from exacting replicas to clever mash-ups of genres, such as taking a popular super villain and re-imaging what she would look like in the Victorian Era (aka "steampunk"). Some of the bigger cosplay names have hundreds of thousands of fans following them on social media.
Cosplay Red Carpet
The skill and craftsmanship of dozens of cosplayers from across North Texas and around the country are on display in a red-carpet format worthy of their time and creativity. All photographers — both professional and those shooting with their smartphones — are welcome to line up for the best shot possible during the managed event.
Costume Contests
This is one of the most popular events of FAN EXPO Dallas. Fans get their chance to show off their fantastic costume creations in front of a live audience and a panel of expert judges for prizes. Most costumes are related to what our fans love most: comics, science fiction, fantasy, horror, and anime. The effort put forth by the contestants in this event is incredible and should not be missed! There are separate contests for adults and kids, and more information will be available at the show.
KEEP READING: THRILLING THUNDERBOLTS FILM OFFICIALLY IN PRODUCTION WITH JAKE SCHREIER SET TO DIRECT FOR MARVEL STUDIOS