In an interview with the Los Angeles Times, Samuel L. Jackson explained that he regrets nothing about his career choices or filmography, and is satisfied with what he has accomplished, even if he has never won an Oscar. In fact, he actually enjoys starring in superhero films and high-profile blockbusters compared to being in Oscar-bait movies.
The actor was nominated only once at the Academy Awards for Best Supporting Actor thanks to his performance as Jules Winnfield in Quentin Tarantino's Pulp Fiction. He also received an Honorary Academy Award in 2022, but never won an actual Oscar for his performance.
RELATED: THE FINAL TRAILER FOR JORDAN PEELE'S NEW HORROR FLICK NOPE IS HERE
In that regard, however, he is perfectly satisfied.
Samuel L. Jackson Reflects On His Career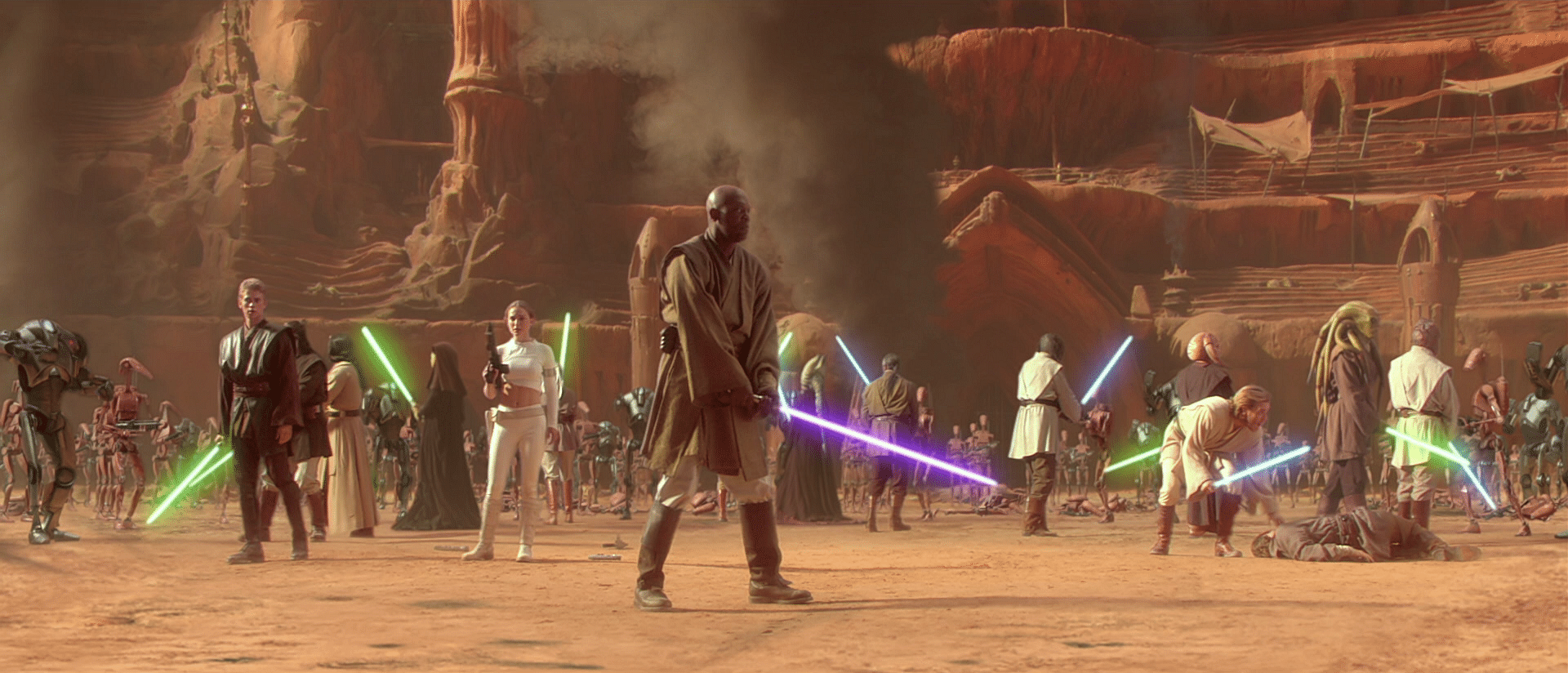 Here's how Samuel L. Jackson addressed the purple lightsaber in the room:
"I was never going to let the Oscars be a measure of my success or failure as an actor. My yardstick of success is my happiness: Am I satisfied with what I'm doing? I'm not doing statue-chasing movies. You know: "If you do this movie, you'll win an Oscar." No, thanks. I'd rather be Nick Fury. Or having fun being Mace Windu with a lightsaber in my hand."
Jackson also said that there is no "statue-chasing" movie role he regretted having passed on:
"I want to do the stuff that made me want to go to the movies when I was a kid. I want to do that movie that people just want to see so they can get out of themselves. That's the guy I chose to be and I'm fine with it. I'm satisfied because that's who I am. I'm the guy who does the lines that people see on T-shirts. There's actors who go their whole careers and no one can quote a line they've said in a movie. People go to watch my movies to see how crazy I'm going to be or see how many times I say motherf—. Whatever gets them in the seats."
It is true that many Oscar-winning actors have won roles for movies that we've all seemingly forgotten about, or performances that weren't as good as other, and much more revered performances.
Recently, I think of Rami Malek's Oscar win as Freddie Mercury in the horrible Bohemian Rhapsody, versus better acting performances from Bradley Cooper in the 2018 remake of A Star is Born and Christian Bale in Adam McKay's Vice. These two actors deserved an Oscar better than Malek, who did a pale imitation of Mercury (without singing), but none of us can quote any lines that the actor has spoken (and not lip-synced) in the movie. We could actually remember what they've done and said in the movie.
And Samuel L. Jackson's career is full of memorable [and endlessly quotable] performances, outside of the MCU and Star Wars, such as in Snakes on a Plane, Shaft (2000), Deep Blue Sea, Die Hard with a Vengeance, The Red Violin, The Long Kiss Goodnight, Jurassic Park, Django Unchained, The Hateful Eight, and, most recently, in M. Night Shyamalan's Glass and Spiral: From the Book of Saw.
Jackson will appear next in a slew of MCU titles, which include Secret Invasion, The Marvels, and Ant-Man and the Wasp: Quantumania. He has also teased another appearance in an MCU show, possibly Ironheart, but no one could confirm. His next role will be in Paws of Fury: The Legend of Hank, opening in theatres on July 15th, and in Matthew Vaughn's Argylle, co-starring Henry Cavill, and Ariana DeBose, to release on Apple TV+ in late 2022.
What do you think? Is Samuel L. Jackson one of the best actors working today? Do you think he would've benefited from starring in Oscar-bait films, or is his career perfect as is? Let us know in the comments below and be sure to follow us on Twitter!
KEEP READING: CHRIS EVANS GETS HONEST ABOUT THE "TALL ORDER" TO RETURN AS CAPTAIN AMERICA
Source: Los Angeles Times