Rhea Ripley has released more details on the injury which has removed her from the Money in the Bank card.
Ripley was set to face Bianca Belair for the Raw Women's Championship at Money in the Bank next Saturday, July 2. However, WWE was forced to change things up at the last minute. It was revealed on Raw, Ripley was not medically cleared to compete at Money in the Bank.  
WWE did not go into detail as to what kind of injury has sidelined Rhea Ripley. However, we did get some more detail because of a fan interaction.
A Little More Detail On Ripley's Injury
The fan commented on one of Ripley's Instagram posts claiming she didn't look injured. Ripley then gave everyone a little context on her injuries and why she doesn't look injured. She replied "Brain/teeth [injury]. Can't see a brain injury. Stop being incompetent and reaching at nothing."
This is why Ripley has been written off of TV and wasn't medically cleared. The brain injury sounds like it may be something serious, but it is also a very vague term. It is very possible it is just a simple concussion which WWE is being cautious about. The exact extent of the injury with her teeth isn't known, but we did get to see what she is doing to fix it.
RELATED: DAMIAN PRIEST RECALLS HOW HE WAS ASKED TO JOIN JUDGMENT DAY
Rhea Ripley posted a picture of her top teeth having braces applied to them and in another picture a big bruise to the top of her gums. My guess is she suffered a blow to her teeth which made her teeth loose and hence the braces while the teeth heal and make sure they heal straight.
Rhea Ripley's Out Call In Carmella
The good news is according to Dave Meltzer on the latest Wrestling Observer Radio the injuries aren't expected to sideline Rhea Ripley for very long so hopefully we will be able to see her compete at the end of July for SummerSlam.
However, in the meantime WWE needed to fill her spot for the Money in the Bank Raw Women's Championship match against Belair. WWE held a match for the number one contendership match for the championship. On this week's Raw a Fatal Five-Way match was held between Becky Lynch, Asuka, Alexa Bliss, Liv Morgan and Carmella. Carmella picked up the victory and will be Belair's opponent. She is a very different opponent than Ripley, but should still be a pretty good match.
Injuries Plaguing Wrestling Currently
Ripley isn't the only one in WWE who is suffering from injuries. Randy Orton is suffering from a back injury and Cody Rhodes with a torn pectoral muscle. However, it is even worse in AEW with top wrestlers going out just before the big AEW x NJPW Forbidden Door event.
AEW has CM Punk, Bryan Danielson, Matt Hardy, Adam Cole, Lee Johnson, Dante Martin and The Bunny all out with injuries. AEW x NJPW Forbidden Door is this Sunday and Money in the Bank next Saturday, so there's still time for someone new to get injured, but fingers crossed that won't happen.
RELATED: EDGE EXPELLED FROM JUDGMENT DAY AND BECOMES THE NEW BABYFACE
The good thing and one of the only good things about injuries is we get to see unexpected returns to the ring. Who doesn't love a surprise return and run-in to the ring to save or attack a big star? Maybe we will even get to see one at AEW x NJPW Forbidden Door or Money in the Bank.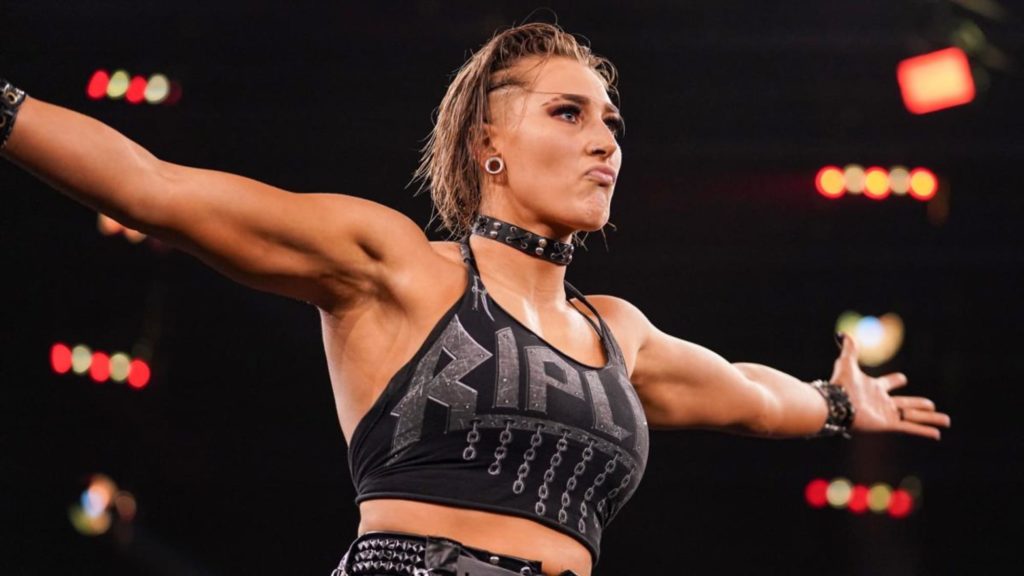 Is there anyone you think may return from injury at either of these PPVs like perhaps Kenny Omega or Bayley? What do you think of Belair's new opponent, Carmella? Would you rather see Ripley vs. Belair?  If not Carmella, leave a comment on Twitter on who would you have liked to see face Belair.
KEEP READING: WWE BACKSTAGE LIFE POST VINCE MCMAHON "HUSH MONEY" PROBLEM
Sources: Wrestling Inc., Wrestling Observer Radio