Carrie Cracknell's Persuasion has already made Jane Austen fans [very] angry on social media, and with reason. Ronald Bass and Alice Victoria Winslow's script takes too many creative liberties with Austen's text. It throws in many anachronistic elements inside a period story that focuses on Anne Elliot (Dakota Johnson) reuniting with Captain Frederick Wentworth (Cosmo Jarvis) eight years after being persuaded not to marry him. They're both still in love, but a new man, William Elliot (Henry Golding), arrives late in Anne's life, sweeps her away, and plans to marry her. Of course, even the ones who haven't read Austen's book will know exactly where the film is heading.
Persuasion | Official Trailer | Netflix
But the reason why the film garnered so much hate wasn't because of how predictable the story is, but how the film desperately tries to modernize Austen's source material by making Johnson talk directly at the audience, consistently breaking the fourth wall and gazing at the camera with a wink or a half-smile. Or how about the insertion of emojis in a handwritten letter or a character stating that "It is often said if you're a five in London, you're a ten in Bath."
These elements make for a relatively poor and unfaithful adaptation of Austen's text. Still, I'd be lying if I said I didn't enjoy some of these anachronisms solely because of Dakota Johnson's magnifying performance.
RELATED: CHRIS HEMSWORTH POSTS HEARTWARMING BTS PHOTOS OF (SPOILER) ON SET OF THOR 4
Johnson does most of the film's heavy lifting through her enthralling narration and how she looks directly at the camera and addresses the viewer. It takes lots of skill to effectively break the fourth wall and invest the audience into the story as if they're an integral part of it. However, Johnson does it so effortlessly that it's impossible not to love her in this.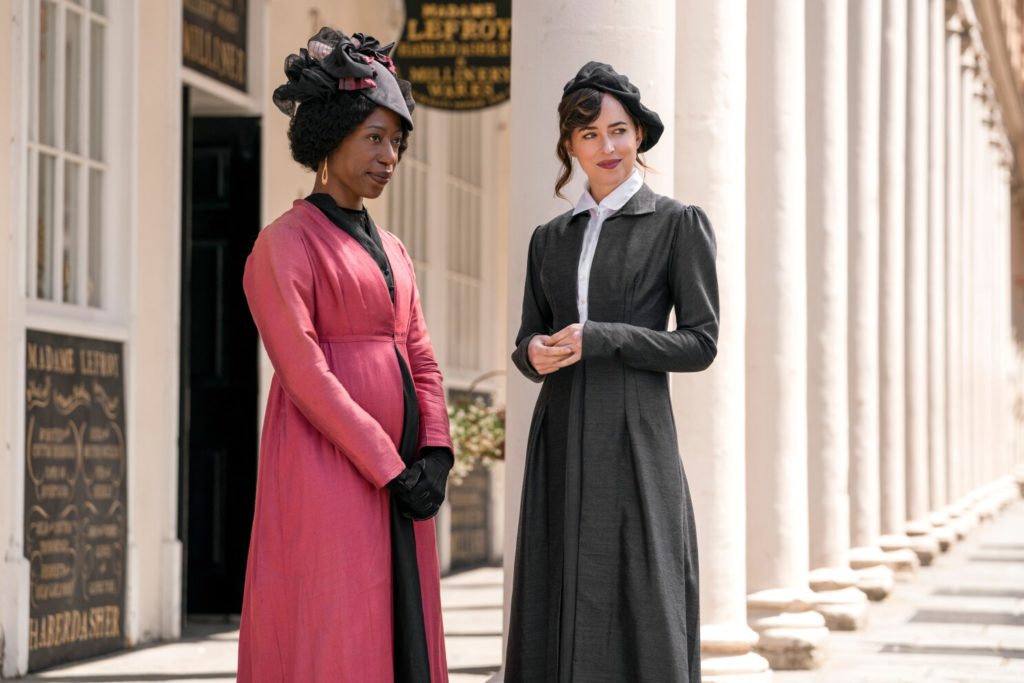 No, really. If Persuasion were 109 minutes of Dakota Johnson addressing the audience and looking at the camera, telling them what's going to occur, it would be a masterpiece, even if it has nothing to do with Austen's source material. Cracknell takes as many creative liberties as Derek Jarman did when he told the story of Caravaggio, though one text is more sacred than an artist's biopic. 
Not all of these moments work, especially when the writers attempt to rewrite Austen's text to the 2020s. You can't do that. Austen's material is as sacred as Shakespeare's. You can't modernize it the way you see fit–there's a reason why Jane Austen adaptations follow a specific aesthetic, not only in its lavish costume and production design but in its screenplay.
RELATED: FIRST TRAILER FOR RON HOWARD'S THIRTEEN LIVES HAS RELEASED ONLINE
The best Austen adaptations are the ones that closely follow the source material they're adapting from. Or derivative adaptations like Andrew Ahn's Fire Island know what to keep from the text and how to revamp it. There's a specific structure that these movies need to follow, and if they don't, there's bound to be controversy.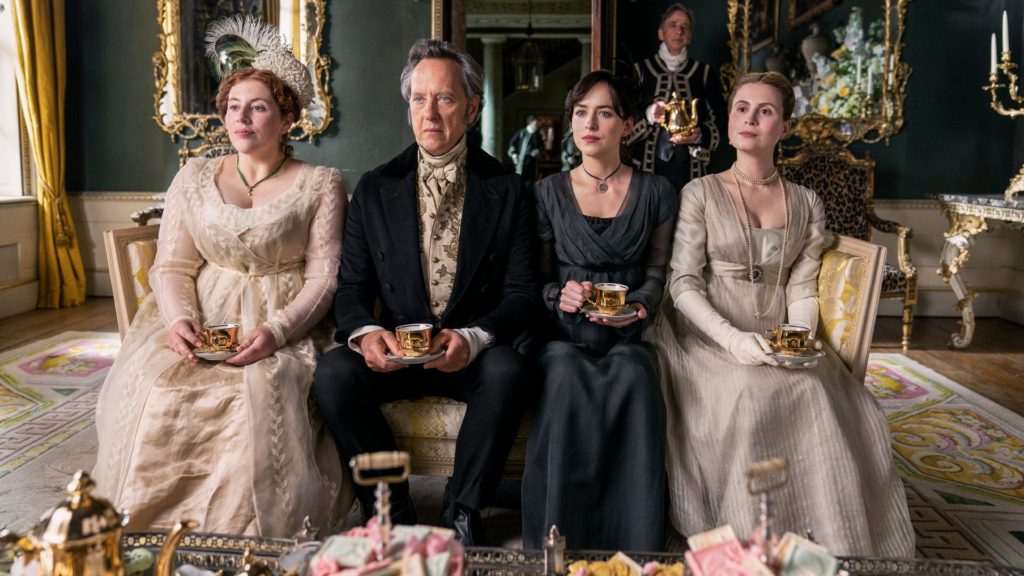 And while some of the anachronistic aspects of Persuasion add some life to the movie and make it somewhat interesting, one can also say that it undermines the characters' emotional arcs. The protagonist is so busy constantly winking at the camera that there's barely any development regarding Anne and Wentworth, and we're supposed to believe they've always been madly in love. It's complicated to tell since Cosmo Jarvis is barely in the movie, and Johnson spends most of her time with her sister, Mary (played by a fun Mia McKenna-Bruce) than with Wentworth or William.
As a result, both male leads feel underdeveloped, and their relationship is surprisingly rushed, even if Jarvis and Golding do their best to elevate the undercooked script they've been given.
RELATED: BEAVIS AND BUTT-HEAD DO THE UNIVERSE REVIEW: AN ICONIC RETURN
The strong suit of Persuasion are its performances. Without such incredible actors like Johnson, Jarvis, Golding, McKenna-Bruce, Nikki Amuka-Bird, and Richard E. Grant, the movie wouldn't be as watchable as it is. They make up for the lack of character depth and respect for Jane Austen's source material and add impeccable emotional pull in a movie that surprisingly isn't focused on building effective, emotionally impactful relationships. Unfortunately, plenty of distractions prevent Persuasion from being a great Jane Austen adaptation, even if every actor involved in the project is too good for such a mediocre script.
But when Persuasion soars, it soars. Dakota Johnson is one of the finest actresses working today, and her fourth-wall-breaking skills are incredible to watch. But the anachronistic material does not work for a core text that shouldn't be altered to suit the Netflix times—the story, characters, and emotional beats speak for themselves. There's no need to modernize Austen's last novel, written in the 1810s, for a 2020 audience when the material still feels fresh and exciting.
RELATED: SAMUEL L. JACKSON EXPLAINS WHY HE PREFERS SUPERHERO ROLES TO OSCAR BAIT OPPORTUNITIES
Understandably, many Austen fans thought the film was a disaster or an insult to her legacy. Still, even littered with inconsistencies, Persuasion is watchable enough, mainly due to magnifying screen power of Dakota Johnson and her fellow supporting actresses. Without them, the movie would not be as watchable or exciting. But since they're there, I did not mind watching it, though it's not something I'll remember in the next week or two. 
Persuasion is now streaming on Netflix. What did you think of Persuasion? Let us know what you thought of the movie over on our social media!
KEEP READING: THE SEA BEAST REVIEW: A SPECTACULAR ANIMATED ADVENTURE