Sitcoms are a hard sell when it comes to TV genres. Many shows might see the light of a pilot or a few episodes into season one, and majority of those shows will also get the ax. But what happens when a sitcom arrives with a cast that is already dead?
Utter smashing success. CBS sitcom, Ghosts, is making its debut at San Diego Comic-Con after winning over the hearts of viewers. Not only did the show have a groundbreaking season in ratings, but its ability to connect to the fans has leveled Ghosts to fame only a small handful of sitcoms have seen And a lot of that is due to the amazing cast and creators.
Ghosts tells the unbelievable story of a living couple who inherits a mansion and all the variety of ghosts that inhabit it. As you can imagine, it can get chaotic with roommates in general. But now imagine that with roommates who span over decades of history. Which personally this is one of the things, besides the amazing writing, that makes the show such a success. There truly is a character for every viewer that turns in.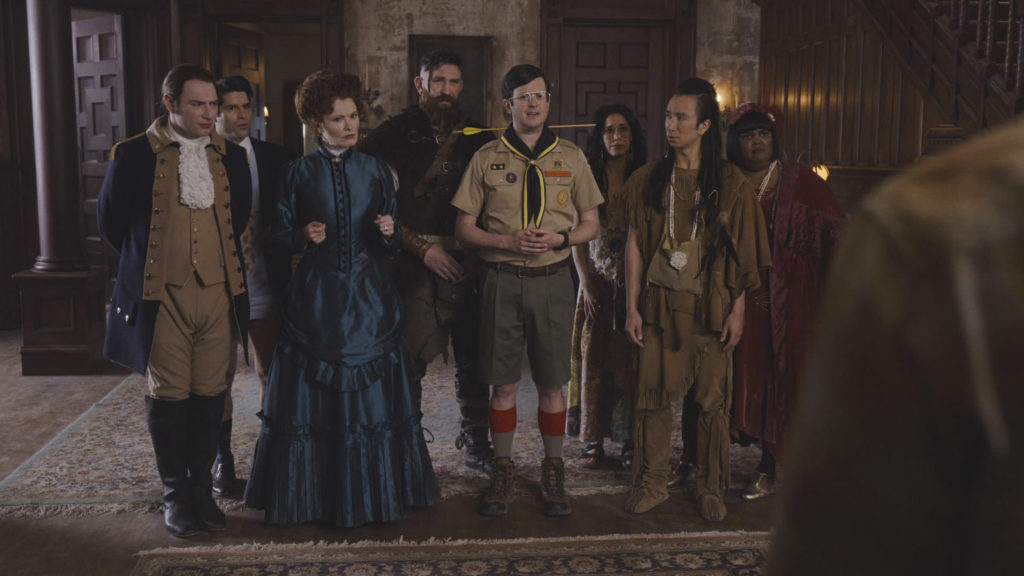 Including beloved Troop Leader, Pete, played by Richie Moriarty, who is getting some extra SDCC love. If you are able to attend the convention this year, you might want to make your way to the Pinecone Trooper Pete's "Friend Zone." This activation is set up at the Interactive Zone at Petco Park from July 21-24 and focuses on a cozy, campsite feel in honor of Woodstone's friendliest deceased resident. Fans will be able to experience a "scare-free" archery, connecting with the "other side" through psychic mediums, and programming that offers guests some insight into their past, present, and future.
RELATED: ICYMI: AMAZON STUDIOS ACQUIRES RIGHTS TO EIGHT BILLION GENIES
But if you are unable to make it to San Diego Comic-Con this year, have no fear. Fans of the show will be able to participate in the Metaverse, an online journey through the haunted Woodstone Mansion. Here you will be able to solve puzzles, undertake quests, and ear limited edition, collectable NFTs. Which as someone deeply missing all the SDCC fun this year, THANK YOU! While it's happy that the event is back and open after the pandemic, it's great that shows like Ghosts is able to find a way to connect fans near and far.
Ghosts SDCC 2022 Panel
Speaking of connecting fans, it isn't just the fun interaction they can have online or in person. It's also about getting to see and hear from the stars and creative team. Today the "livings" Rose McIver and Utkarsh Ambudkar, as well as the Woodstone Mansion spirits, Richie Moriarty, Brandon Scott Jones, Danielle Pinnock, Asher Grodman, Román Zaragoza, Sheila Carrasco, Rebecca Wisocky, and Devan Chandler Long; join executive producers Joe Port and Joe Wiseman for the panel discussion hosted by guest star Matt Walsh, who previously played Elias, husband of Wisocky's Hetty.
Here the panel discussed topics that ranged from behind the scene moments, never before seen footage, and discussed some things fans can expect in season 2.
Check out this comical blooper real that showcases just some of the magic that makes this show so mesmerizing.
One of the things that makes or breaks shows in general, but especially sitcoms is chemistry between cast. And one thing that stood out above all else in Ghosts panel at SDCC is that the chemistry is strong here. There was so many laughs and moments where you could tell they all just thrive together. But not only that, Utkarsh Ambudkar had his kids with him. HIs daughter was cosplaying as her favorite character from the show, Flower played by Sheila Carrasco. While his son fell asleep in his lap was dressed as Trevor played by Asher Grodman. Checkout this tweet from Eric Goldman.
RELATED: ZOMBIES 3 REVIEW: NEWEST DISNEY MUSICAL IS OUT OF THIS WORLD
It also turns out that a few of the cast members have a bit of a history. Including that Utkarsh Ambudkar knew Rose McIver, who plays his wife who can see the ghosts on the show, previously because his wife worked on Power Rangers with her. Plus he went to college with Sheila Carrasco and high school with Richie Moriarty! Small world indeed.
One of the best tidbits to come out of the panel was the hidden actor amongst the cholera ghosts. One of the things about Ghosts is the range of history it covers, which sometimes includes special guest ghosts popping in to say hello. In the first two episodes of the season, we were introduced to a group of ghosts that hangout in the basement known as the cholera ghosts. If you look closely enough you might be able to spot Richie Moriarty dressed up as one.
They also touched on some of their favorite episodes. It seems "Ghost Prom" episode is a favorite among the majority of the cast, which its very reasonable because it is a great episode. But another one they discussed is the D&D one. Co-creator Joe Wiseman is a huge fan/player of the game and is why it even became an episode. But it was discussed that Utkarsh is into it as well as Roman who said he began playing it with friends over Zoom early in the pandemic. This is just a great example of what the panel of Dungeon & Dragons: Honor Among Thieves were discussing earlier today in Hall H. Checkout our coverage regarding that panel as well.
RELATED: HALLOWEEN ENDS OFFICIAL TRAILER PITS LAURIE STRODE AGAINST MICHAEL MYERS FOR THE 8TH TIME
But it kind of makes you want to see Ghosts get a season 3, so we might be able to see another D&D themed episode. It isn't a far fetch to think that they could find ways to mention the movie in the sitcom because this show is great at adding bits of pop culture into the mix. For example, the references to Hamilton due to the fact that Isaac played by Brandon Scott Jones has declared him his arch nemesis while alive.
The only let down of the panel, and this is for personal reasons, is that there was no trailer or teaser for season 2. With the season 2 premiere for Ghosts right around the corner, fans had really hoped to get a few first glimpses in what shenanigans we might expect. The show is scheduled to return September 29 at 8:30 PM on CBS, with the full first season now available to be streamed on Paramount+. What was interesting though was who the cast would like to see for guest stars.
That list included the original cast from the British series Ghosts, which our version is an adaptation of. Which honestly would be amazing to see the connection between two great casts. As well as Pinnock stated, "Lizzo, please! I love you." Again, fans can agree a Lizzo cameo would be the bees knees.
RELATED: MS. MARVEL: WHAT'S NEXT FOR THE MAGNIFICENT KAMALA KHAN?
In season 2, we will start to see a shift from the livings who were struggling to open air B&B, to now struggling with the day to day operations. While fans are excited to see what other ghosts are hiding in the mansion, many fans are excited to hear that we will be getting more backstory on each of the main characters. Including, diving into the mystery of Prohibition-era jazz singer Alberta's death. Joe Wiseman teased that we would even get to see some suspects. But it wasn't just Alberta that we will get to learn more of. There was also an old tree mentioned that has a special meaning to Sasappis.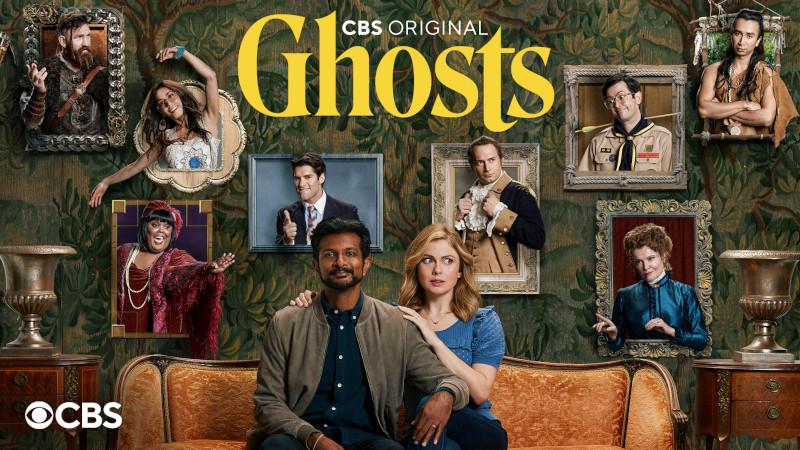 Thank goodness that September is not that far away, because with the few juicy hints we did get were enough to excite the crowds. Ghosts is an amazing show that you are not going to want to sleep on. Stream the first season of Ghosts now and get ready for the laughs in season 2, because as always there is never a dull moment with this cast. Let us know over on Twitter what are some of your favorite Ghosts moments and episodes.
KEEP READING: DUNGEONS AND DRAGONS: HONOR AMONG THIEVES SDCC 2022 BARES WONDERFUL SURPRISES AND TRAILER AT THE NEW FILM