Ms. Marvel introduced us to Kamala Khan, the Marvel Cinematic Universe's newest hero. After the end of the first season of the series, we're taking a look into what could be next for Ms. Marvel in the future!
Watch The Illuminerdi break it all down here:
What's Next for Ms. Marvel?
VIDEO: Asher Freidberg
***SPOILERS ahead for Ms. Marvel***
---
The Marvels
The next confirmed appearance for Ms. Marvel is in the upcoming film, The Marvels. In this project she will be starring alongside Brie Larson's Captain Marvel and Teyonah Parris's Monica Rambeau. Based on the post-credits scene in Ms. Marvel, part of the plot will hinge on Kamala and Carol having their places in the universe switched, sending Ms. Marvel to space and Captain Marvel back to Earth. We could see either of them seek out Monica Rambeau for help, who appears to be on her way to becoming Photon.
RELATED: MS. MARVEL'S MAGNIFICENT POST-CREDITS SCENE EXPLAINED!
We imagine this film will focus on Kamala meeting her hero and learning more about what it means to be a hero. Kamala's experiences so far have either been relatively low stakes, or so high stakes she has no control. We will likely see Kamala in a situation where she does have control over a high stakes event. Not to mention, we will certainly learn more about Ms. Marvel's Bangle, how it works and where it is from. It did look like it was initially on a Kree arm.
Ms. Marvel Season 2?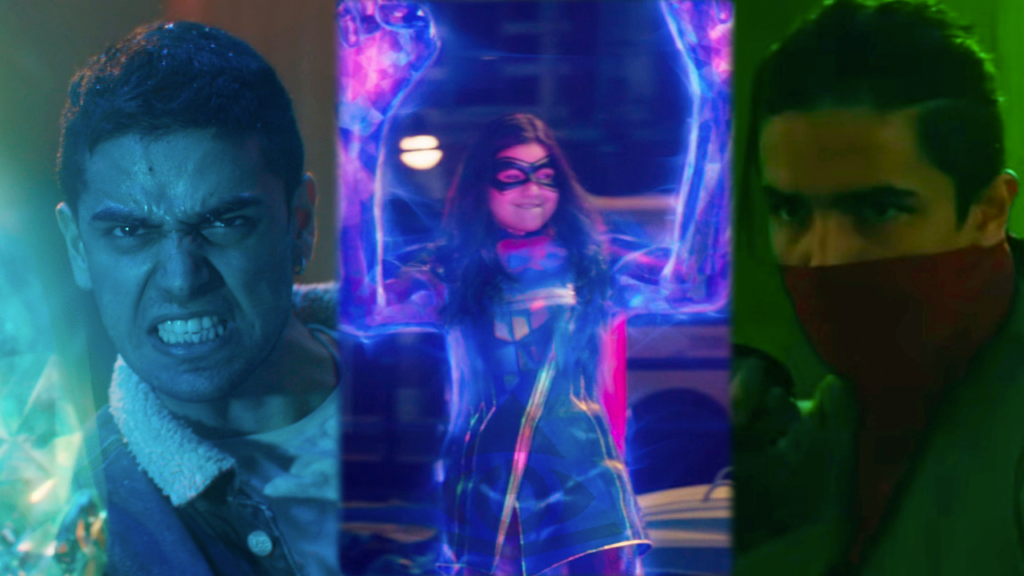 RELATED: THOR 4: MCU'S FASCINATING VALHALLA EXPLAINED!
After the success of Ms. Marvel's first season, we can probably expect a continuation in the form of Season Two. There were plenty of seeds planted for the future of the Ms. Marvel series, including the relationship between Kamala and Kamran, exploring the lore of the Clandestine, Djinn and Veil, and maybe seeing Red Dagger make his way to New Jersey! It also appears Kamala still has a lot to learn about her abilities, and ideally after learning more about The Bangle in The Marvels she will be stronger than ever.
Joining The Young Avengers?
RELATED: WHO WILL BE ON THE MCU'S EXCITING YOUNG AVENGERS ROSTER?
With many characters from The Young Avengers making their way to the Marvel Cinematic Universe, it seems probable that Ms. Marvel will join this team. As a young hero acting as a form of a legacy character, it would only make sense for her to join this alliance of heroes. While in the comics she is a member of The Champions, another team of young heroes, we think the Marvel Studios will opt to combine these alliances into one.
Joining The X-Men?
Finally, while a bit less likely, we could see Kamala one day join a team of X-Men. In the Season Finale, we learned that Kamala is a Mutant in the Marvel Cinematic Universe. This might be a tease that instead of her character having ties to The Inhumans, she could go on to have ties with The X-Men! Of course, not all Mutants in the Marvel Universe affiliate with The X-Men, but we think that Marvel's choice to make Kamala a Mutant was for a reason, and we think this might be it.
RELATED: WHAT MS. MARVEL'S REVEAL AS MCU'S 1ST MUTANT MEANS FOR THE FUTURE
Ms. Marvel has a lot in store for her future, from heading to space, mastering her powers, possibly joining both The Young Avengers and The X-Men!
Ms. Marvel is now streaming on Disney+. Did you enjoy the first season of the series? What do you think is next for the character? Let us know in the comments and on our Twitter!
CONTINUE READING: THE MIGHTY THOR: WHAT COULD BE NEXT FOR THE HERO AFTER THOR 4?
---
FAMILIES ARE REELING FROM AN UNTHINKABLE TRAGEDY AFTER A GUNMAN KILLED SEVEN CIVILIANS AND INJURED THIRTY-EIGHT.