Dungeons And Dragons fans rejoice! It is a wonderful time to be a D&D fan.
It's the magical time of year when some of the most anticipated movies and shows travel across the lands hoping to excite the masses at San Diego Comic-Con.
RELATED: DUNGEONS & DRAGONS REVEALS SLICK TITLE FOR NEW CHRIS PINE LED FILM ADAPTATION COMING 3/3/23
And it seems that the talk of the town currently is Dungeons & Dragons: Honor Among Thieves. Scheduled to release in theaters in March 2023, this film is directed by Game Night filmmakers John Francis Daley and Jonathan Goldstein. So far not much is known about the movie, but it appears that might be changing this week as fans start to get their first glimpses. Including a first look at the cast, an amazing walk-through experience for fans, and the Hall H Panel. It looks like Dungeons & Dragons: Honor Among Thieves is shaping up to be a must-see movie next year.
The Adventure Begins For US All In Dungeons And Dragons: Honor Among Thieves
If you are lucky enough to be at San Diego Comic-Con this year, you are going to want to add the Dungeons and Dragons movie Tavern experience to your to-do list. Immerse yourself in a one-of-a-kind tavern that is filled with special previews, custom artwork, and special merchandise. Can you say you were even at SDCC if you don't have exclusive merchandise coming home with you? On top of that, what is Dungeons and Dragons without a dragon? Because they also have one of those at this event. Check out this post from Variety on Twitter that showcases the winged beast.
Shockingly, it isn't the dragon that is stealing the show. As fans travel through the Dungeons And Dragons: Honor Among Thieves "Tavern Experience", they will come across various screens showcasing the first public look at the cast in character. Now there were three characters shown earlier this year at CinemaCon. These included Chris Pine as the bard, Michelle Rodriguez as a Barbarian, and Hugh Grant who we know plays the villain. And now joining them are Rege-Jean Page as a paladin, Justice Smith as a sorcerer and Sophia Lillis as a druid. Not only do they look amazing as their characters, but this small clip is really the first look we have into the movie.
RELATED: NEW DETAILS ABOUT CHRIS PINE'S DUNGEONS & DRAGONS CHARACTER REVEALED: EXCLUSIVE
Months ago during an interview, Chris Pine stated, " there was a lot of laughs. The way that I've been describing it, it's like Game of Thrones mixed with a little Princess Bride, just a smidge of Holy Grail; it's somewhere in that ballpark. It's a lot of fun. It's got a lot of thrills. It's poppy, it's eighties heartfelt, there's a bit of Goonies in there."
Are you picking up any of those vibes in the footage below?
We Need to Know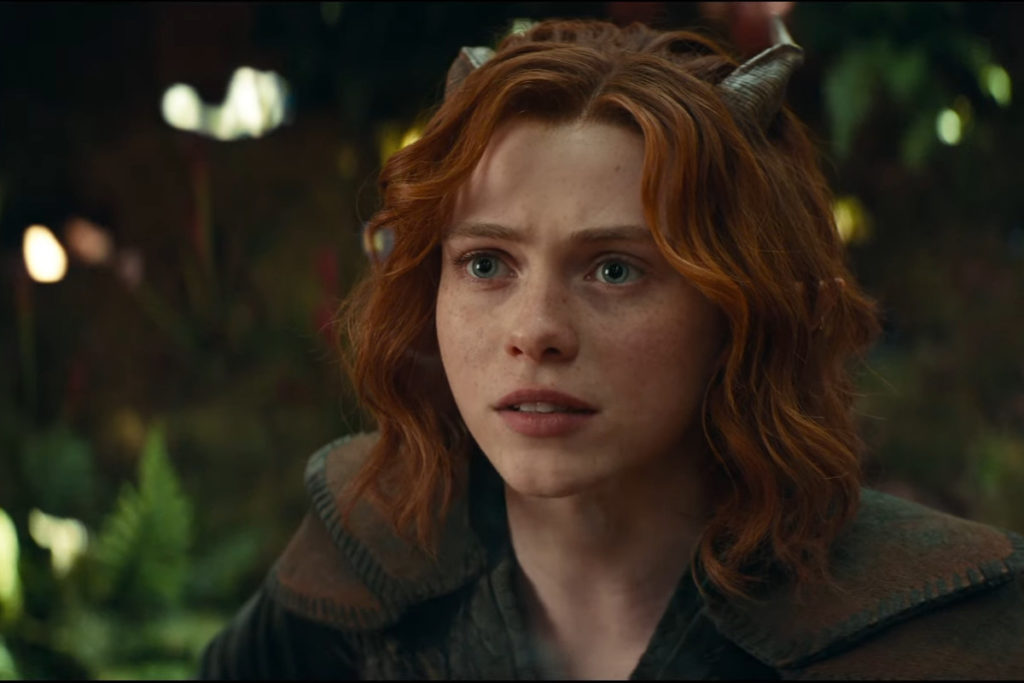 San Diego Comic-Con has a lot to offer, but one of the most prized traditions is the beloved Hall H panels. Lucky for us that the cast of Dungeon & Dragons: Honor Among Thieves hosted a Q & A to kick it off. Taking their place on the stage was Chris Pine, Michelle Rodriguez, Justice Smith, Regé-Jean Page, Sophia Lillis, and Hugh Grant. As well as director and screenwriting team Jonathan Goldstein and John Francis Daley, along with producer Jeremy Latcham. Moderating the panel was a huge D&D fan in his own right, Karl Jacobs.
There were a lot of great moments, including a message from Pines about how his role in the movie opened his eyes to the draw of D&D and the impact it has to bring people together. And he wasn't alone. Because cast members like Rodriguez and Lillis grew up playing the game. While Rege-Jean Page discussed being D&D adjacent as he grew up, touching on the fact that he loves the community-building aspect of the game. There is a reason this game has been played over decades and it's great to see the cast no matter if they are new or advanced players really celebrate all the amazing attributes that come with Dungeon and Dragons, as well as the community.
Including Daley and Goldstein going deep into their D&D history and breaking down what their intent in makings this movie was. Stating it wasn't so much about recreating the game but capturing the feeling of playing the game. Mainly the camaraderie and the community it creates.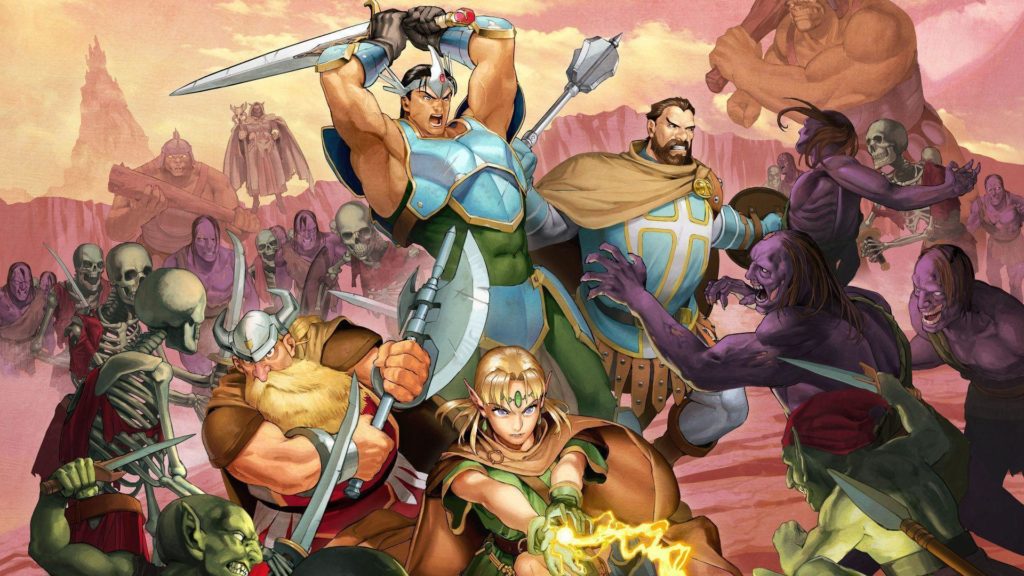 During the panel, two sneak peeks were shown to the audience. The first is described by Hugh Grant as a prime example of the "Monty Python vibe" and showcases the main D&D team going to a barbarian graveyard to search for a mystical helmet. Except this might not be the epic battle scene you are picturing, because they achieve this by interviewing corpses. Which doesn't start off on the right foot when Smith's Mage character brings back the first corpse with a five-question limit. As some chaotic comedy unfolds, audiences were able to see a lot of the comedy side shine.
RELATED: DC COMICS ANNOUNCES DUNGEONS & DRAGONS SUPPLEMENT BASED ON THE LAST GOD
The second clip was where Hugh Grant's character who is the main villain and gamemaster was introduced. In this clip we see him placing the D&D party into a shifting maze alongside other competing parties. This scene is filled with things that make mazes amazing. Including traps, loot, weapons, mimics, and even a boss. This boss in this scene looks similar to a Displacer Beast which is a panther with Venus Flytrap tentacles that holds the power of illusions. This clip was more to showcase the action and suspenseful side of the move, as it left Chris Pine's character trapped in a corner about to close in.
At the end of the panel, the first trailer for Dungeons & Dragons" Honor Among Thieves was released. And the first impressions will have you saying "holy moly Owl Bear!" This isn't the first movie adaptation based on the game, but it might be the best. The trailer found a good balance between merging strong action scenes with small bits of comedy relief that paint a better picture of what fans can expect. Especially towards the end when Chris Pine's character is asked what exactly is his role. Check out the trailer below.
It's safe to say that Dungeons And Dragons: Honor Among Thieves so far has done a great job of selling the movie to fans and skeptics. Between the trailer, the panel, the interactive experience, and two new movie poster reveal fans have gone from not really knowing anything to being excited. The movie is scheduled to hit theaters on March 3, 2023.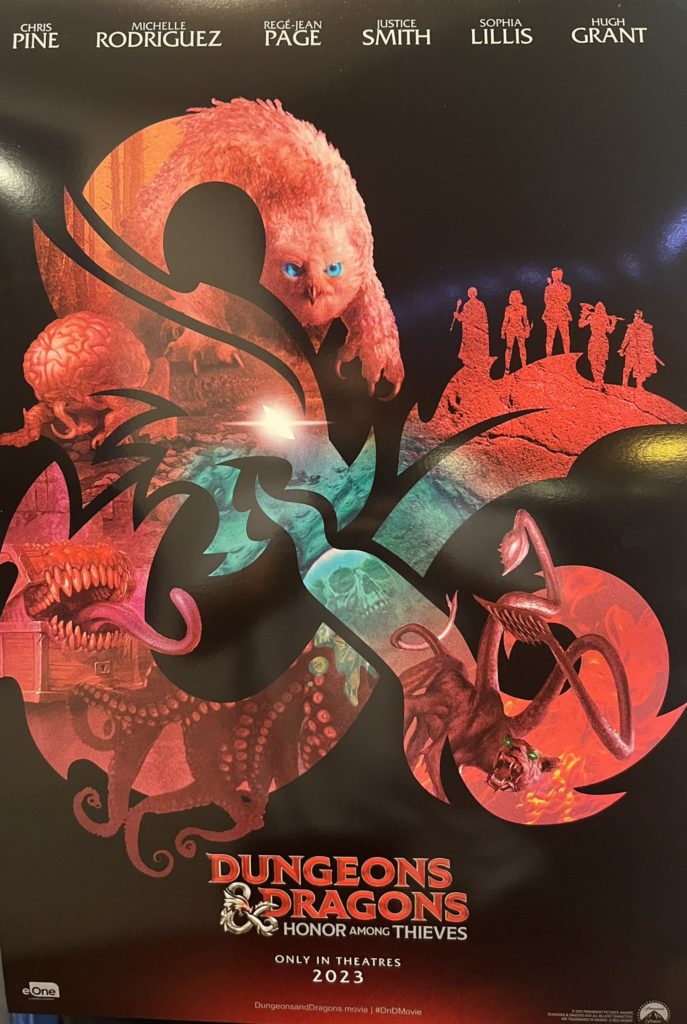 Let us know in the comments what are your thoughts on the official trailer and everything so far relating to Dungeons And Dragons: Honor Among Thieves. If you like what you read follow us on social media. Remember, we're always watching.
KEEP READING: HALLOWEEN ENDS OFFICIAL TRAILER PITS LAURIE STRODE AGAINST MICHAEL MYERS FOR THE 8TH TIME