Thirteen Lives will be making its way to Amazon Prime Video this week, and The Illuminerdi had the privilege of attending the red carpet premiere of the film and talking with many individuals that helped bring Ron Howard's latest movie to life.
Based on the true real-life story of the 2018 Tham Luang cave rescue, Thirteen Lives stars Viggo Mortensen, Colin Farrell, and Joel Edgerton as Richard Stanton, John Volanthen, and Richard Harris, respectively. They were three cave divers who helped coordinate the rescue in real life, alongside the brave Thai crew. 
RELATED: TOMB RAIDER SEQUEL OFFICIALLY DEAD AS BIDDING WAR ERUPTS
Watch a compilation of The Illuminerdi's interviews, and read everyone's answers down below!
Thirteen Lives Is A Life-Changing Experience
Cave divers Connor Roe, Josh Bratchley, and Vernon Unsworth attended the premiere, and couldn't believe that their story were being told by a major Hollywood production:
BRATCHLEY: "The first thought I had was, "Oh my god, this is this is ridiculous. I couldn't believe it to be honest. Few words other than just surprise."

UNSWORTH: "I think the main thing is that we all had different roles. We all had a different impact on what actually happened, either from day one or when these guys [Roe & Bratchley] arrived, very late on but it didn't really matter when they arrived. They got there. And at the end of the day, it was the right people. That was the main thing."

ROE: "We're part of a rescue team to give back to our community. And so we've never thought to find ourselves in this position, where someone wants to share a story of something we've been involved in on the big screen. Normally, we're all going to the cinema to watch things and not expecting to find ourselves on the screen there."
Bratchley also praised Ron Howard's vision for the film:
"It's fantastic for someone like Ron Howard, who is such a big name in Hollywood, to tell our story as well. And not only tell our story but tell the story of everyone that was involved. Like Vern said, it was a massive team effort. There were so many people involved, we were just at the pointy end of a very, very big spear. And it's really important that that's been shown to the world. And we're very honored to be part of it, both for the rescue and everything that went on and part of what's happening now with the movie."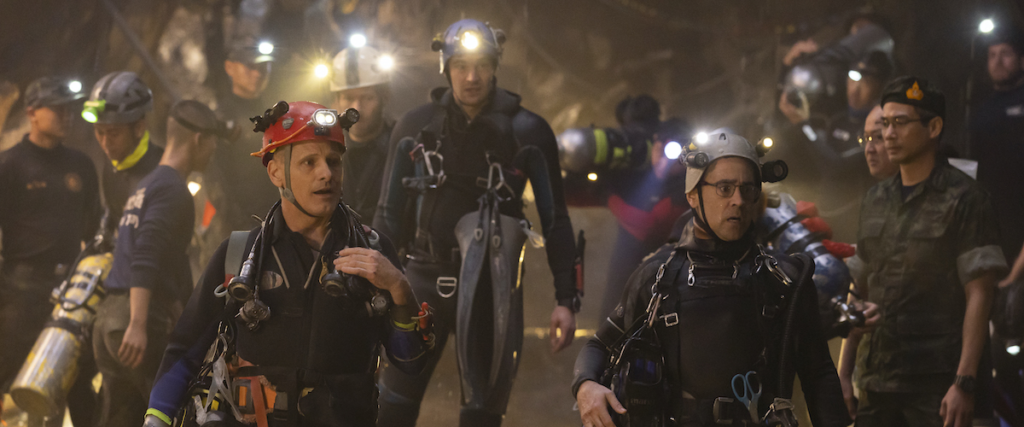 On trying to find the right emotion and intensity for the Thirteen Lives score, composer Benjamin Wallfisch explained that he worked with musicologist Natt Buntita:
"[Natt] is an expert with all folk music, all around Thailand, and she put me on to some really gorgeous songs from four or five-hundred years ago, from the region in northern Thailand.

That inspired some of the melodies. In fact, we use a really special song, because it's about the flow of a river being a metaphor for the flow of life called Soh Long Nan. And that formed the basis for something we called The Princess Theme, because of the sleeping princess, the Non-Mountain. […] There's so much tension, there's so much intensity to the claustrophobia, to the not knowing which way is up, which was down, and that that was all about finding very warped and strange sounds as if you hear it from underwater."
Actor James Teeradon Supapunpinyo, who plays Ekkaphon Chanthawong, said that he learned a diving skill for his Thirteen Lives role:
"In a scene underwater, I had to learn a diving skill. I used to dive, so so it's not that hard, but I have to play a real person. So sometimes it's quite hard in this because it's my first time too, so I might have to do some research about him, about his life and what he'd been through."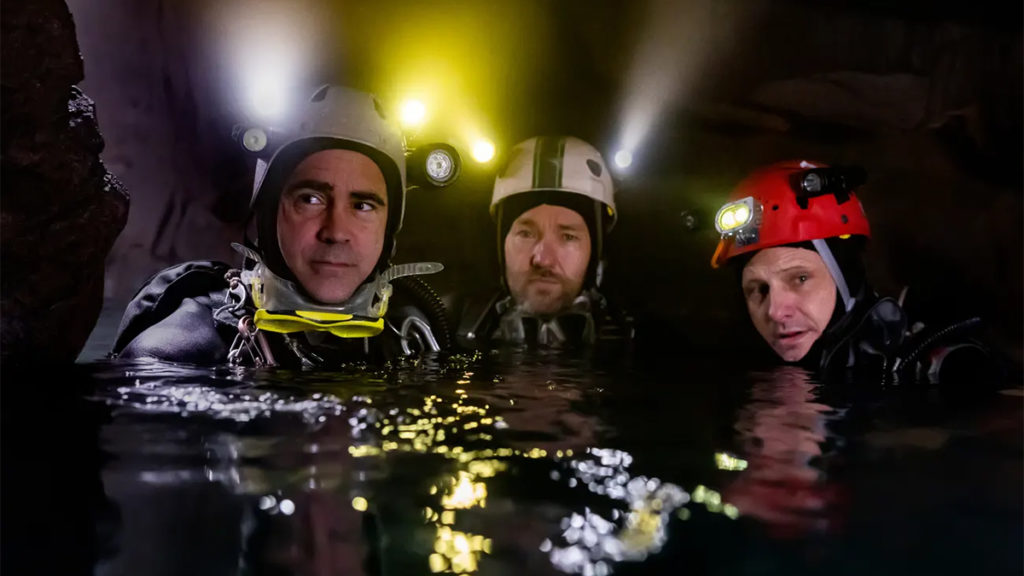 Co-producer Raymond Phathanavirangoon was effusive in his praise of Thirteen Lives as well:
"[Thirteen Lives has] a positive message about how we can come together and do something really miraculous, regardless of nationalities, and people and things like that. To me, that's how [Ron Howard] sold me on being on the film, because at first, I was also kind of "Huh? Really?",  but then he was completely right. And I think that this is such a right time for this kind of film. I just hope that people come away with it, being really positive about the state of the world somehow. And because darn it, we need it right now!"
Actor Colin Farrell believes that the real-life mission needs to be shared with the world.
"[It] presents an opportunity for the world and for thousands of people in many different nations to come together and put their minds together and put their divisions and their egos aside, I'm not saying there wasn't arguments and miscommunications during the mission. Of course, there was, but essentially, everyone just said, "Okay, what needs to happen here? How do we get them out? How do we get them out safe?" And it was an incredibly dramatic, terrifying, and bold thing that they did, but luckily enough, the whole team got out alive anyway."
On telling a true story, Joel Edgerton explained that Thirteen Lives has a valuable message.
"[It tells] what happens when human beings from all different walks of life, put themselves aside, get together and solve a problem to help others is a reminder of the true underlying foundation of the human spirit."
Thirteen Lives releases on Amazon Prime Video on August 5. Are you looking forward to watch Thirteen Lives? Have you seen The Rescue? Let us know in the comments below and be sure to follow us on Twitter!
MORE: OSCAR ISAAC CONFIRMS MOON KNIGHT SEASON 2 IN NEW SOCIAL MEDIA POST