Green Lantern: Beware My Power actor Jimmi Simpson spoke with The Illuminerdi at San Diego Comic-Con about Green Arrow's relationship with Green Lantern, live-action hopes, and potential sequel plans.
Green Lantern: Beware My Power is a brand-new DC animated film starring Aldis Hodge as John Stewart/Green Lantern, and Jimmi Simpson as Oliver Queen/Green Arrow. Additional stars include Ike Amandi as Martian Manhunter, Jamie Gray Hyder as Hawkgirl,  Keesha Sharp as Vixen and Rick D. Wasserman as Sinestro, with Brian Bloom as Adam Strange, and Nolan North as Green Lantern/Hal Jordan. 
RELATED: JOKER 2: LADY GAGA CONFIRMED AS HARLEY QUINN FOR WILD MUSICAL SEQUEL
This epic space-faring animated feature brings John Stewart to the front of the DC Universe once more, while introducing a new Green Arrow to us along the way. Jimmi Simpson explained why his character was initially hesitant to fully accept John Stewart as a fellow DC hero.
GREEN LANTERN: BEWARE MY POWER: JIMMI SIMPSON INTERVIEW
"Because he's not my friend. He's not Hal. And he's shown up and it's like "Sure, I have to trust the Guardians [Of Oa], and he has the ring, but goddamn." and that's the thing. He's kind of forced to shepherd this new lantern, because they have to save the universe. And as they do, as John [Stewart] learns his powers, and Ollie falls for him as a friend, you know? And they fall for each other. There's going to be a sequel that's a buddy-pic with Green Lantern and Green Arrow.

-Jimmi Simpson, Green Arrow in Green Lantern: Beware My Power.
Jimmi Simpson explains that being forced into trusting John Stewart before he really gets to know him puts the Green Arrow on edge, and makes him hesitant to embrace Stewart as a hero, as a Lantern. After all, Hal Jordan was the first Green Lantern who Oliver Queen had a history with in this universe. But through the fire and the flames of war, John Stewart and Green Arrow forged an unlikely friendship, setting the stage for a future of saving the galaxy as a team.
When asked if he would be interested in playing the role of Green Arrow in live-action, Jimmi Simpson smiled wide, responding "Absolutely!", and proceeding to shoot an imaginary bow and arrow. He spoke about how passionate he is about Oliver Queen, an incredible character with a long history. Since the DCEU has existed, it has lacked a Green Arrow. This could be due in large part to the long-running CW TV series, Arrow, and it's centrality to DC's film division in the Arrowverse.
GREEN LANTERN BEWARE MY POWER: JIMMI SIMPSON WOULD "ABSOLUTELY" PLAY GREEN ARROW IN LIVE-ACTION
But now, not only has Arrow reached it's conclusion, the end seems to be nigh for all Arrowverse programming. Naomi, Batwoman and Legends Of Tomorrow were canned earlier in 2022. More importantly, The Flash was recently canceled, with its upcoming 9th season to be its last. The Arrowverse is dead, or at least soon will be. Therefore, there is absolutely no justifiable reason to keep Oliver Queen outside of the DC Films sandbox.
Considering that no official announcement greenlighting a Green Lantern/Green Arrow sequel to Green Lantern: Beware My Power has been released, we cannot take Jimmi Simpson's comments implying the existence of such a project as confirmation. However, the likelihood is that Simpson knows about plans for the next installment in this franchise and revealed more at SDCC than DC was prepared for. So all things considered, the future for Jimmi Simpson's Green Arrow seems very bright.
Comic book fans are thrilled to see their favorite actors playing multiple versions of the same character throughout different media. Ryan Reynolds as Deadpool, J.K. Simmons as J. Jonah Jameson and Lyrica Okano as Nico Minoru are just a few examples of incredible performers whose work transcends one single iteration of these beloved superhero characters. Therefore, it would be highly advantageous to cast Jimmi Simpson as not only the Green Lantern of the new DC animated film franchise, but also as the primary live-action Oliver Queen.
GREEN LANTERN & GREEN ARROW HAVE GREAT POTENTIAL FOR LIVE-ACTION DC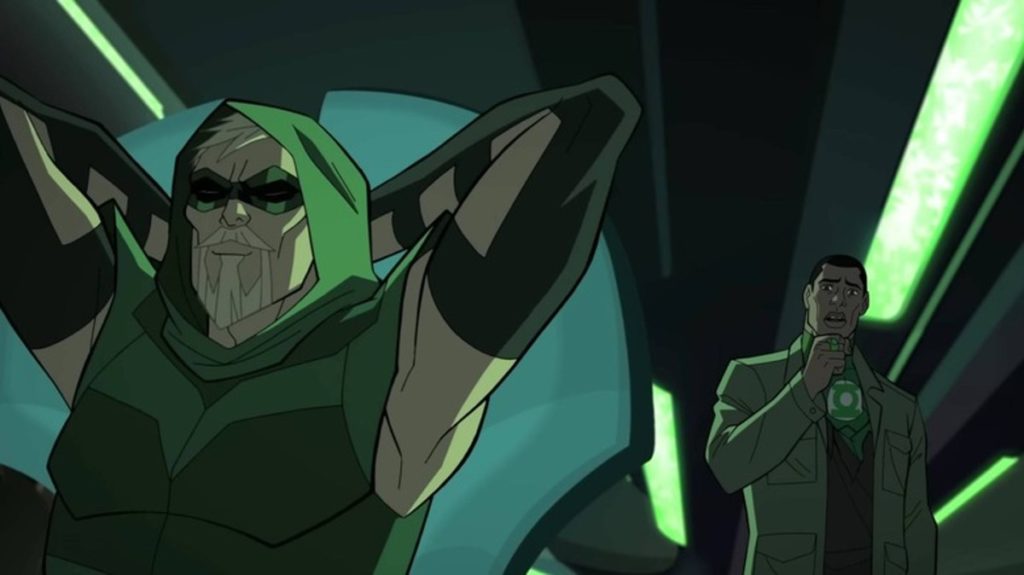 Now, just where Oliver Queen belongs in live-action is another question entirely. With a vast DC multiverse of possibility, there are a number of fantastic options. Though it is far from perfect, the incredibly popular HBOMax TV series Titans is notorious for putting together incredible supersuits. Green Arrow would be an incredible asset to the Titans universe, potentially serving as a skilled mentor to the team in an upcoming season.
Another opportunity would be to introduce Oliver Queen as a supporting player in a sequel to The Batman. This universe is far more grounded and realistic than that of the primary DCEU, and its examination of crime, corruption, and family legacy works very well with Green Arrow's storyline. Whether he's suited up or playing a Queen who has yet to become a hero, the announcement that Jimmi Simpson will play Oliver Queen in The Batman 2, the Penguin spinoff, or even the Arkham Asylum project would be sure to turn some heads.
Finally, the most obvious and potentially the most exciting avenue for Jimmi Simpson as Green Arrow would be through a leading role in the DCEU. It's high time that Green Arrow served as a primary member of the Justice League in film, and with Flash set to reset things through time travel and the multiverse soon, the perfect time to introduce this character is right around the corner. There would be new opportunities for Aldis Hodge and Simpson to act together, with Hodge playing Hawkman in the DCEU and John Stewart in Green Lantern: Beware My Power.
GREEN LANTERN/GREEN ARROW: SNOWBIRDS DON'T FLY IS A MUST-READ
Whatever the future holds for Oliver Queen, I for one would like to see DC attempt a modern adaptation of the classic Snowbirds Don't Fly storyline. In issues #85 and #86 of Green Lantern/Green Arrow, Dennis O'Neil and Neal Adams wrote a powerful, emotional anti-drug storyline. Green Arrow's sidekick, Speedy develops a drug addiction, and the way the titular heroes handle the situation has fascinated comic book fans and scholars for years. Revealing any more would be a disservice to those who have not read those issues. Though it would need some retooling, this could be an amazing storyline for Jimmi Simpson's Green Arrow to embark on, be it in live-action or animation.
Green Lantern: Beware My Power is directed by Jeff Wamester, produced by Butch Lukic, written by Ernie Altbacker and John Semper. The animated DC film is the fifth feature in the "Tomorrowverse", the second generation of the DC interconnected animated film franchise.
Are you excited for Green Lantern: Beware My Power? Let us know your thoughts in the comments below or on our social media!
KEEP READING: GREEN LANTERN: BEWARE MY POWER'S JOHN SEMPER TALKS FAN FAVORITE JOHN STEWART AT SDCC