Shawn Michaels reveals that he was the sole person running NXT since Triple H was forced to step down.
Michaels began working at the WWE Performance Center in 2017. His original role was as a trainer. His specific role was to teach the fourth and final level of classes along with Terry Taylor. This level was said to be focused on how to conduct yourself as a champion or as a top person. A thing which Michaels has a lot of experience with both on the good and bad side of pro wrestling etiquette.
RELATED: VINCE MCMAHON FORCED LANA, AKA CJ PERRY, TO WRESTLE
On November 27, 2018, Shawn Michaels became a writer and producer for NXT. This new position made him the number two man in NXT just behind Triple H. In late August of last year Triple H had a severe cardiac event which forced him to resign from his position in NXT. This put Michaels in charge of NXT as he took over Triple H's position.
Shortly after Triple H was forced to step down it was widely reported from many different sources that Bruce Prichard and Vince McMahon took over and were running NXT. However, during an interview with Bleacher Report, Michaels refutes the rumors and states he was solely in charge of NXT.
"When Hunter first left, it became all me, and certainly from a television standpoint," Michaels said.  "Matt Bloom is the head coach and takes care of everything from a PC training standpoint, but when it came to "NXT 2.0" television, that's something myself and my team took over creatively. I know a lot of people thought Vince and Bruce were doing that. I can promise you, they did not have the time to do "NXT" television. If it's good or if it's bad, that's on me."

It's been a huge joy to run that show and work with these talents. Again, everyone was put in a real tough position, we all were, but that's where you learn to do things in WWE. That, to me, is a form of talent development, which is understanding that things can always change… around here and you have to adjust to that. The show always goes on. It was trial by fire for a lot of us, but it's been an absolutely fantastic experience."

H/T To Bleacher Report For Transcription
Shawn Michaels Says "It Was Me. It Was Me The Whole Time"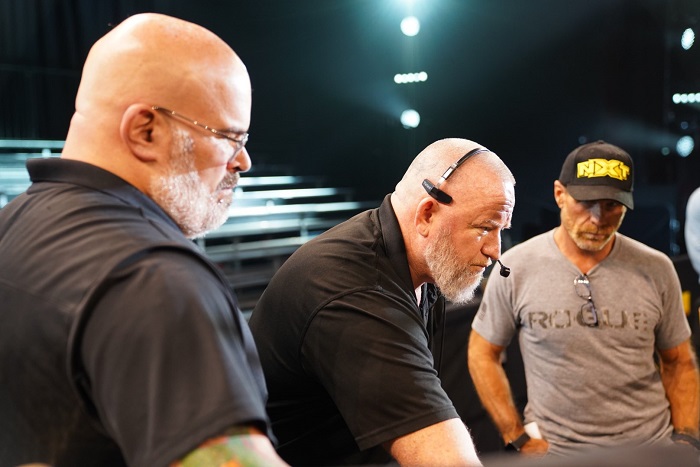 It is really interesting to hear Prichard and McMahon had not taken over NXT when it was so widely reported. Maybe the plan was for them to take over or they had for a very short time. It is also possible they took over the "big picture" aspect of NXT as that was also reported. This is also when NXT Black and Gold was transitioning to NXT 2.0. It is possible they were heavily involved, but only in aspects which involved the transition to NXT 2.0. NXT 2.0 is heavily criticized and all the blame is put on McMahon, but it seems the blame is misplaced. 
RELATED: NEWLY SIGNED WWE SUPERSTAR LOGAN PAUL GETS SOME ADVICE FROM BOBBY LASHLEY
Since Shawn Michaels' semi-retirement in 2010 he remained a frequent part of WWE and would appear often to make special appearances and Sweet Chin Music anyone he saw fit.
Triple H Comes Back And Then Leaves Again
Triple H returned to work in June, resuming his duties in NXT. However, the following month he was appointed executive vice president of talent relations and head of creative after McMahon retired. Triple H again left NXT, but is doing the same thing he did in NXT on the main roster. Thus leaving Shawn Michaels in charge, but I have not heard who or if he has a second in charge to assist him.
Michaels' time running NXT is not highly regarded and despite being regarded as one of the best wrestlers of all time he seems to be struggling to make NXT 2.0 as successful as NXT Black and Gold was. If it starts to vastly improve then it is because McMahon and/or Prichard were more heavily involved than Michaels let on.
Were you surprised to hear Shawn Michaels is solely running NXT? Do you think McMahon and Prichard really weren't involved in NXT? What have you thought of NXT 2.0?  Do you think it will improve with McMahon gone and Triple H with a greater role in WWE? What do you think NXT is missing which will elevate it? Leave a comment and let us know if you think Michaels needs help and who you think should help him.
KEEP READING: TONY KHAN EXPLAINS WHY HE THINKS TRIPLE H TAKING OVER WWE IS GOOD FOR AEW
Sources: Bleacher Report, Wrestling Inc.