CJ Perry, formerly known as Lana in WWE, fought against learning how to wrestle but Vince McMahon gave her an ultimatum.
Perry started her career in WWE as a manager for her husband Rusev, who is now known as Miro in AEW. Her intention was to stay in a manager role and stay out of the ring. She began to get some fan support and her and Miro started to become popular.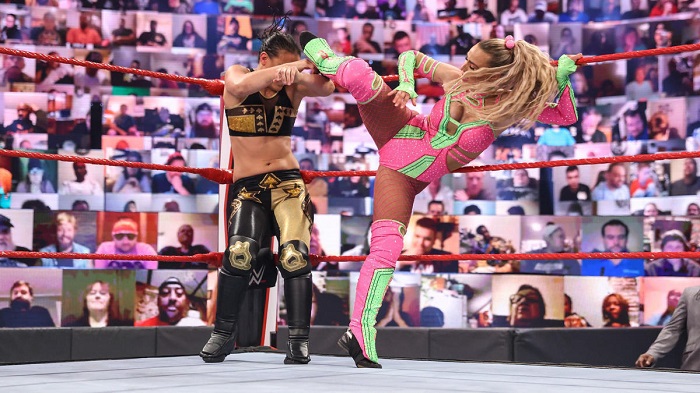 RELATED: WILLIAM REGAL GIVES DETAILS ON HIS CLOSE RELATIONSHIP WITH TRIPLE H
The downside to doing such a good job and gaining so much fan support is eventually Vince McMahon took notice. CJ Perry was recently a guest on The Sessions with Renee Paquette and gave details on what led her to learning how to wrestle.
"The bottom line is Vince wanted me to wrestle," CJ Perry said.  "… Vince called us into the office, and this was after [Miro and her] had split up because he was adamant. He was like, 'You cannot be with Rusev anymore.' When the "we want Lana" chants started, he was like, 'That's it. You have two choices: we can either do a relationship story, or you're going to have to go back down to NXT to learn how to wrestle.' … I was like, 'I'll do a relationship story; that's cool.'

So that started, and then a month and a half in, he brings Summer [Rae] in. We had no idea, and Miro is like, 'Why? What's happening?' And he's like, 'Well, we're going to have a match,' and Miro didn't want me to wrestle. He's very old school, and then he marries me, God bless him. Yeah, he's very traditional, and he's like, he just gets worried. He doesn't want me to get hurt." H/T To Wrestling Inc. For Transcription
Lana Managing The Bulgarian Brute
CJ Perry began her wrestling career in NXT with Miro. The two made quite a team and began to get some momentum and a good push from WWE. This is at least partly because Perry took her manager role very seriously and did an excellent job. Manager roles when the manager has zero in-ring experience are very rare in current wrestling and even more rare for a female manager. Perry didn't have much to use as a model for her manager character, but did an amazing job.
Miro started to become more and more successful. He defeated Sheamus for the United States Championship and eventually lost it to John Cena at WrestleMania. A WrestleMania which saw him arrive at the ring in a tank. His success shined a light on Perry as well.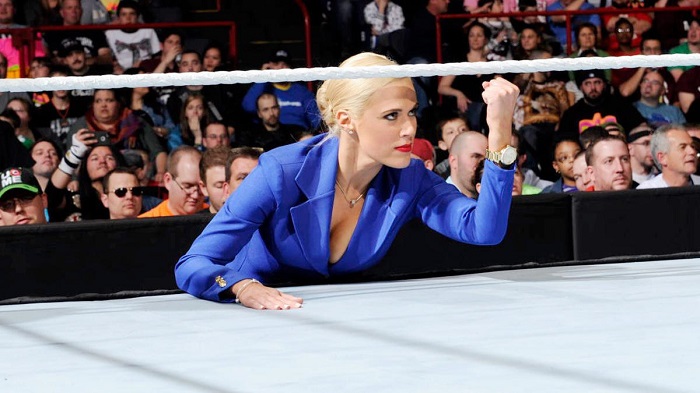 Wrestling More And More Often
This led to CJ Perry being forced into matches. Perry's first match was WrestleMania 32 where she teamed with Emma, Naomi, Summer Rae and Tamina; they took on the team of Brie Bella, Eva Marie, Paige, Alicia Fox and Natalya. The team aspect hid how green she was in the ring and her peers had a lot of experience. Her first televised singles match was against Naomi for the SmackDown Women's Championship at Money in the Bank in 2017.  WWE continued to put her in championship matches and had five in total.
RELATED: SURPRISING POTENTIAL BUYERS IF WWE IS LOOKING TO BE ACQUIRED
Despite not wanting to wrestle WWE continued to put Perry in the ring. She revealed some advice Triple H and Stephanie McMahon gave her about why she should learn how to wrestle.
"[Triple H] told me, 'Never stop training,'" CJ Perry said. "So that whole year, I had been training, getting in with Fit [Finlay], getting in with Goldust … [Triple H] was like, 'Trust me … one day Vince is going to wake up and be like, 'Well, it's time for Lana to have a match. Let's do it." He's like, 'You want to be ready.' Then I talked to Stephanie, and Stephanie is like, 'At the very least, know how to bump. Know how to take falls. Know how to take basic hits.'"
No Wonder CJ Perry Looked So Out Of Place In The Ring
CJ Perry was always criticized for her in-ring work throughout her time in WWE. She did alright and accomplished what she needed to do, but was never good. The main thing I noticed was how awkward she looked in the ring. She never looked like she enjoyed it and always looked like she couldn't wait until the match was over or she could tag out. 
We now know why CJ Perry was so awkward in the ring, because she didn't want to be wrestling. I commend her for training with Finlay and Goldust and I know she eventually began training with Natalya. She tried her best, but it wasn't right for her. CJ Perry was eventually released from WWE in June 2021.
Has Vince Forced Other Women To Wrestle?
This also brings up the question of how many other times has something like this happened in WWE. The first name which comes to mind is Eva Marie.  Marie was never good in the ring, but started training with Brian Kendrick. She got just as much hate as Perry did.  However, I wonder if she decided in-ring action wasn't for her and tried to move to a different aspect, but Vince blocked it.
Both Eva Marie and CJ Perry have not wrestled since leaving WWE and have focused on a movie career.
How often do you think WWE has forced men or women to take on a wrestling role when they were against it. Do you think Eva Marie was another victim of it? Do you think all managers should know how to take a bump or know how to wrestle? How far should that extend? Should interviewers, commentators, ring announcers or referees know how to bump and wrestle? Leave a comment on our social media and let us know if you would have ever hired someone who never had any intention to wrestle for an on-screen role.
KEEP READING: CM PUNK FEELS SOLIDARITY WITH SASHA BANKS OVER HER BIG WWE WALKOUT