Bobby Lashley says newly signed WWE Superstar, Logan Paul, needs to change how he operates backstage.
A celebrity getting signed to WWE and being immediately pushed into big matches can cause a lot of resentment from WWE Superstars. United States Champion Bobby Lashley is one Superstar who has taken notice of Logan Paul. Even though Lashley praises Paul's in-ring work, he also sees a big area he needs to improve in.
RELATED: CM PUNK FEELS SOLIDARITY WITH SASHA BANKS OVER HER BIG WWE WALKOUT
During a recent interview with TV Insider he went into exactly what Logan Paul needs to change.
"I'm interested to see how it works out," Bobby Lashley said. "I know he [Logan Paul] put in the work. There is a difference though. When I first came into the business, you went up and shook everyone's hand to get to know everyone. I haven't gotten the chance to know Logan that much. He has passed by a few times. I walked by and shook his hand.

I don't know if he'll be a full-time person on the roster, but it would be good for him to shake a little more hands and get to know more people. For the most part, he has been doing great. The times he has gotten in there he has picked it up so quickly. He hasn't had the opportunity to settle in though. If he settles in, I think he will do good."
Logan Paul Is New And Needs To Make Good First Impressions
Logan Paul signed with WWE on June 30 and has already made a bit of an impact. He has already racked up an undefeated streak of two and zero, but a streak is a streak.  Most recently he defeated Miz at SummerSlam. He has been impressive in the ring and picked up the wrestling aspect of pro wrestling very quickly. The mic and promo aspect is not quite there yet and feuding with someone who is very good on the mic like Miz doesn't make it any better.
The shaking everyone's hands and showing everyone a great deal of respect is an old school wrestling thing and probably isn't done as much as it used to be, but is probably a good idea. Logan Paul is still very new and making a bad first impression could be disastrous. Rookie wrestlers like Paul could get buried if veteran wrestlers don't feel like they get the proper level of respect. No one may want to work with him if they feel like he has an ego. They could also showcase his flaws instead of hiding them during a match.
RELATED: TRIPLE H LEFT KURT ANGLE SNORING AFTER BOTCHED PEDIGREE
From all indications Logan Paul isn't rubbing anyone the wrong way backstage and has a bright future if he listens to the wrestlers around him and doesn't cause any waves. 
Paul Will Be Missing And Will Hopefully Come Back Even Better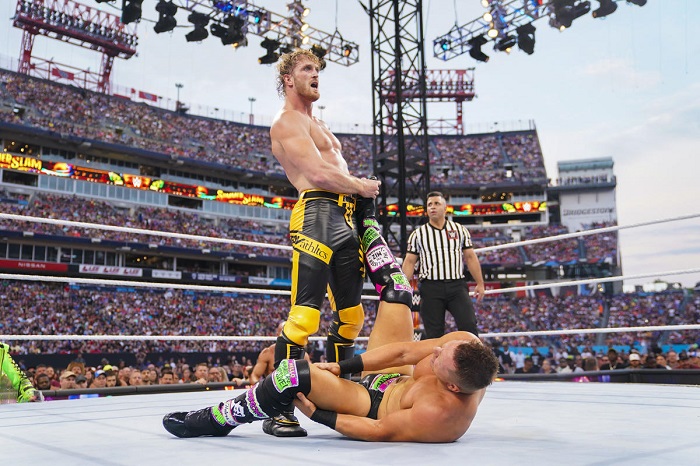 Paul is not scheduled for any future matches and is said to be missing from WWE TV for the foreseeable future.  He is preparing for a boxing match which will take place in December. His opponent for the match has not been announced yet, if one has been selected at all. His matches are all celebrity or MMA/boxing opponents so they could be trying to set one up for him. He is signed to a multi-year contract with WWE so we will see him again, but how often is yet to be seen.
Hopefully while Paul is out he watches a lot of wrestling and soaks in as much as possible. I don't know how big of a fan of wrestling he was growing up, but the more he knows about wrestling and about his peers in WWE and wrestling in general the better.
What did you think of Logan Paul's match with The Miz at SummerSlam? What are some areas you noticed which Paul can improve on in and out of the ring? Do you think Paul has a bright future in the WWE or will he fizzle out? Do you think he will ever believably be in the WWE/Universal Championship picture? Let us know who you think he should feud with next and if he should stay a singles competitor or go into the tag division.
KEEP READING: TRIPLE H'S EXCITING PLANS FOR KARRION KROSS AND SCARLETT BORDEAUX
Sources: TV Insider, Wrestling Inc.