SPOILER WARNING: THIS ARTICLE INVOLVES MAJOR PLOT DETAILS FROM THE FILM BULLET TRAIN.
Most action movies hope that you won't notice that they are full of plot conveniences and plot armor, so that the heroes can survive the most life-threatening situations and move the plot forward.
RELATED: WEDNESDAY: WATCH THE WICKED NEW TEASER TRAILER FOR ADDAMS FAMILY SPINOFF SERIES NOW
Bullet Train tries to get away with plot conveniences and plot armor by constantly pointing it out. If it is part of the joke, maybe we will laugh with it instead of laughing at it. It does so by making luck and fate part of the narrative.
The Illuminerdi is here to break down how well that works out.
MAKE BULLET TRAIN ABOUT BAD LUCK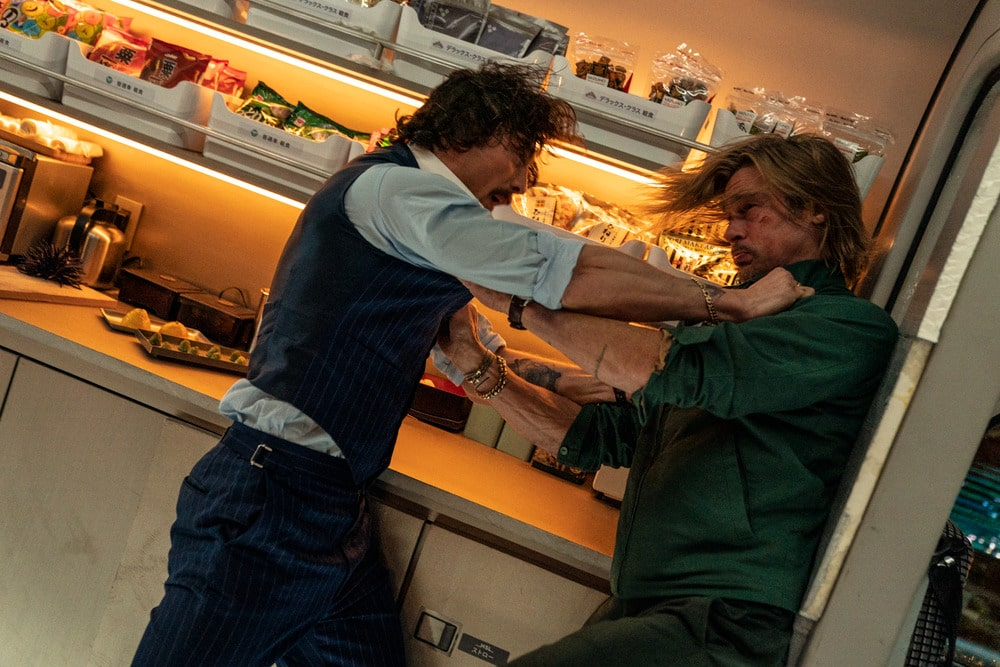 Bullet Train's hero is an operative called, Ladybug (Brad Pitt). An operative who always complains about his bad luck. Who can blame him? When we first met him, he almost got hit by a truck crossing the road and then lost the keys to a locker where his tools are stored for the mission on the bullet train.
The mission itself is just to get on the bullet train, get a briefcase, and then leave at the next station. Yet to Ladybug's annoyance, every time he tries to leave the train, there is always a reason or two why he is forced to stay on the train, leaving him to wait for the next station… And then the next.
What is worse is that it just so happens that killers and hired assassins are all on the train for various independent reasons. So the mission that was supposed to be a simple snatch and grab, becomes a life or death situation where Ladybug has to deal with them one by one.
MAKE BULLET TRAIN ABOUT GOOD LUCK
On the other hand, Price (Joey King), a psychotic school girl who is also on board the train, always brags that she is lucky. When trying to find where Ladybug hid the briefcase, she finds it easy by random chance. Every time she is boxed into a corner by other killers on the train, there is always something sudden that will conveniently turn the tides in her favor.
Suspiciously, we can say the same for Ladybug. Yes, Ladybug always gets himself into bad situations where everyone is trying to kill him, but he always survives them anyway through random luck. In one of the first tries at exiting the train, it just so happens that a killer is about to enter the train where he is exiting and stabs him on the shoulder.
Ladybug survives because his cell phone just so happens to be where the killer stabbed him. Ladybug did not notice this stroke of luck, he just got annoyed he cannot use his cell anymore. He is bitten by a poisonous snake, but he was already injected with antivenom in a previous unrelated situation, again, to his luck.
We can also say Prince has it bad too. She is after all unloved by her father and is outcasted by her family. While bragging about her good luck, she gets hit by a truck, similar to how Ladybug was supposed to get hit by a truck at the beginning of the film. Her main strategy is to play the innocent school girl, but more often than not, it does not work – putting her in front of a barrel of a gun. She has this big assassination plan against The White Death ("The Big Bad" of the movie), but it something always gets wrong.
It is all a matter of perspective – one notices the bad things that happen to him, while the other notices the good things that happen to her.
MAKE BULLET TRAIN ABOUT FATE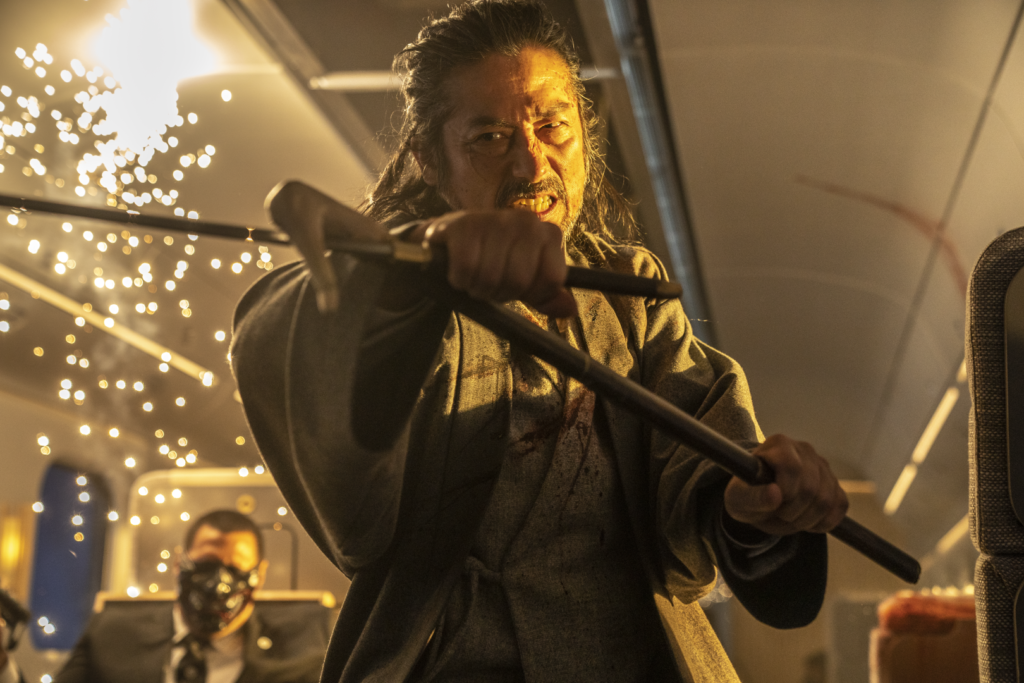 Getting ready for the climax, The Elder (Hiroyuki Sanada), boards the train to get revenge on The White Death, knowing he will be waiting on the coming station. He speaks of fate, having brought him to this moment.
Then the biggest twist happened – It turns out, that all the killers gathered on the train is no mere coincidence. They are all brought there by the White Death because all of them were unknowingly and indirectly responsible for the death of The White Death's wife. According to The White Death, the domino effect that led to the death of his wife was fate. It is also fate that he is the one alive instead of his wife.
The big joke is that Ladybug is not part of those responsible for The White Death's wife. He is only on the train because he is standing in for another operative who backed down the bullet train mission at the last minute (The operative directly responsible for White Death's Wife).
All these talks of fate and luck reveal that the core theme of Bullet Train is about how the world is insane and arbitrary. How nothing makes sense, and no one has any real control over what happens to them. While that may suck for Ladybug and other characters in the movie, it is quite handy to get away with messy plotting where everything seems to only make sense when fate is involved.
By the time of the climax, the ridiculous level of how Ladybug gets in and out of trouble becomes ludicrous. Even when the set piece becomes so over-the-top that everything turns into CGI, he still survives by a hair.
In the end, Ladybug gets a new perspective on life.
"Maybe it is just about how we frame it. Like, maybe there's no bad luck or good luck. Maybe we're all just agents of fate."

Ladybug
What do you think of Bullet Train? Did you get onboard its plot conveniences? Let us know what you think and share your reactions with us on Twitter.
KEEP READING: SHE-HULK ATTORNEY AT LAW REVIEW: TATIANA MASLANY SMASHES IT AS NEW HERO IN HILARIOUS NEW MARVEL SERIES