The MCU is well known for infusing comedy into every project. WandaVision dabbled in the sitcom format as Wanda traveled through the different styles of each era, but She-Hulk Attorney At Law is the first time Marvel Studios is fully leaning into the half hour comedy model. She-Hulk Attorney At Law follows Jen Walter, Bruce Banner's cousin, who after an accident is infected by Banner's blood and as a result becomes a new Hulk who will eventually be donned She-Hulk.
Banner works with Jen to understand and control her new abilities as a Hulk explaining the positives, negatives, and responsibilities that come with it. Jen, unlike Banner, is able to control her change and stay conscious when tapping into her Hulk side.
She eventually, with Bruce's reluctant blessing, returns to her life as a lawyer in Los Angeles, but being a Hulk quickly derails the life she was living throwing it into exciting new chaos. Jen Walters becomes the head of a superhuman legal division at a high power legal firm and will use not only her impressive legal skills, but new abilities as She-Hulk to figure out important cases dealing with some of audience's favorite MCU characters.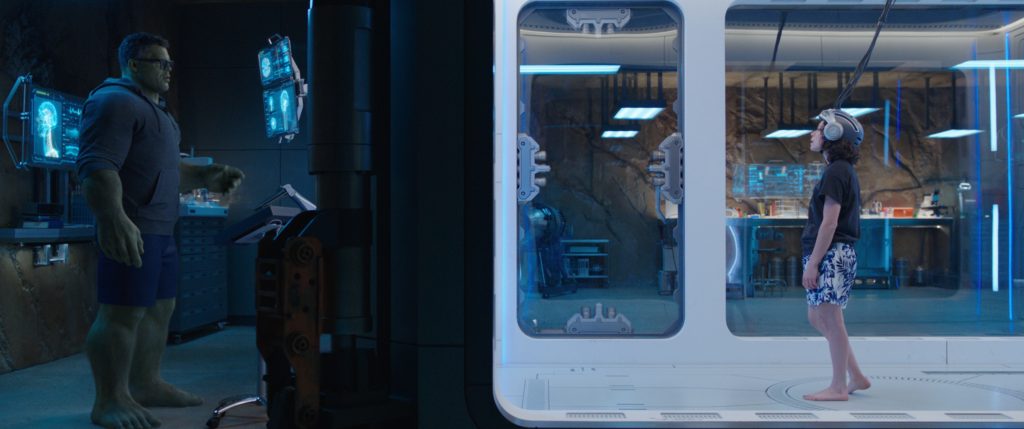 She-Hulk Attorney At Law has an impressive task when it comes to tone, needing to balance unique and smart comedy, incorporating She-Hulk's famous fourth wall breaks, into the cinematic world of the MCU. Bringing in action, drama, and the classic cinematic feel of the MCU into a half hour comedy is no easy task, but Jessica Gao and Kat Coiro manage to pull it off.
RELATED: SHE-HULK STAR REVEALS HOW HULK AND SHE-HULK'S INTERNAL STRUGGLES DIFFER IN THE NEW SERIES
Some of the already established MCU characters, like Abomination and Hulk, are adjusted a bit to fit into this tone with Tim Roth's Abomination feeling like the biggest change, but it works for the most part because She-Hulk Attorney At Law doesn't shy away from the bad things that these characters have done as well as the things done to them. While some fans may be annoyed with how these characters are more comedic in the series they aren't unrecognizable because Marvel has already incorporated humor into these characters. Tim Roth is able to bring his comedic chops and natural charisma, playing Blonsky with an interesting nuance that makes one question his sincerity as this new reformed version.
TATIANA MASLANY'S SHE-HULK PROVES TO BE AN INCREDIBLE NEW ADDITION TO THE MCU
Tatiana Maslany is an absolute super star with a magnetic presence and engaging chemistry with every other actor. She proves herself to be an impressive comedic actress nailing the comedic timing while making the fourth wall breaks feel natural, but she is also able to infuse depth and vulnerability into the character. The chemistry between Maslany and Ginger Gonzaga makes the long time friendship between Jen and Nikki feel authentic and natural. Josh Segura as Augustus "Pug" Pugliese is an interesting new friend to Jen and Nikki feeling both intelligent and genuine.
Maslany and Mark Ruffalo also bring a fun sibling type of dynamic to Jen and Bruce as the pair make fun of each other, argue, and are startlingly honest with one another. Maslany brings a new energy to this unique Hulk character, not focusing on the trauma and horror of being a Hulk, but instead examining how it impacts her to be seen by the world in this new light.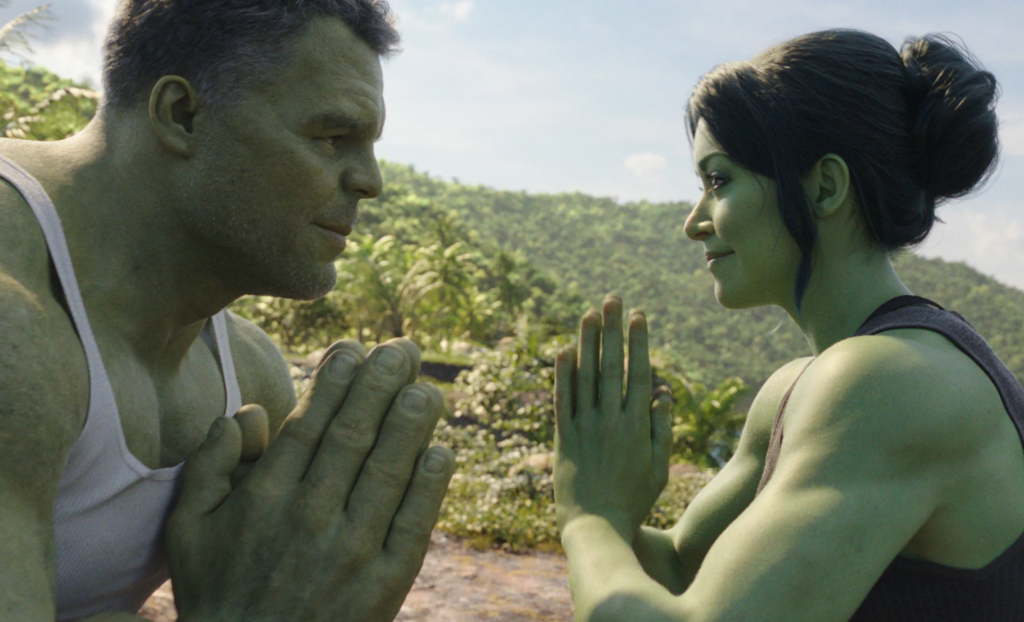 She-Hulk Attorney At Law is truly a superhero story told through the female gaze to it's great benefit. The humor is balanced between MCU self awareness and the female perspective especially in regards to being a super strong, near indestructible woman in a world full of danger. Two scenes that stands out in the first episode shows the stark difference between a group of women finding a woman alone and vulnerable versus a group of men while at a bar.
She-Hulk Attorney At Law is not afraid to lean into the reality that women deal with every day with clever commentary often wrapped in humor. At one point when Jen is confronted by a group of men the series hilariously flips the stereotype on its head as she realizes that they are in fact the ones in trouble.
RELATED: SHE-HULK ATTORNEY AT LAW STAR TATIANA MASLANY REVEALS MARK RUFFALO'S REAL LIFE HULK TRANSFORMATION
And while this is a half hour comedy it is still a Marvel series with exciting action sequences. She-Hulk proves to be an exciting hero fighting a number of different kinds of villains from street thugs, to creatures, to the Hulk himself. The battle with Hulk has a very family brawl style of action while the other action sequences have a completely different tone, some leaning into Jen being a woman who can without a doubt defend herself when confronted by men attempting to intimidate her while others fully feel like a classic Marvel sequence.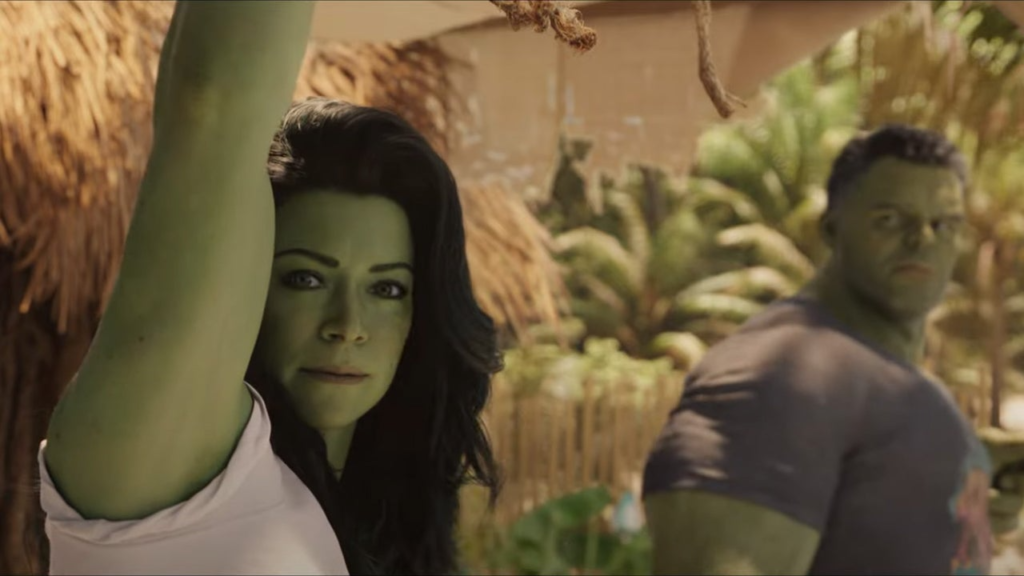 The CGI, which has been criticized since the first trailer, is by no means perfect, but it isn't distracting enough to pull one out of the story. Once one gets used to the look it is possible to move past it. What it largely came down to in regards to She-Hulk's look, compared to Hulk or Abomination, is it seems like she has less detail and definition because of how smooth her skin is and her movements feel somewhat more akin to human Jen than Hulk or Abomination. The CGI isn't perfect and some may find it distracting, but Tatiana Maslany's performance out weighs any issues people may have with the CGI.
One thing that She-Hulk Attorney At Law nails is that is feels like a television series instead of a six-hour movie broken into chunks. Unlike most other Disney Plus series, She-Hulk Attorney At Law understands that it is a television series with each episode standing on it's own and completing an arc, while still ending on a compelling or hilarious cliff hanger. She-Hulk Attorney At Law, like many other Disney Plus series, approaches the MCU from a new perspective exploring a new corner of this long established world. She-Hulk Attorney At Law looks at the more mundane life of being an MCU character from dating to legal proceedings when it comes to villains or heroes.
RELATED: SHE-HULK DIRECTOR EXPLAINS BALANCING IMPROVISATIONAL COMEDY WITH THE MCU'S HUGE CINEMATIC STYLE
She-Hulk Attorney At Law feels more interconnected than most of the MCU Disney Plus series. Similar to Ms. Marvel this is a series that feels like it naturally exists within the world of the MCU, but instead of a teenage super fan, it follows the perspective of an adult who is in fact related to an Avenger. The series leans into the fact that the Avengers straddle a strange line of hero and celebrity status in the public eye.
Jen Walters' self awareness about what it means to be a superhero, and how it impacted Bruce's life, and her disinterest in becoming one, instead wanting to help people with her legal skills brings an interesting dichotomy to the character. She-Hulk Attorney At Law is chock full of cameos, but they are story focused being incorporated into the plot because of her super human law division. She-Hulk manages to explain the surprising Abomination and Wong cameos in Shang-Chi and Wong will once again be a fan favorite in the new series. She-Hulk sets up the perfect way to not only bring in old favorites, but introduce a ton of new Marvel characters as well.
She-Hulk Attorney At Law isn't perfect, but it largely works proving to be a smart and engaging legal comedy. It fits into the MCU naturally bringing together different corners of the MCU in a compelling and understandable way. The self awareness that Jen has not only about herself, but the world of Marvel is fun and her take on the craziness of superheroes is interesting, especially given she saw how it impacted Bruce. Jen must grapple with the world's perception of her including the double standard of people trusting She-Hulk more than Jen Walters.
RELATED: SHE-HULK STARS REVEAL WHICH LUCKY SUPERHEROES THEY WANT SHE-HULK TO DATE
The series needs to balance a number of genres and tones largely accomplishing this, but really hitting its stride by the third episode. At the end of the day She-Hulk Attorney At Law is unquestionably fun. The writing is smart, the performances, masterfully lead by Tatiana Maslany, are engaging, Kat Coiro's direction for the most part keeps the series on course, and the series explores a new side of life within the MCU.
She-Hulk Attorney At Law premieres on Disney Plus August 18 with new episodes every subsequent Thursday. Are you excited to watch She-Hulk Attorney At Law? Are you looking forward to seeing Tatiana Maslany bring Jen Walters aka She-Hulk to life? Which cameo are you most excited to see? Leave your thoughts in the comments below or on our social media and check back with The Illuminerdi for more MCU and She-Hulk Attorney At Law.
KEEP READING: SHE-HULK BROKE THE 4TH WALL BEFORE DEADPOOL AND THE CREATORS EXPLAIN THE EVOLUTION OF THIS WILD ELEMENT IN SERIES