The first episode of Kamen Rider Revice has been uploaded officially on YouTube. The first episode of the latest Kamen Rider series is available on Toei's Tokusatsu World channel, which allows fans to watch it legally. The show also celebrates the 50th anniversary of the Kamen Rider franchise, making it a significant installment of the Toku Superhero series. The popularity of Kamen Rider has increased, and many have been wanting to watch Revice since it was first announced.
RELATED: JAMES GUNN BELIEVES THERE IS AN AMERICAN AUDIENCE FOR KAMEN RIDER
Kamen Rider Revice is the 32nd series of Toei's Kamen Rider metaseries in the Reiwa period, which also commemorates the 50th anniversary of the franchise. The gimmick uses stamps as part of the Henshin series belt and represents different Kamen Rider series with animals. This includes the Eagle Vistamp based on Kamen Rider W, Mammoth Vistamp based on Kamen Rider Den-O, and Revice's personal Rex Vistamp. The series follows Ikki Igarashi (played by Kentaro Maeda) and his demon partner Vice fighting against the Deadmans as Kamen Rider Revice and Vice, after Ikki acquires the Revice Driver.
Kamen Rider Revice Official World-Wide Release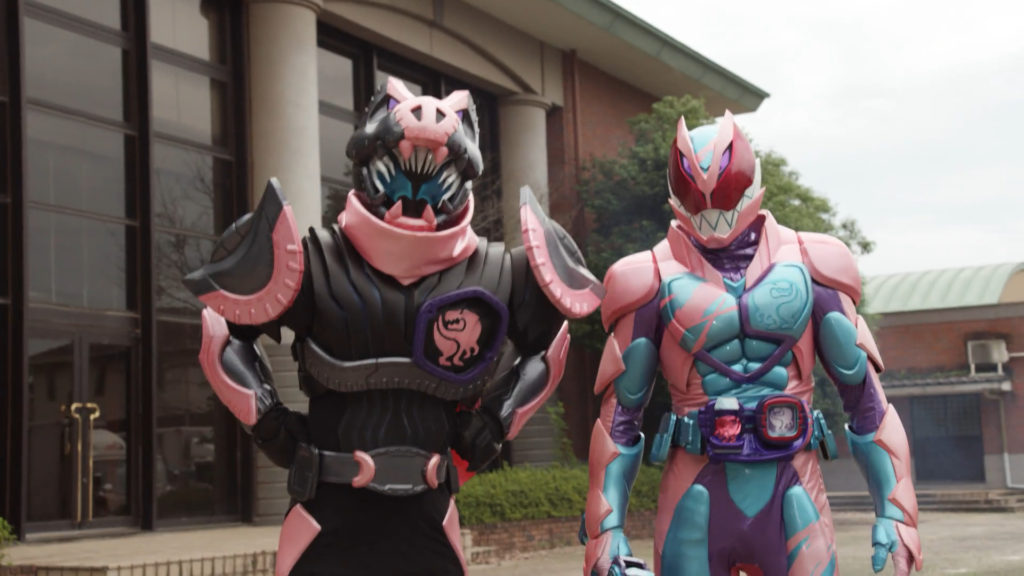 Episode 1 of Kamen Rider Revice is finally possible to watch without having to resort to unofficial channels. The first episode was added to the Toei Tokusatsu World Official today for fans to enjoy for the first time. So far, only the first episode has been released, but there are many episodes released for various Kamen Rider shows, which include Kamen Rider Drive, Kamen Rider Zero-One, and Kamen Rider W. 
RELATED: SHOUT FACTORY ANNOUNCES SUPER SENTAI DVD CONTINUATION & KAMEN RIDER KUUGA BLU-RAY
While troubled by the demon whispering inside his head, Ikki Igarashi, the heir to a bathhouse run by his parents, lived a normal life. On the promotion ceremony of Ikki's brother, Daiji, who works under a specialized service agency called Fenix and will become a section commander, Ikki and other people were attacked by a Satanist group called Deadmans. To protect his family, Ikki put on Revice Driver and transformed into a Kamen Rider. He released the demon inside him (who will identify itself as Vice later) and wiped out his enemies. Vistamps can summon demons, and a battle over these mysterious stamps has begun.

Kamen Rider Revice Synopsis
It's fantastic that one of the latest shows has been released on YouTube finally. However, I am concerned that Toei have yet to take full advantage of this platform, since all Kamen Rider shows added stop at episode 2. It's fantastic to have these show available but a lot of fans are calling out for all episodes to be released in a form of schedule. Hopefully if Toei sees the demand from so many watching the first episode, they will end to unofficial method by making on Kamen Rider shows available to the world, including Kamen Rider W for its anime continuation, FUUTO PI, and the new series, Kamen Rider Geats.
Kamen Rider Revice episode 1 is available on Toei Tokusatsu World Official YouTube channel, with subtitles available in English and French. To watch the first episode of this renown Kamen Rider series, use the following link.
What do you think of Kamen Rider Revice? Do you think Toei should do more to make Kamen Rider accessible? What has been your favorite Kamen Rider series so far? Let us know on social media, or in the comments below, and keep following us for more Kamen Rider content like this and so much more.  
KEEP READING: LEMILLION HEADING TO "MY HERO ACADEMIA: THE STRONGEST HERO" LIVE NOW