Daredevil: Born Again is not set for release until 2024, but speculation about a possible cameo from a certain vigilante played by Jon Bernthal has already begun to make its rounds on social media.
Before the series was canceled, Marvel Netflix's The Punisher starring Jon Bernthal became a smash hit for audiences. Since the cancellation, many have been wondering when we're gonna see his character in the MCU.
RELATED: NEW LEAK INDICATES AN AVATAR: THE LAST AIRBENDER GAME IS IN THE WORKS FOR ALL CONSOLES
During a panel at the Chicago Comic & Entertainment Expo, The Mandalorian star Rosario Dawson said that she heard "that The Punisher was happening again" after she was asked about her return as Claire Temple in the upcoming Daredevil. Social media was booming on the news but soon after, Dawson went onto Twitter stating that she heard the news through a fan during a signing.
But according to a scooper, we might see Jon Bernthal back as The Punisher.
Jon Bernthal's Possible Return
According to Twitter user @CanWeGetSomeToast, fans should "expect Punisher to show up in Daredevil: Born Again." Whether this is true or not, it's an exciting thought to have Jon Bernthal's return as the anti-hero. Ever since the announcement at San Diego Comic-Con this year, speculations and theories over what we might get in the upcoming Daredevil series have been at an all-time high.
We are expected to see Daredevil in both She-Hulk: Attorney at Law and Echo before his big debut in his very own series. Now that we have both Charlie Cox and Vincent D'Onofrio set to make their returns as their respected characters, there's still a chance of one day seeing Jon Bernthal as the Punisher. There's also been rumors circulating of the character appearing in Echo as well.
News like this makes it all the better for Marvel Netflix fans who were following along during these show's debut. Even with the excitement, there are fans who are worried about a possible "water-downed" version of the beloved characters.
TV-14 or TV-MA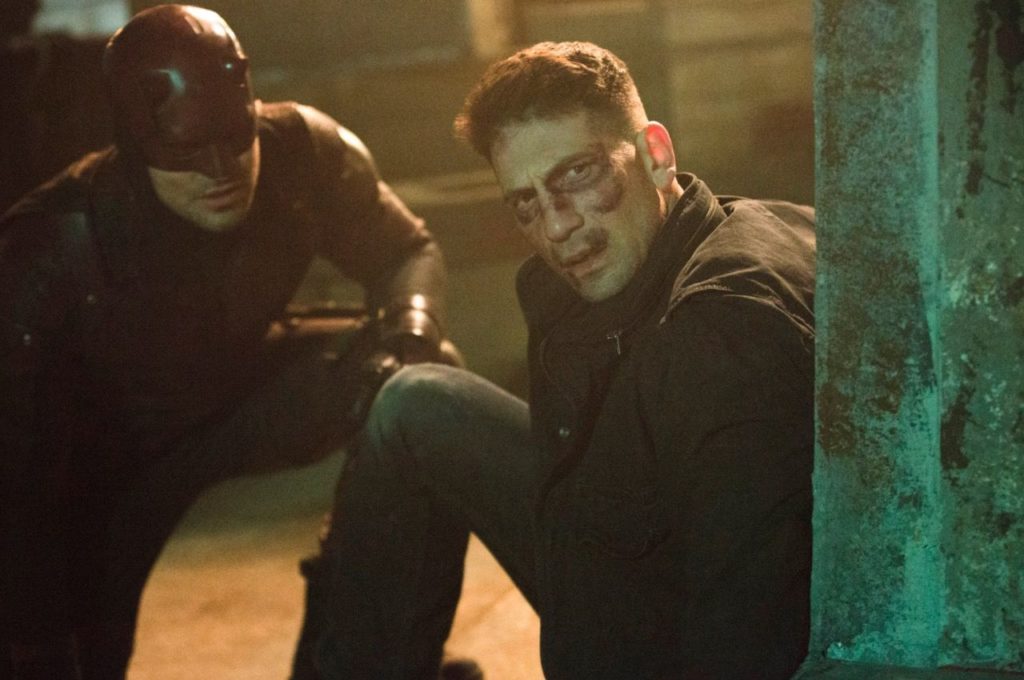 When it came to Daredevil and The Punisher, they were both categorized as MA content. This doesn't come as too much of a surprise, especially when both series dealt with violence and dark themes. Now that Disney has taken the characters and added them to Disney+ along with Jessica Jones, Luke Cage, Iron Fist, and The Defenders, the streaming company has decided to place the series onto the platform with Parental Control.
This helps ease the minds of adults with children to not accidentally press "play" on content that isn't suitable for their young children. Even with these restrictions, fans are still worried that Daredevil won't be as dark as it was on Netflix. Some have even spoken out that Daredevil will become more of a comedy than the action-packed character we saw previously.
According to She-Hulk: Attorney at Law's lead actress, Tatiana Maslany, fans will be pleased when they see the character in the Disney+ series.
Daredevil: A Possible Trial Run
If Jon Bernthal's Punisher is set to be making an appearance in Daredevil: Born Again, it's good to think that fans will be seeing Matt Murdock make his return as the Man Without Fear before we see him in his own series again. This could be a trial run and from then, fans can see how the character will be portrayed. Both Maslany and the She-Hulk's head writer, Jessica Gao have both spoken briefly about the Devil of Hell's Kitchen's appearance.
In an interview with Deadline, Maslany teased that fans will be "very happy" when it comes to his appearance. "I don't want to say anything… I just want to say that I think the fans will be really happy. He's amazing. He's a really amazing actor."
As for Gao, she explained that Daredevil won't change, but we'll see his character's lighter side.
"You get to see a lighter side of them and part of that is because the universe isn't in danger, it's just a regular day for them, it's a normal day. So, you kind of get to see these people when they're not worried about saving all humanity, they get to just deal with everyday stuff. It's kind of like they get to take a comedy vacation in our show and then they can go back and do their series stuff again."

Jessica Gao for Lifehacker
As a start, it doesn't seem all that bad. We did get to see Murdock for the first time in the MCU in Spider-Man: No Way Home, but he was on screen for less than 10 minutes. When it comes to Jon Bernthal, we might have him for just a few episodes, just to get reacquainted before hopefully getting an actual series for the character.
Whatever the case may be, the Punisher's possible return and MCU debut would be exciting for all of us to see!
What do you guys think? Would you be excited to see Jon Bernthal's comeback? Let us know in the comments and don't forget to follow us on all of our socials!
KEEP READING: NEW LORD OF THE RINGS VIDEO GAME BEING MIGHTILY FORGED FROM WETA WORKSHOP
Source: Comic Book Movie