Alexa Bliss talks about if she believes she has had a WWE Hall of Fame worthy career.
Bliss is one of the most talented women on the WWE roster. However, since Bray Wyatt's release and returning after having surgery she has not been used to her full potential. While a guest on MackMania, she answered whether she thinks she has had a WWE Hall of Fame worthy career thus far.
"I think on paper, yes," Alexa Bliss said. "On paper, I could be a Hall of Famer, 100 percent. You know, I've been very fortunate with the opportunities I've had in WWE, especially in my first couple of years on the roster… On paper our whole women's division technically yes, could be Hall of Famers."

H/T To Wrestling Inc. For Transcription
A Budding Alexa Bliss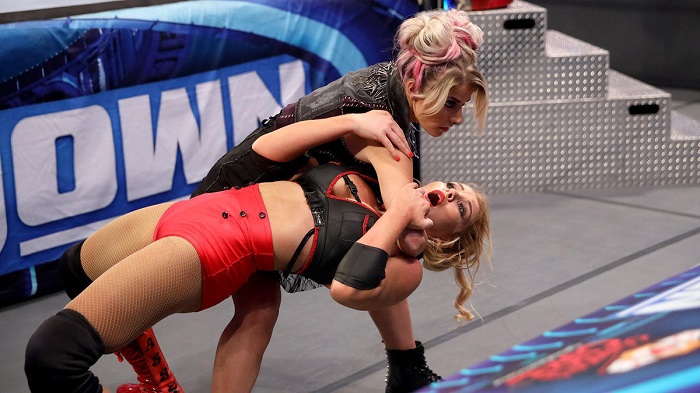 Alexa Bliss started her wrestling career in 2013 when she signed with NXT and debuted a character which was far from her current one. She originally had a character which was described as a glitter fairy or a Tinkerbell of the wrestling ring. Despite doing well and having wins over former Divas Champion Alicia Fox and future SmackDown Women's Champion Carmella she failed to get the fans behind her.
RELATED: SURPRISING POTENTIAL BUYERS IF WWE IS LOOKING TO BE ACQUIRED
However, that changed when Bliss began working with the NXT tag team Blake and Murphy and turned heel. She transformed into a vindictive and calculating character. She served as a manager for the tag team and helped them get wins over tough opponents. This work gained her a lot of attention and fans which eventually got her called up to the main roster.
An Undeniable Age Of Bliss
Alexa Bliss made her main roster debut in 2016 on SmackDown. She made an immediate impact when she was included in the six-pack elimination challenge to crown the inaugural SmackDown Women's Champion. Even though she did not win that particular match she was able to win the SmackDown Women's Championship eventually. Throughout her time on the main roster she would win many championships including: WWE SmackDown Women's Championship twice, WWE Raw Women's Championship three times, WWE Women's Tag Team Championship twice and Money in the Bank.
Alexa Bliss explained she believes she deserves to be in the Hall of Fame because of how many different gimmicks she has been able to get over. However, she believes her best work is yet to come.
"There is a version of me that I am dying to get to, it just hasn't gotten there yet," Alexa Bliss said. "Man, I've been like nine different people. If you really look at it, from start to now, nine different like, variations of how I look, how I act, how I speak, and right now it's just me… Lexi is not for TV, I'm boring like as a person, you know? On TV right now I'm boring."
A Dark And Disturbing Character
The most recent versions of Alexa Bliss' character are some of the most different and show her range and how talented she is, but WWE failed to use her correctly.
RELATED: TRIPLE H'S EXCITING PLANS FOR KARRION KROSS AND SCARLETT BORDEAUX
In 2020, Bliss became part of the feud between Wyatt and Braun Strowman. She was corrupted by Wyatt and became his protégé. This made her character much darker and supernatural. Despite Wyatt's character getting inconsistent booking Bliss did extremely well and was probably the best work of her career. However, WWE not knowing exactly what they wanted to do with Wyatt and  rumors of Wyatt shooting down creative ideas he didn't like, they floundered.
Why This Twisted Bliss With No Wyatt?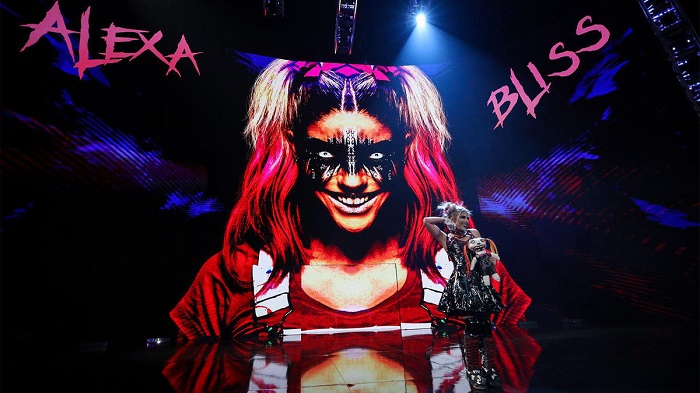 In 2021 Wyatt was released and Bliss for some reason stayed with the darker gimmick. WWE seemed to have no idea what to do with her after Wyatt and this time was the worst of her career even though Bliss was still excellent in the ring.
After returning from surgery, Alexa Bliss still has remnants of her time with Wyatt, but is not as dark of a character. The main artifact of her time with Wyatt is her doll, Lilly, which she still carries to the ring. Hopefully with Triple H taking over creative she will lose all connection to this darker character.
Bliss has had a great career and if she retired today I think she would eventually be placed in the WWE Hall of Fame. However, I know she can do so much more and I hope WWE lets her reach her full potential. She has something which I think she is the best ever at. Her face work and what she is able to convey by just looking at someone is the best I've ever seen. When she looks at someone with disgust you truly believe she is disgusted by them.
What do you think of Alexa Bliss' time in WWE? Do you think she deserves to be in the WWE Hall of Fame? What do you think of her darker character? Do you want her to continue with the character or should she lose all traces of it? Leave a comment over on Twitter and let us know if Wyatt returns, would you hope she will team with him again or should she be separated from him?
KEEP READING: GOLDBERG EXPLAINS WHY THE BIG AUSTIN VS. GOLDBERG MATCH IN 2003 NEVER HAPPENED
Sources: MackMania, Wrestling Inc.